12 Days of Christmas - 'Approaching Dusk'
At Wyecliffe we're celebrating the festive seson by showcasing the rich variety of ideas, mediums, colours, textures and ideas of our art works. We start the adventure with 'Twelve Bells Ringing' in the heart of Westminster - with a beautiful (and very festive!) original by Nigel Cooke. 'Approaching Dusk'.
A Surprisingly Festive Artist
Did you know Nigel Cooke began his career with the holiday season? As an entertainer for Butlins, his formidable artistic talents were soon spotted and he became resident caricaturist. Following stints at the legendary blackpool pier and Alton Towers, Nigel had completed more than 50,000 caricatures. Naturally, he decided to commit to his craft full time - with drawings of famous stars and characterful faces he observed on the street.
Seeking to provide rich surroundings for his subjects, Nigel began to incorporate ever more detailed backgrounds into his portraiture. Like a magic 'Eureka' moment, his detailed, expressive paint line effortlessly captured the forms and structures of famous buildings the world over. A star was born - Nigel Cooke, leading painter of cityscapes!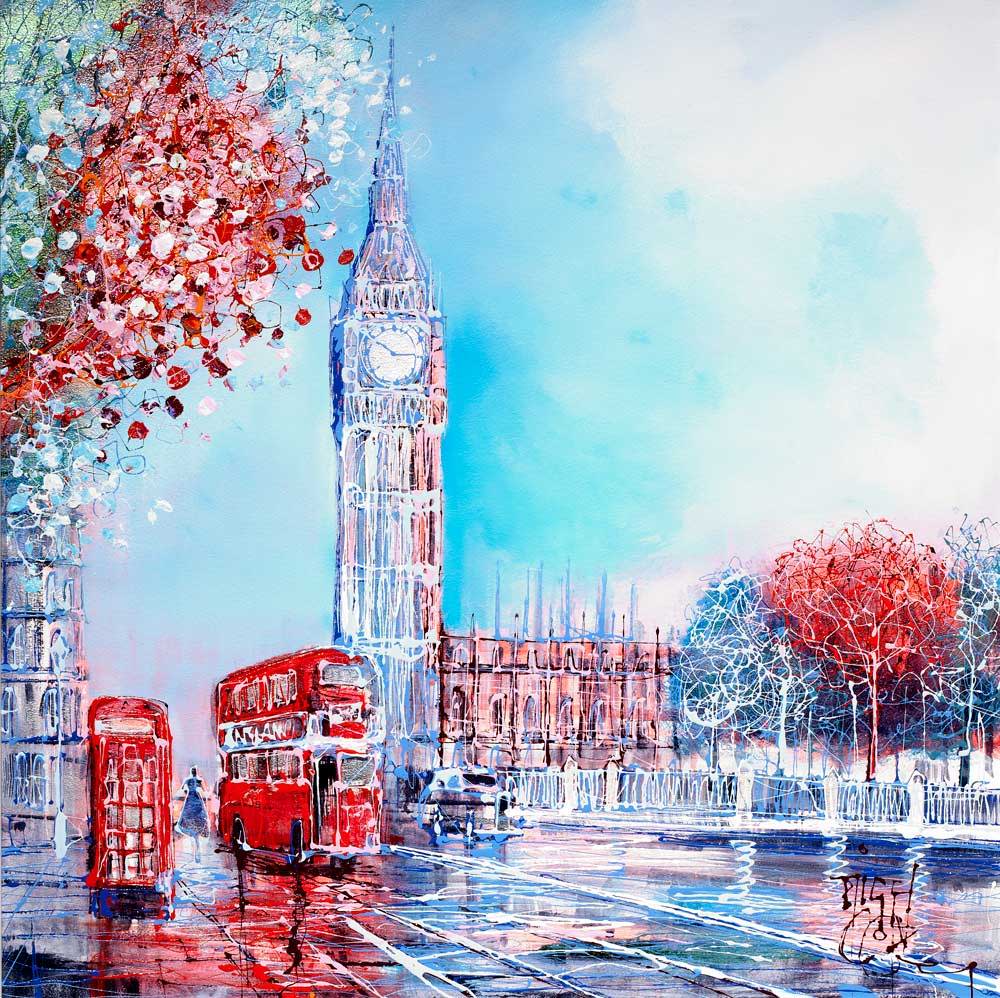 A Modern Winter Wonderland
'Approaching Dusk' represents the evolution of Nigel Cooke's cityscape technique: combining his celebrated detail with beautiful, impressionistic washes of colour: evoking reflections, atmospheric haze and dramatic skies. The reduced colour palette - all moody blues and misty whites with the brilliant highlights of scarlet - effortlessly evokes a Christmas winterscpe, with that undefinable crisp chill in the air.
Merry Christmas from Wyecliffe
Original art is the perfect gift, complementing all tastes and living spaces.... As well as providing the ultimate Christmas decor!
Get inspired for the festive season with our specially curated 2018 Christmas collection - and follow our blog for the next day of Christmas!
---
Also in News
For number 5 in our '12 Days of Christmas' series we blast off with 'Five Superheroes'... Not just any rendition either: these pint-sized powerhouses are from artist Nigel Humphries and his adorable 'Pop Vinyl' series!
The UK's most popular contemporary artist is the subject of our latest in-depth look at 'The 12 Days of Christmas', today we celebrate 'six woodland creatures' in a beautifully enchanted faerie woodland: Kerry Darlington's 'Moving Infinity'.
In today's '12 Days of Christmas' article, the theme is 'Seventh Avenue'. Hit the town with Wyecliffe and artist Veronika Benoni as we investigate her luminous, breathlessly exciting New York cityscape 'Rush Hour'.