Welcome to the next painting in the '12 Days of Christmas' Wyecliffe series; showcasing some of our best loved artworks for the festive season... Today's theme is 'Nine Mischievous Lives'. As we celebrate cats - and the remarkable mixed media urban originals by Robin Coleman. His superlative pop-art box-canvas 'Cool for Cats' is a brilliant Christmas gift!
After being diagnosed with a spinal disease, the Kentish-based Robin Coleman threw himself into art as a stress release. An avid collector in the grand English tradition, Robin began to make use of the comic books, stamps, novels and ephemera he had amassed over the years. What emerged was a distinctive pop-art process: playful, optimistic and multi-layered... A star was born.

By 2014 he was exhibiting alongside Banksy and he is now collected all over the world: from prestigious galleries to Hollywood royalty!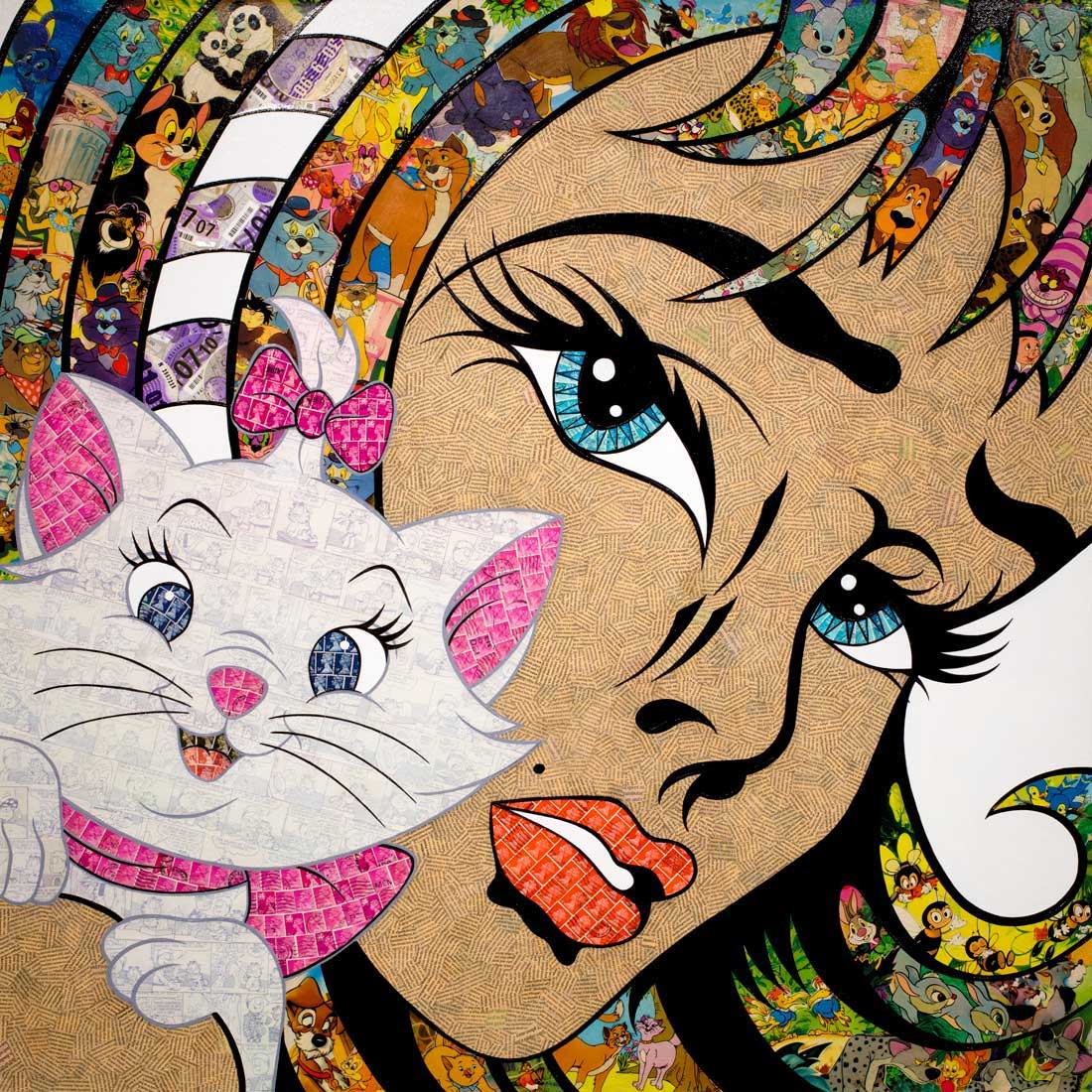 Before LOLcats and YouTube videos, feline companions already had a hold on pop culture - especially at Christmas. Growing up as a youngster, Christmas wouldn't be complete without Bagpuss, Disney cartoons such as 'The Aristocats' or a Garfield TV special (or Christmas Annual). For this reason, Robin Coleman's chic postmodern celebration of cats - from lions to domestic moggies - makes the perfect present for the tabby lover in your life.
(I could have made a joke on the word 'perfect' just then. Spelling it as purrrr-fect. But no. I just can't do it)...
One of the brilliant things about Coleman's work is examining the incredible levels of detail and texture. In 'Cool for Cats' you'll find stills from Disney animations, pages from penguin paperbacks, newspaper comic strips, banknotes, even postage stamps (a legacy of Robin's love for bric-a-brac and great British hobbyists). Other works by Robin famously feature tax-discs: to the extent he's almost used up the finite supply in second-hand shops around the country.
Merry Christmas from Wyecliffe
Original art is the perfect gift, complementing all tastes and living spaces.... As well as providing the ultimate Christmas decor.
Get inspired for the festive season with our specially curated 2018 Christmas collection - and follow our blog for the next day of Christmas!