Welcome to our Wyecliffe Christmas series as we count down to the festive season with some of our most accomplished art work. Today's theme is 'The Eighth Round' - Simon Claridge's homage to dedication, persistence and standing up to life's punches: 'Muhammad Ali - The Greatest' .
Reading based artist Simon Claridge initially captured the contemporary art-world's attention in 2005 with his provocative, stylised graphic-design influenced silkscreen depictions of the female form. As his technique has evolved, Claridge has become one of the leading modern exponents of the silkscreen method: not only refining his skills to reproduce super-fine photographic detail, but establishing his now famous diamond-dust embellishments. Collectors of Claridge's work include musician Rod Stewart, celebrity stylist Rachel Zoe and original supermodel Claudia Schiffer.
I want the work to have an initial raw impact which given time perhaps will inspire memories... It's this line between fantasy and reality which I believe we all walk on from time to time that interests me.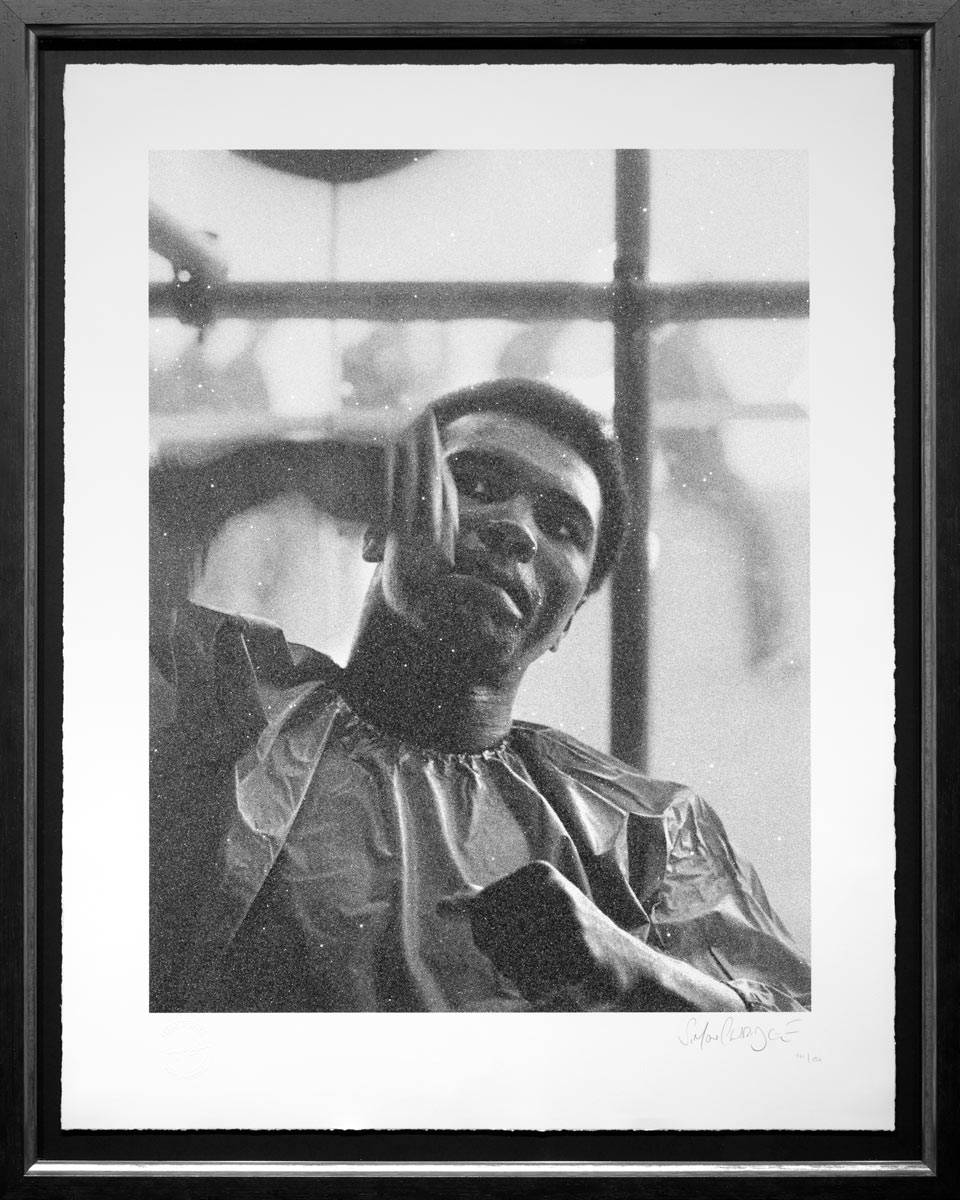 The Terry O'Neill Collaboration
This Limited Edition is a landmark collaboration with legendary photographer Terry O'Neill: the foremost pioneer of the candid celebrity portrait in the swinging 60s. His photos of Brigitte Bardot, Ursula Andress and Terrance Stamp - with all the fashion, luxury and lifestyles captured with them - came to define a generation.
'Muhammad Ali - The Greatest' is part of Simon Claridge's Diamond Dust series: marking the first time O'Neill's work has been silkscreened. Claridge, a photographer himself, was presented with unique technical challenges during the production of this edition: so distinctively lit are the original images, he found the reproduction stretched even his expertise with the silkscreen printing process. The success of this collaboration is testimony to two artists working at the peak of their powers.
The eighth round is a reference to Muhammad Ali's shock comeback fight 'Rumble in the Jungle' in 1974. At age 32, nobody expected Ali to last against the bigger, younger undefeated world champion George Foreman. With a combination of his legendary speed, stamina and new tactics in the ring: Muhammad Ali delivered the knockout blow in the eighth round.
One of the most famous sporting events in history, it re-established Ali as World Heavyweight champion after being stripped of all his titles as a conscious objector to the Vietnam War. In the years following the match, Muhammad Ali and George Foreman became best friends: at the 1996 Oscars, the documentary of the fight in Zaire When We Were Kings won the Academy Award for Best Documentary Feature. With Ali visibly suffering from Parkinson's; George Foreman helped him up the steps to receive the Oscar.
Merry Christmas from Wyecliffe
Original art is the perfect gift, complementing all tastes and living spaces.... As well as providing the ultimate Christmas decor.
Get inspired for the festive season with our specially curated 2018 Christmas collection - and follow our blog for the next day of Christmas!