12 Days of Christmas - 'Stormy Waves'
Welcome to the next article in our Christmas series, showcasing the rich themes and techniques in our art works.
Today's topic is 'Eleven Sails on the Sea' as we focus on Rozanne Bell and this dynamic and exciting winter seascape 'Stormy Waves'...
Rozanne Bell's New Direction
Long-term followers of the Wyecliffe blog will probably be familiar with our amazement at Rozanne's beguiling array of genres: she isn't an artist who stays still! From the animal characters inspired by her Zimbabwe upbringing, to the quaint nocturnal fishing villages of her adopted Dorset home; our happiest artist hardly lets the paint dry on her latest masterwork before she departs for the next artistic destination!
'Stormy Waves' is a magnificent example of her new 'Sailing' series: depicting thrilling boat races under a distinctly wintry, moonlit sky.... The effect is magical - combining the thrill of the chase with an enchanted, rarefied atmosphere. To this end, Roz has employed a technique from history's most groundbreaking artists...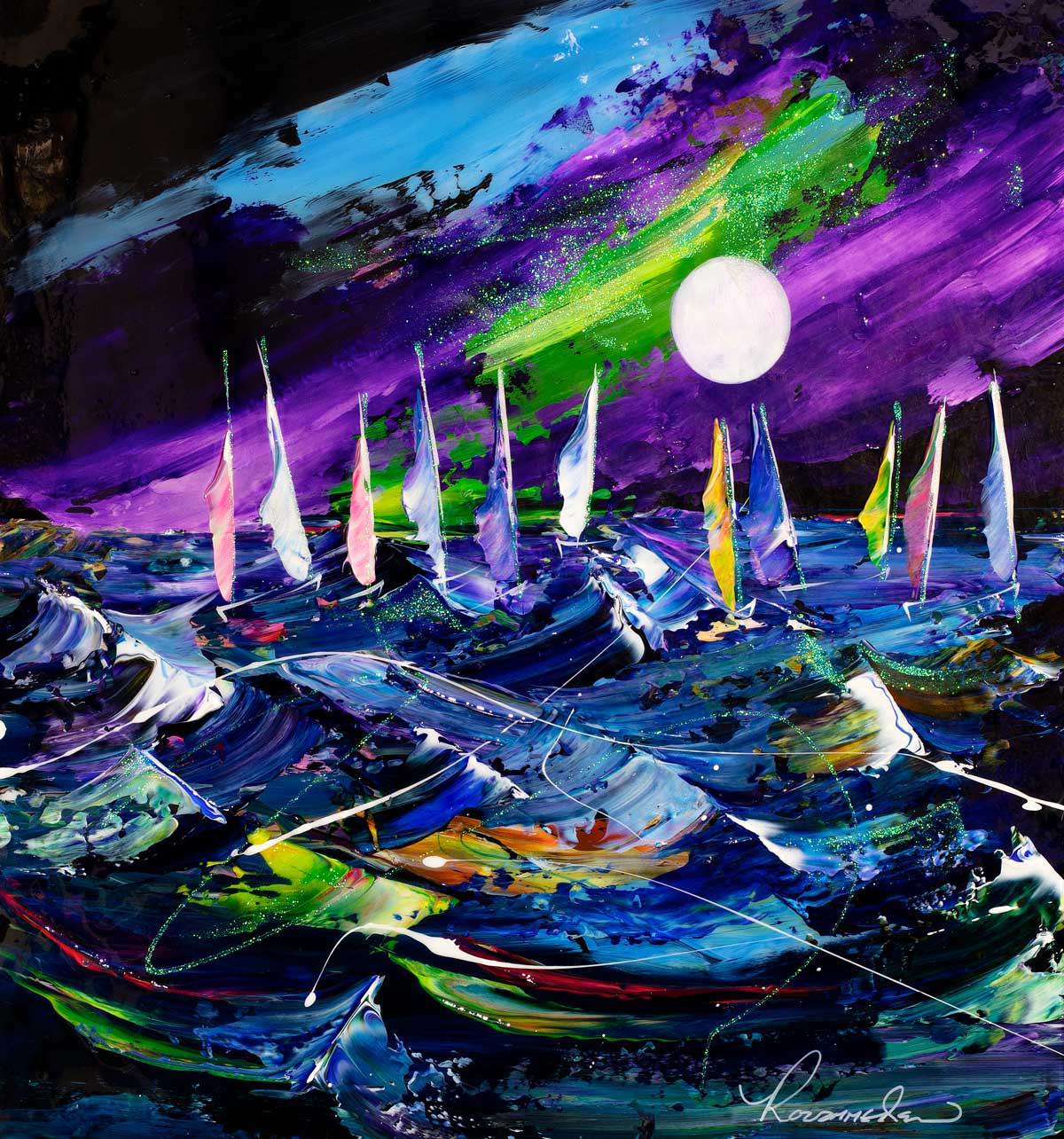 A Noble Artistic Tradition
The humble palette knife is one of the unsung heroes in the artist's toolkit: lacking the paintbrush's legendary status as the mythic conduit between artist and canvas, the palette knife was traditionally employed to spread and mix paint, as well as the more utilitarian tasks of scraping and cleaning.
However, with the rise to prominence of artists such as Van Gogh and Picasso; the palette knife was validated as an expressive and powerful instrument to paint with - in joyous sweeps of pure colour, atmospheric textured impasto or dramatic rough-hewn lines.
In this work, Rozanne has employed these techniques to create a three dimensional ocean - literal waves of acrylic paint and resin; churning and swelling with a perceptible sense of kinetic motion and power. You can feel the spray of the sea and driving wind!
This piece is a unique original - and utterly singular gift for that special someone. For lovers of sailing, seafaring, fishing or the vast ocean itself. Its powerful highlights of vivid colour add a striking contrast to darker colour schemes or its deeper, atmospheric hues will form the perfect counterpoint to lighter decor.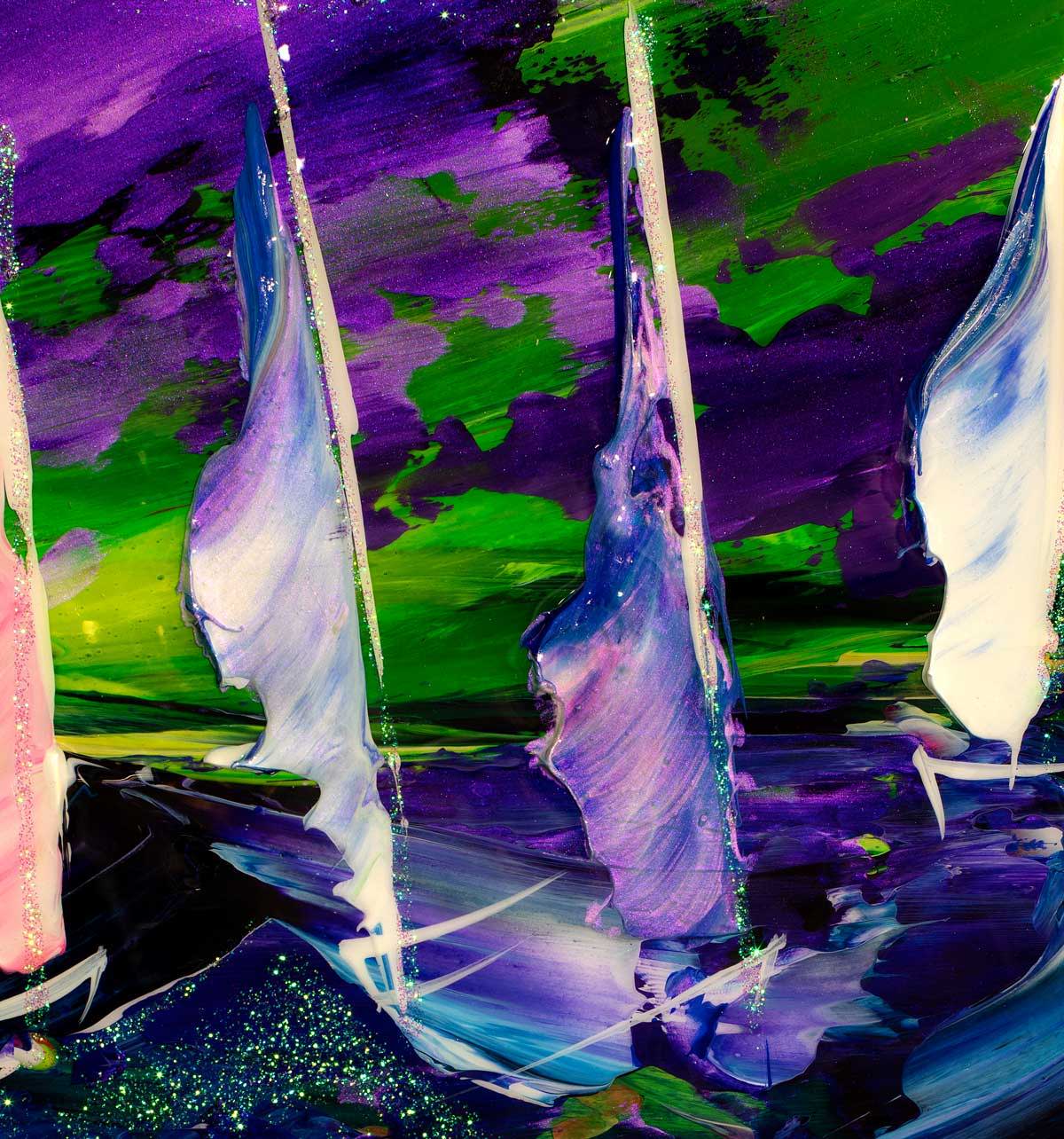 Merry Christmas from Wyecliffe
Original art is the perfect gift, complementing all tastes and living spaces.... As well as providing the ultimate Christmas decor.
Get inspired for the festive season with our specially curated 2018 Christmas collection - and follow our blog for the next day of Christmas!
---
Also in News
For number 5 in our '12 Days of Christmas' series we blast off with 'Five Superheroes'... Not just any rendition either: these pint-sized powerhouses are from artist Nigel Humphries and his adorable 'Pop Vinyl' series!
The UK's most popular contemporary artist is the subject of our latest in-depth look at 'The 12 Days of Christmas', today we celebrate 'six woodland creatures' in a beautifully enchanted faerie woodland: Kerry Darlington's 'Moving Infinity'.
In today's '12 Days of Christmas' article, the theme is 'Seventh Avenue'. Hit the town with Wyecliffe and artist Veronika Benoni as we investigate her luminous, breathlessly exciting New York cityscape 'Rush Hour'.