12 Days of Christmas - 'Moving Infinity'
The UK's most popular contemporary artist is the subject of our latest in-depth look at 'The 12 Days of Christmas', today we celebrate 'six woodland creatures' in a beautifully enchanted faerie woodland: Kerry Darlington's 'Moving Infinity'.
Kerry's Celtic Connection
Born and raised in North Wales; Kerry famously draws inspiration from Celtic folklore - and the epic mountains, moody atmospheric coast, dense woodland, ruined castles and Neolithic remains that dot the landscape.
Over the years, the Wyecliffe team have had the exclusive opportunity to visit Kerry at home and journey with her to her favourite spots: observing her at work in places as varied as the 'Faerie Glen' gorge, Bodelwyddan Castle and the ancient prehistoric earthwork known only as 'The Gop'...
This original artwork does not depict Christmas as we know it on the Gregorian calendar. Rather it marks the older, more primal version of the Winter Solstice... The ancient Druidic tradition 'Alban Arthan', Welsh for 'Light of Winter'.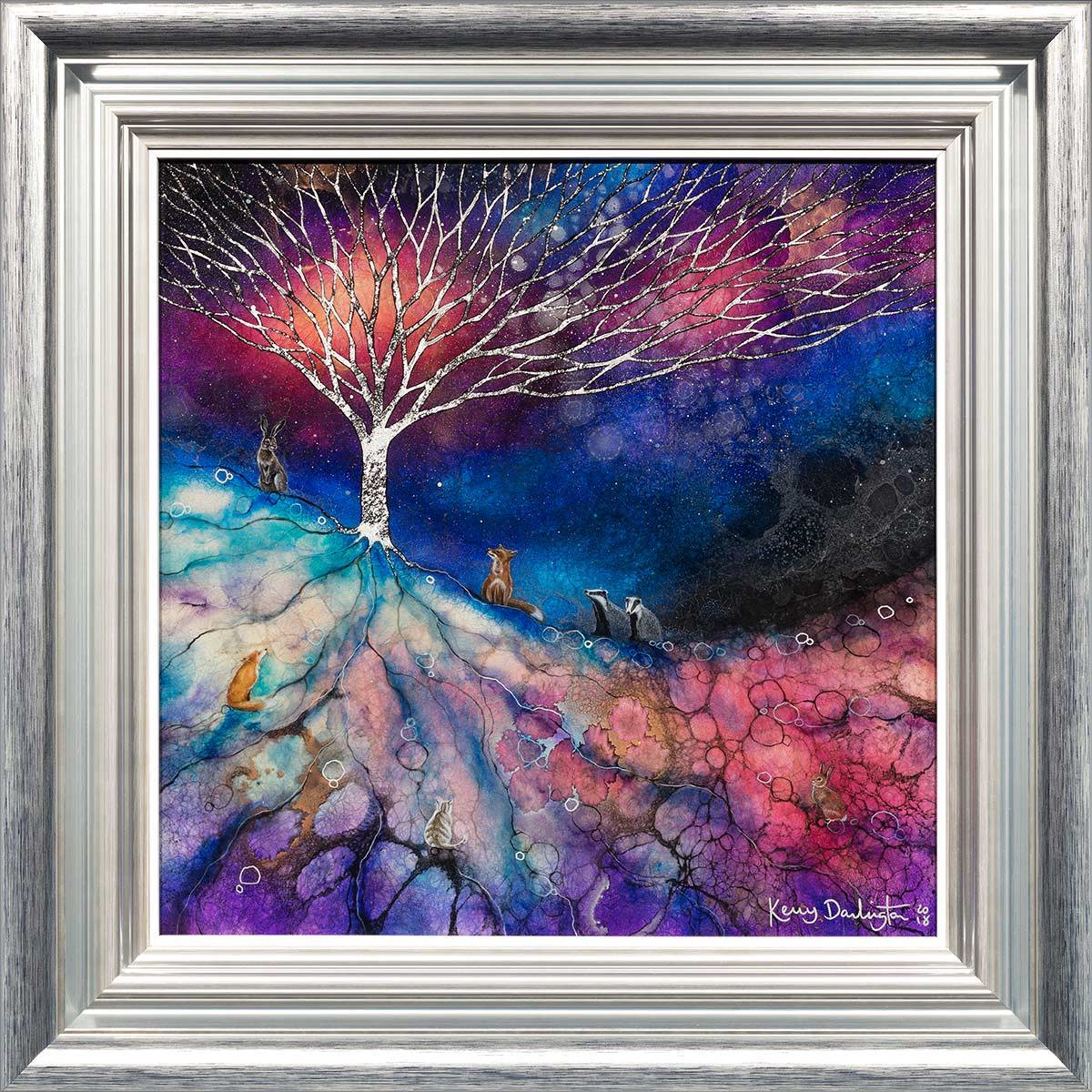 This magnificent artwork was painted for the annual Wyecliffe Kerry Darlington Event that heralds the winter season.
This years theme was 'Midwinter Magic' to coincide with the launch of this original, among others... Using black pine trees, a dark colour scheme and soft atmospheric lighting we transformed the Wyecliffe Galleries into a mis-en-scene both magical and elegant. Possibly the most successful event decoration yet - and we've had some eye opening designs over the years!
With over 200 attendees; this years' event was our biggest ever - providing a fitting launch for this beautiful original.
The 'Tree of Life' Collection
From the classic 'Celtic Twilight', through to the phenomenally successful 'Call of the Trees': Kerry Darlington's Tree of Life collection has been one of her most sought after. Combining her Volcanic Abstract technique in the swirling, fractal-style earth and sky, with Celtic mysticism and her superb ability to render wildlife.
Omnipresent in this series are trees - namely the power and wisdom inherent in one very old tree. A survivor of forest fires, world-wars and the march of technology, the tree in 'Moving Infinity' is a focal point for the woodland animals. Rendered in metal leaf to enhance it's presence.
Merry Christmas from Wyecliffe
Original art is the perfect gift, complementing all tastes and living spaces.... As well as providing the ultimate Christmas decor.
Get inspired for the festive season with our specially curated 2018 Christmas collection - and follow our blog for the next day of Christmas!
---
Also in News
For the first day of Christmas we're focusing on a painting we think encapsulates all the fun of a winter holiday.... 'Lookout Cottage in Winter' by Anne Blundell. Join us for a quintessentially British Christmas celebration!
Of course Christmas is one of the most romantic times of the year, so it was only natural that for the second day of Christmas, our theme is 'Two  Lovers' - who else but Ted and Doris! In today's article we explore David Renshaw's beautiful new original 'Our Way Forward' - where his beloved Northern Romance couple face a brand new year with excitement....
The final weekend before Christmas: the perfect time to go out and grab those final presents (or in my case.... First presents!).Today's '12-Days of Christmas' article explores one of our most incredible and unique works: the glorious 3D sculpture 'Chic' by visionary Jeffrey Bisaillon.