It's the final countdown to Christmas so for number 5 in our '12 Days of Christmas' series we blast off with 'Five Superheroes'... Not just any rendition either: these pint-sized powerhouses are from artist Nigel Humphries and his adorable 'Pop Vinyl' series!
"My style is a combination of many influences. Being a self taught artist I studied many artists particularly the techniques of the old masters which I have adapted to suit my own way of working. So I suppose my style would be considered quite traditional but with a quirky element... My intention is to bring a smile to people's faces. You could say that my customer base is mainly people who are fun loving of any age who appreciate attention to detail and like something a little bit different without being too obscure. It is interesting when I exhibit my work to watch people being drawn to my subject matter. It is quite magical. It is a great outlet. It allows me to channel my creativity and I see each piece as a new challenge. It also gives me a sense of accomplishment, especially if the piece has been particularly difficult to paint..."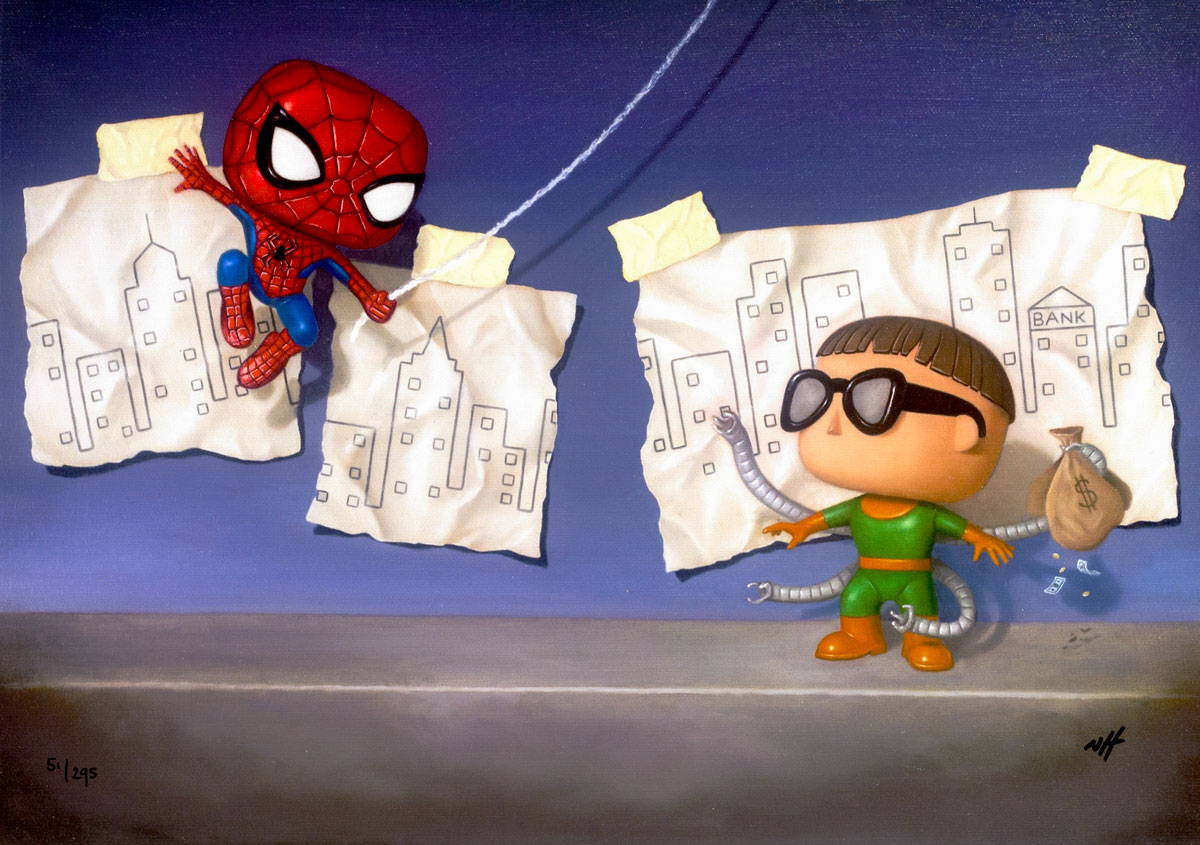 Humphries irresistible characters are based on toys - particularly the 'Pop Vinyl' style big headed collectables gracing mantelpieces, shelves and desks across the world. Drawing upon his own childhood, Humphries has also included the time-honoured kids tradition of providing action-packed dioramas: taped up in the background of course! The result is a heady mix of nostalgia, contemporary superhero movie zeitgeist and unpretentious fun - underpinned by a formidable technical skill and beautiful use of colour.
With Originals and Unique Editions available; these small but perfectly-formed works make the ideal Christmas present for the kids - and big kids - in your life! With Marvel and DC characters represented: you can even assemble your own Avengers or Justice League ....Even pit your favourite heroes together in mortal combat!
Merry Christmas from Wyecliffe
Original art is the perfect gift, complementing all tastes and living spaces.... As well as providing the ultimate Christmas decor.
Get inspired for the festive season with our specially curated 2018 Christmas collection - and follow our blog for the next day of Christmas!