The name 'Attachment Issues' conjures up the idea of carrying things around with you
through all walks of life"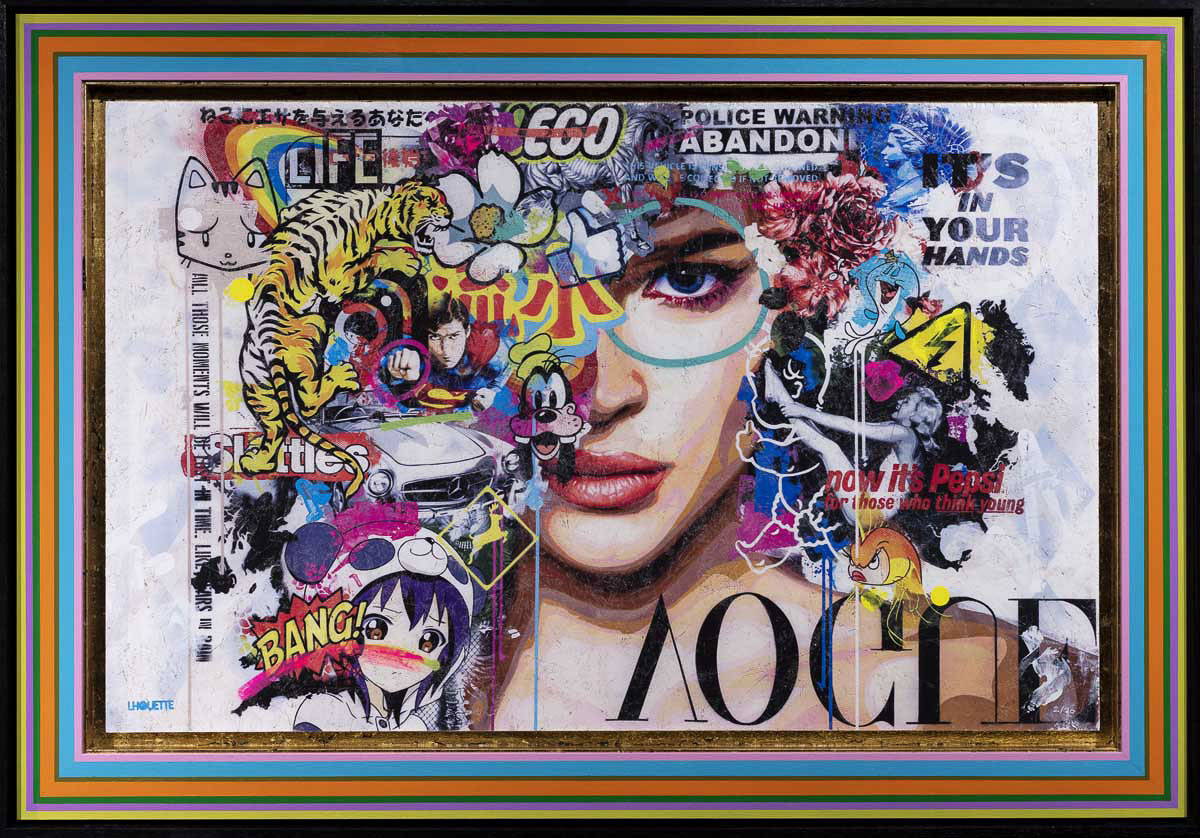 ---
Lhouette's trademark fusion of gritty urban art and Warhol-esque pop culture iconography is a continued homage to the excessive ethos of "Pop Maximalism" and has been expressed through 54 complex layers to build exceptional portrait 'Attachment Issues'. The awe-inspiring original work was unveiled exclusively at Wyecliffe Galleries at the artists first attendance in over 3 years. Sold to a private collector before it was exhibited, the piece marks a milestone in an already significant artistic career. Measuring over two meters wide, the making of such a work demonstrates a culmination of techniques that the artist has been developing and which are positively unique to his creations.
"A painting within paintings"

This flagship work is deliberately orientated to conjure up visions of billboard advertising; echoing the modern trend of this generation to construct their own perfectly branded versions of themselves and lives online. A painted form of a social media filter, the portrait is crowned and surrounded by a collision of visual vocabulary that has become signature Lhouette. Described by the artist as "A painting within paintings" each brand has been carefully chosen and placed to allude to the impact they have had in some capacity during Lhouette's life; some more influential than others, many draw upon his time spent travelling in the Far East with the navy, as well ongoing love of the cornucopia of era's found in thrift shops. Components that have been consistent throughout his compositions include household brands such as Vogue, Lego or Coco Cola - their enduring global recognition appeals to the artist to take the ubiquitous and re-define it with his contemporary perspective.
The making of Attachment Issues
Translated into an extraordinary boutique edition of 25 works internationally, Lhouette's passion for up-cycling has led to the introduction of a new dimension to 'Attachment Issues'; using the rough surface of engineered wood in the format of OSB to hold his composition ultimately lends an industrial touch, tactile to the eye. Also translated into a deluxe extra-large edition of just 5 pieces, the striking impression of the scale of the original work has been maintained in every detail of the high-quality finish. Exclusive to Wyecliffe Galleries, this ultra-rare XL edition measures approx. 218.5cm x 145.5cm and is a true centrepiece to any interior.
A trailblazing creative whose proposition isn't only built on the visually eye-catching but the intense deference to materials has born an artist not only sought after internationally but acclaimed critically. Not only collected by Antonio Banderas, Ronan & Storm Keating and numerous other notable patrons, Lhouette has also featured on BBC's The Great Pottery Throw Down, as well as presented by The Dorchester Collection and Christies London. Building upon sensational portrait-collage editions 'Mad Bomb' and 'Stranger' debuted at 45 Park Lane, Mayfair, 'Attachment Issues' looks set to follow suit and take it's place in a series of works gaining in cultural and fiscal value following sell out. To secure your edition, please click on the button below.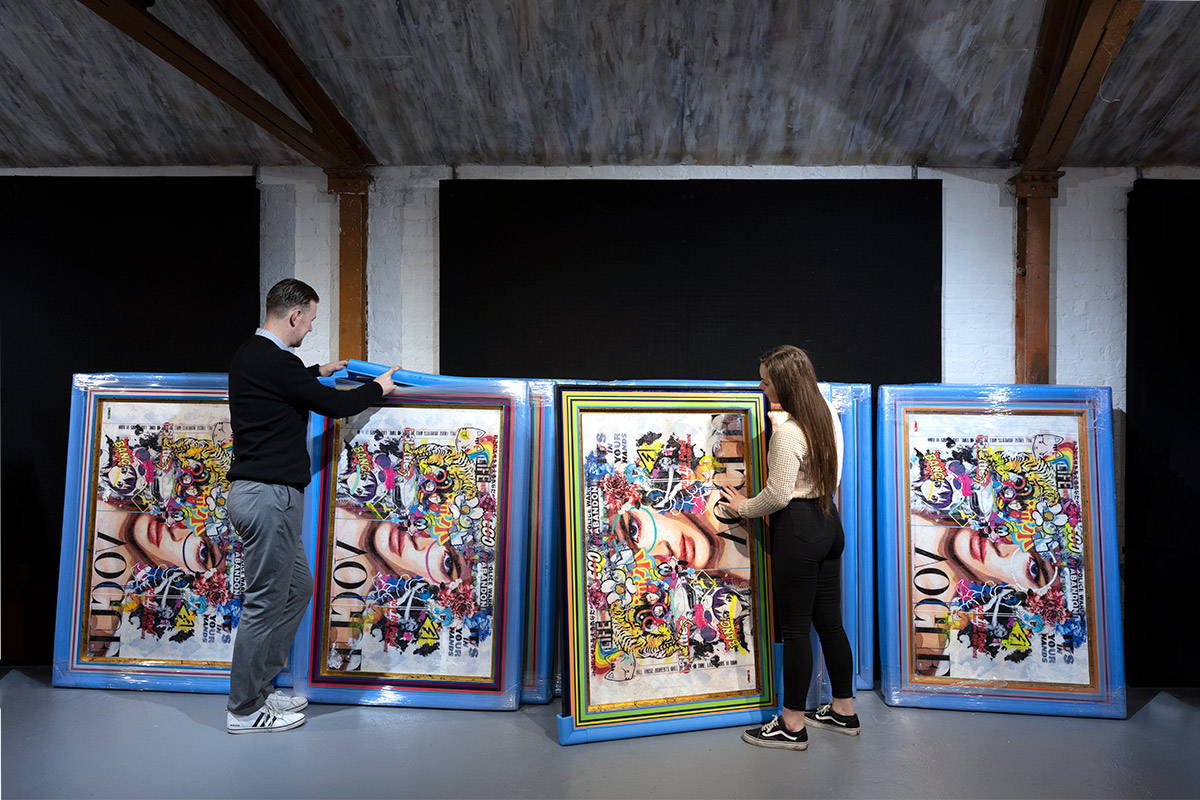 Attachment Issues available in XL
Once these conditions are met: the works are painstakingly recorded in our state-of-the-art database system (including advanced location tracking) and extensively photographed by Lucy and the image processing team. With extensive 'macro' detail shots utilising the Canon EOS 5DS camera: these shots not only form the basis for internet and print promotions: but form a visual record of the work at ultra-high resolution.
Finally; the works that aren't immediately selected for the gallery walls (or better still, immediately dispatched to a lucky collector) are archived in our temperature controlled 'vault'. Stored upright, fully surrounded in custom high-impact expanded rubber: the securely stored paintings are routinely checked and rotated onto gallery displays to ensure they remain in mint condition.