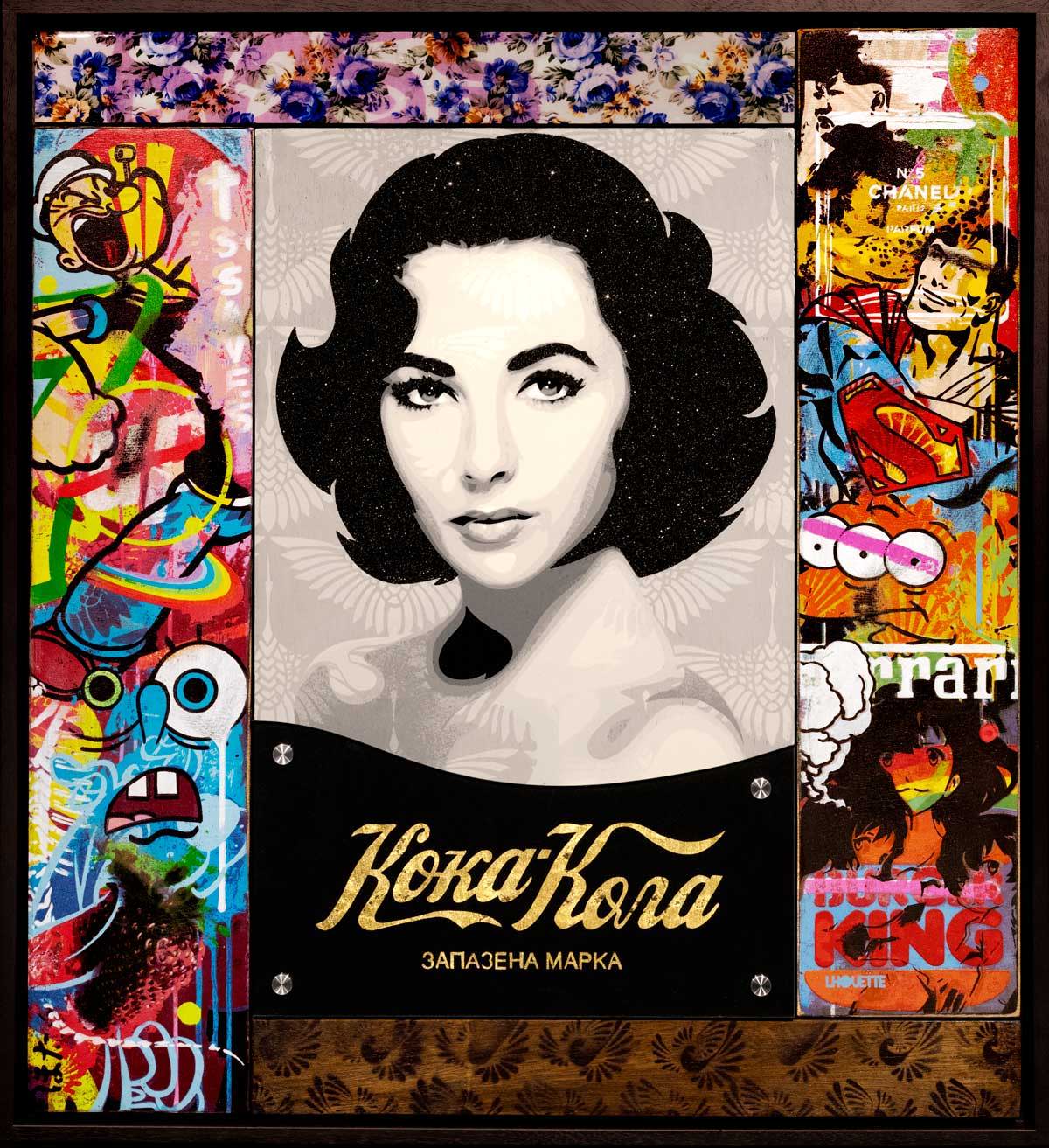 The problem with people who have no vices is that generally you can be pretty sure they're going to have some pretty annoying virtues
The silver screen and silk screen printing - two powerhouse industries destined to progress the creative and technical experience of watching and looking. Storytelling comes in so many different formats; cinema to immerse the viewer in a different world, where silk screening colours in the lines of pictures suspended in time.
It comes as little surprise to those who have followed Lhouette's creative output that the anticipated new boutique edition Taylor Madeunites the original glamour of Hollywood with timeless yet complex printing techniques.
Considering the technique a craft form in its own right, Lhouette is enamoured with the transformative properties of silk screening, particularly when appropriating imagery. An exceptionally labour-intensive process, the small edition run of just 20 pieces in total (plus 5 Artist Proofs) has taken a considerable amount of time to produce. With around 35 screens used to guide the pigment to the exposed wood, the manual effort to push the colour through the screens appeals to Lhouette's interest in industrial art making. Previously having utilised forms of silk screen methods, this is the most ambitious use of the technique in his work to date. Speaking of the process, Lhouette expands;
I love experimenting with differing output levels in the colours and transparencies, especially when causing misalignment of layers. For my recent release however, I wanted to use it for more practical exacting purposes. My mission was to produce a boutique run that had all the texture, colours and feel of some of my original pieces, which the painterly nature of silk screen really lent itself to achieving. By screening layers using acrylics directly onto treated ply wood, I have then sanded areas back to re-expose the grain, eventually finishing with bolt on panels and diamond dust"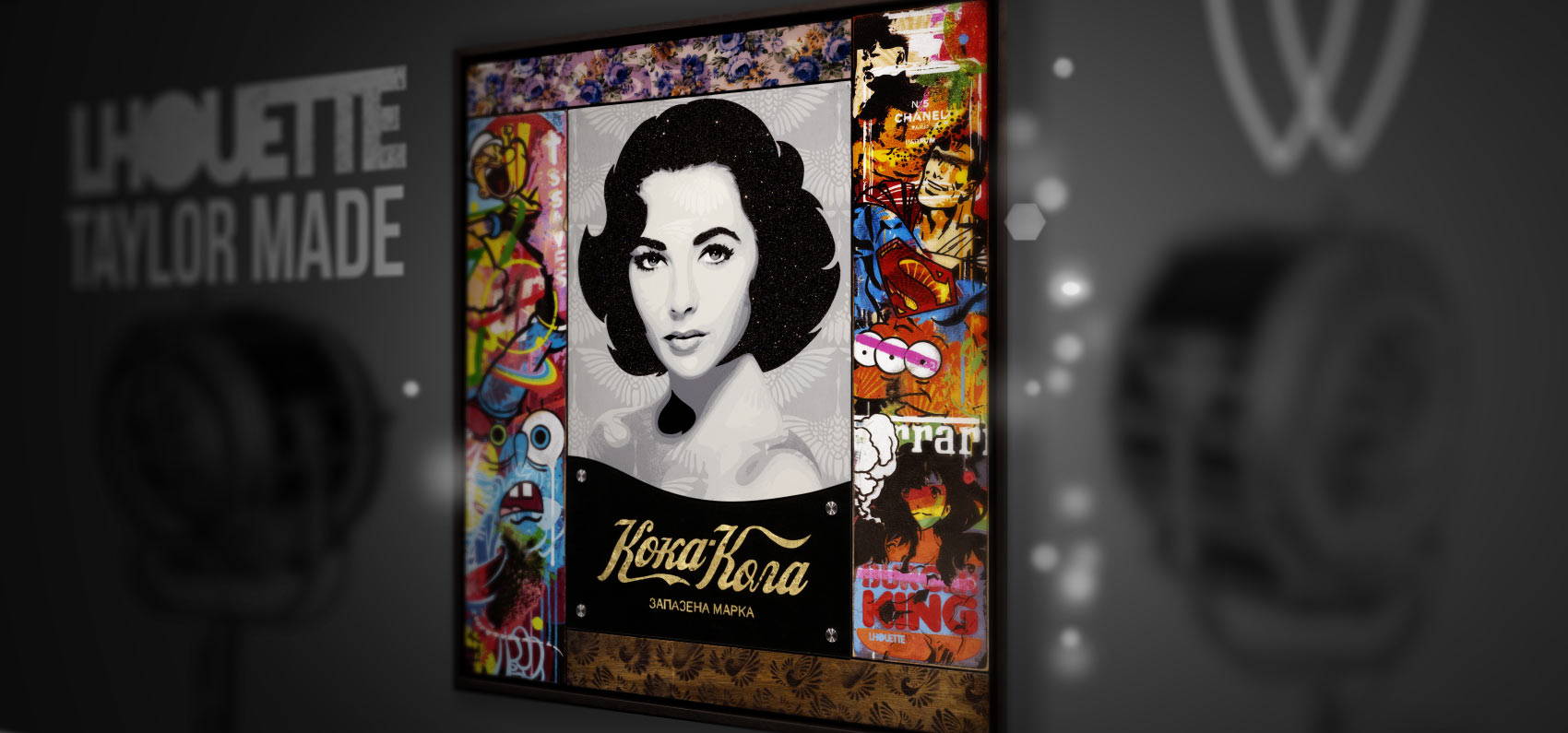 I love the time warp an antique shop creates; a box of Disney pes dispensers here, against an old framed print of Liz Taylor there, propped up by a stack of old DC comics against decorative Bulgarian bottles of pop. My interest in visual references tends to drift from the modern to the old without boundary. I endeavour to utilise imagery from the past 100 years rather than being restricted to the current, but cross overs are natural within artists who use icons within their work. I find it a cool thing to see the different interpretations of the same individual within the same genre in two different ways technically and process of thought."
Liz (from thrift shop to gallery wall)
Maximalism is the beating heart of Lhouette's practice, and it would therefore be a mistake to assume that Pop Art of the 1960s provides itself as primary source material. Of humble origins, 'Taylor Made' is born of the artist's complete fascination of forgotten and abandoned objects and imagery. Lhouette found the perfect environment to find hordes of cultural contrasts in a recent trip to Bulgaria, spending countless hours in a string of antique shops. Visual mismatches plentiful, Lhouette's iPhone acted as the modern artist's sketchbook to store future gems.
It is for this reason that the iconic Andy Warhol print 'Liz' was only of secondary consideration to the artistic process. A fascinating dual theme in Lhouette's body of work is the passing of time itself. Entirely contrasting with Warhol's context and intention, Lhouette re-interprets vintage imagery for a contemporary audience. Having seen a sun-bleached dusty print of Taylor amongst the antiques in the markets of Bulgaria, her image became something aged - ready to be styled in the urban language of a modern artist. Cast expertly in stencil, Elizabeth Taylor is breathtakingly beautiful emerging from a palette of cool monochromes. Set amongst five panels of busy collage stylings, she gazes serenely out at us amongst the visual commotion. Her perfectly styled bouffant is lavished in diamond dust, creating a subtle yet glamourous shimmer.
I'm a survivor - a living example of what people can go through and survive.
Pop art is about the transformation of existing imagery through application, I'm interested in brands that are reworked to suit other countries. I love the familiar against the not so familiar, being disrupted by exotic language variants such as Koka Kola, a manga batman, or Hollywood actors promoting unheard product on Japanese television adverts its pop transformation outside of the visual arts."
Importing influences from international sources is an ongoing task, though started during Lhouette's time in the Navy. The opulent and evocative references to Russia, the Far East and Eastern Europe originate from his tours of duty, engendering an enduring fascination with commercial brands which are reconfigured to adapt to the communities they wish to sell to.
With such a limited number of Taylor Made produced and over half a year since the last edition from Lhouette's independent studio was released, the anticipation is large with demand expected to outstrip available works. With such care and craftsmanship, the edition is set to be a future classic within the artists considerable arsenal of iconic images.
To order, please click here…
When people say, 'She's got everything', I've got one answer - I haven't had tomorrow.
I feel very adventurous. There are so many doors to be opened, and I'm not afraid to look behind them.