Exploring the Enigmatic Charm of "Angel Cake"

Discover the allure and mystique of Lhouette's classic femme fatale silhouettes, with a closer look at the captivating "Angel Cake" emblem. Uncover the fusion of bold colours, pop culture, and raw materials that define Lhouette's unique style.
---
The Allure of "Angel Cake"
---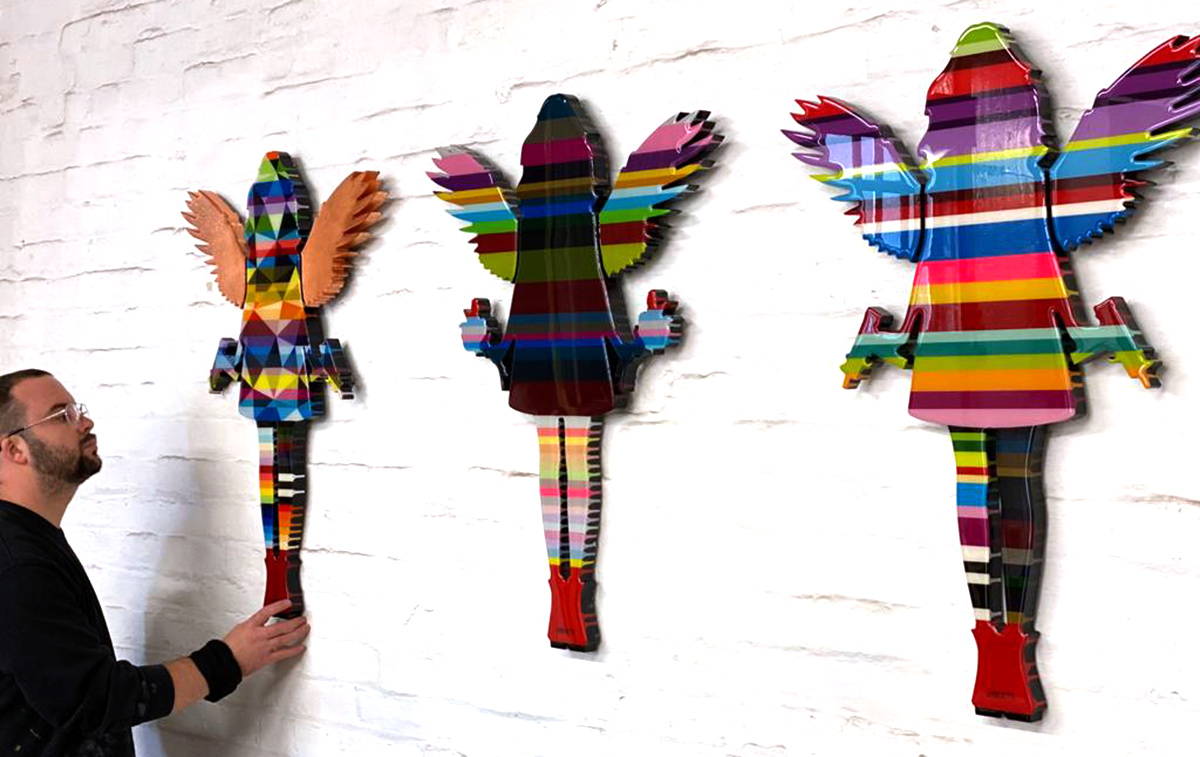 Lhouette, the leading pop artist of his generation, has gained recognition for his distinctive fusion of gritty street art and Warhol-esque pop culture iconography. His groundbreaking style, known as Pop Maximalism, draws inspiration from luxury brands, 20th and 21st-century popular culture, and global advertising. Lhouette's portfolio includes original art, boutique and deluxe editions, and innovative wall sculptures, showcasing his exceptional talent and creativity.
Lhouette's original female character, Angel Cake, has become synonymous with the artist's body of work. Subversive in tone, Angel Cake is a silhouette of an angel armed with guns, representing a powerful yet deadly figure. She stands at the forefront of Lhouette's "Post Urban Glamour" and "Pop Maximalist" concepts, both of which encapsulate his unique artistic philosophy.
From Plywood to Breathtaking Art
---
Angel Cake has evolved from an outline on plywood in Lhouette's earliest works to commanding large wall sculptures in recent years. This iconic character has remained a prominent figure in each of Lhouette's acclaimed solo exhibitions, including Art De Populaire to Video Heaven, and was featured prominently during his four-month residency with the Dorchester Collection. The enduring presence of Angel Cake highlights the artist's deep connection to this enigmatic femme fatale.
Lhouette's artistry is deeply rooted in pop art methodology, which involves the appropriation and recontextualization of existing imagery through mixed applications. Popular culture, comic books, brands, icons, TV, film, and the interplay of form, colour, and pattern are recurring themes within his visual language. Drawing inspiration from his travels to the Caribbean, South America, and Europe, Lhouette's work reflects the vibrant cultures and colours he encountered, evident in his meticulous collage stencil and painted aerosol techniques.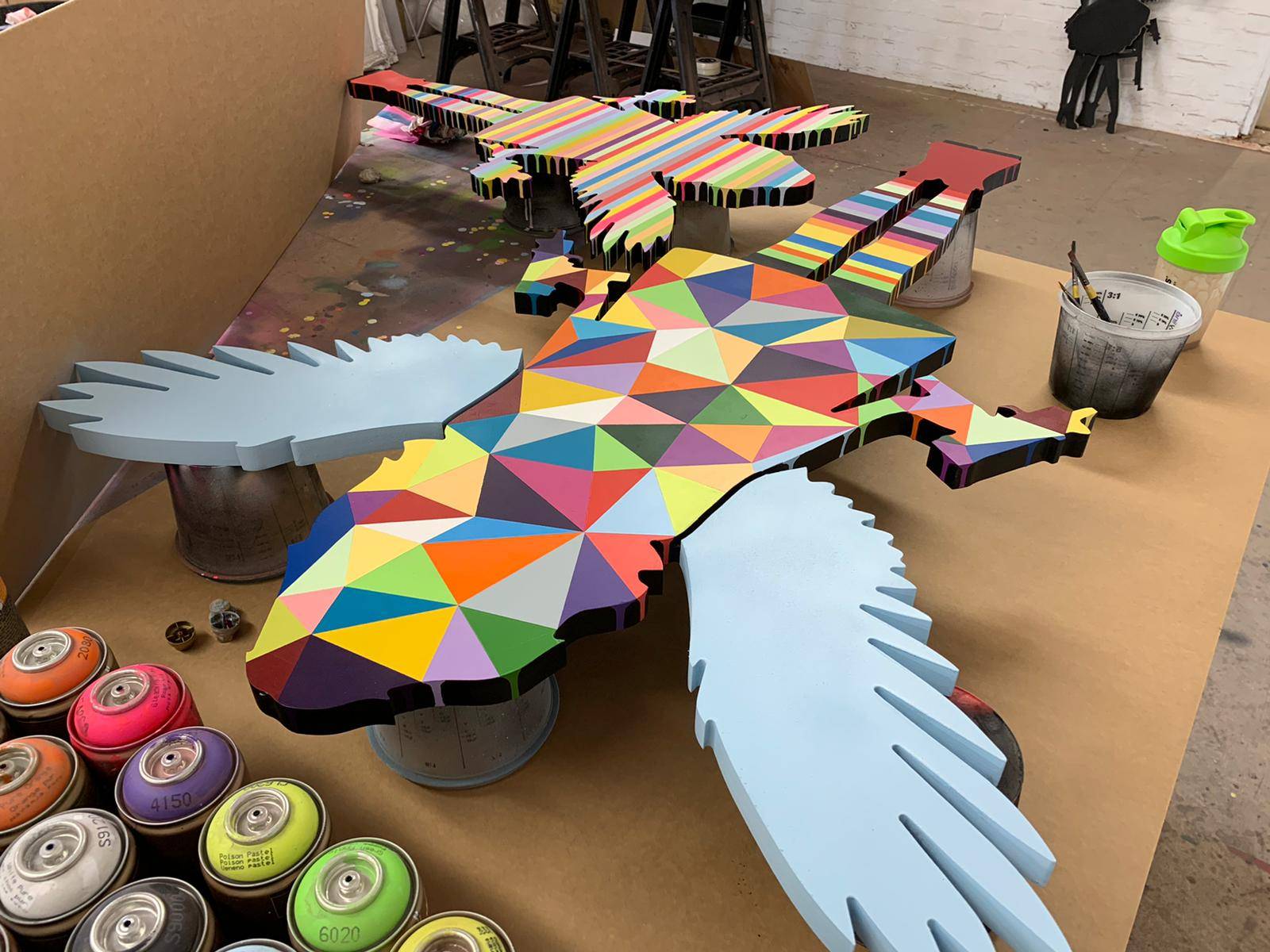 Wall Sculpture Collection
---
Lhouette presents an innovative series of original wall sculptures, featuring his iconic sassy female characters such as 'Angel Cake' and 'Little Miss Sunshine.' Each sculpture showcases a fresh interpretation, from signature coloured stripes to mesmerizing geometric patterns, adorned with glossy resin or captivating diamond dust. Available in various sizes, these distinctive artworks are the perfect choice to bring a touch of pop artistry to contemporary interiors. Explore the collection here.
Exploring Lhouette's Current and Future Projects
---
Lhouette has been pushing the boundaries of his artistic expression with his new series of distressed multi-layered pieces. Through his masterful use of salvaged materials and intricate layering techniques, he creates visually stunning artworks that embody a sense of raw energy and texture. These pieces are a testament to Lhouette's ability to transform ordinary materials into extraordinary works of art.
Exploring the world of paint-marbled silhouettes has added a touch of mesmerizing elegance to his repertoire. Combining his signature silhouettes with swirling, vibrant patterns created through marbling techniques, he introduces a new dimension to his already iconic figures.
Inspired by his Halloween collection 'Hells Angels', Lhouette recently released a series of pieces called SkeLhouettes. These artworks incorporate an additional element to his classic silhouettes—a negative skeleton and a moulded skull frame. Through this haunting twist, Lhouette adds a touch of macabre allure to his iconic figures, creating a captivating juxtaposition of beauty and darkness.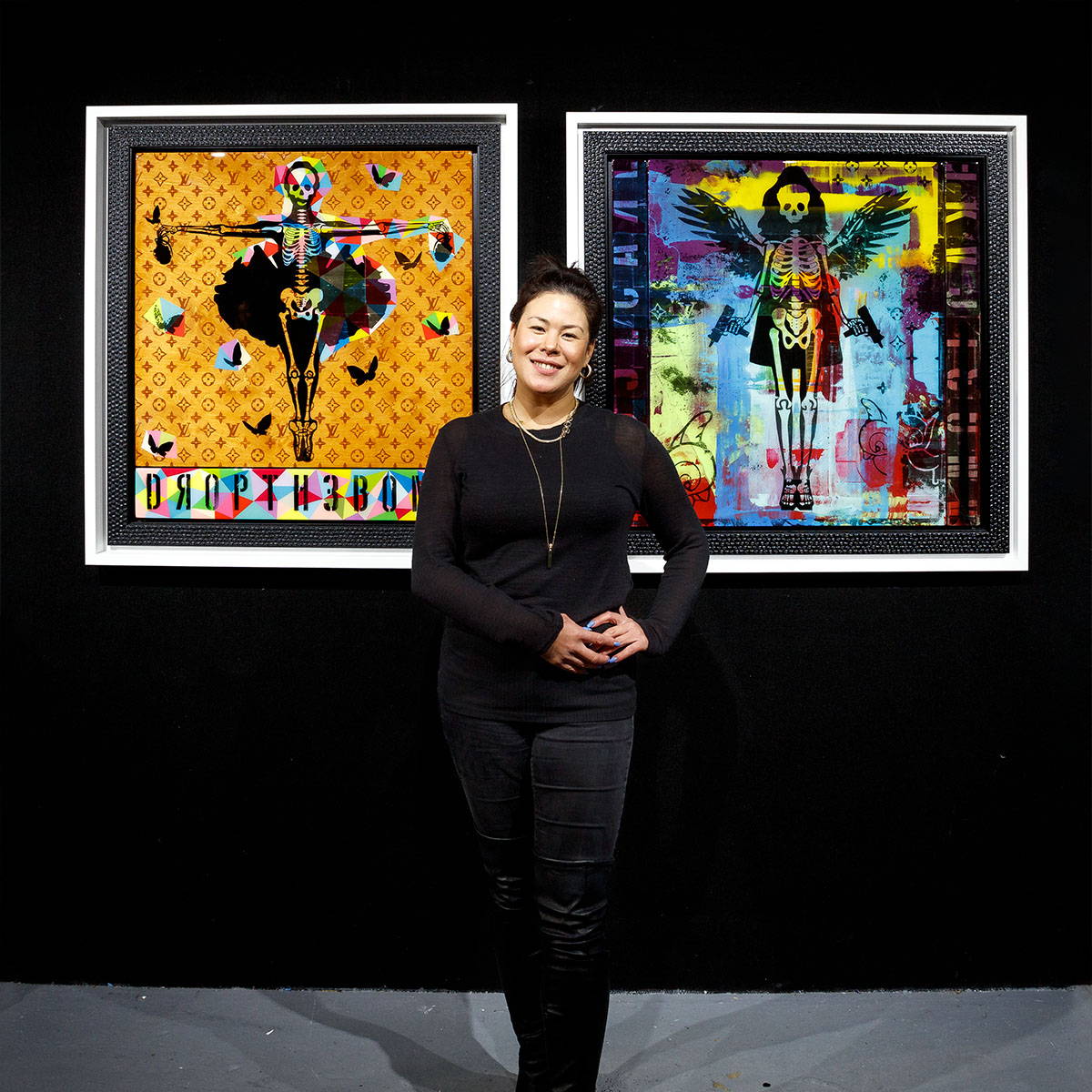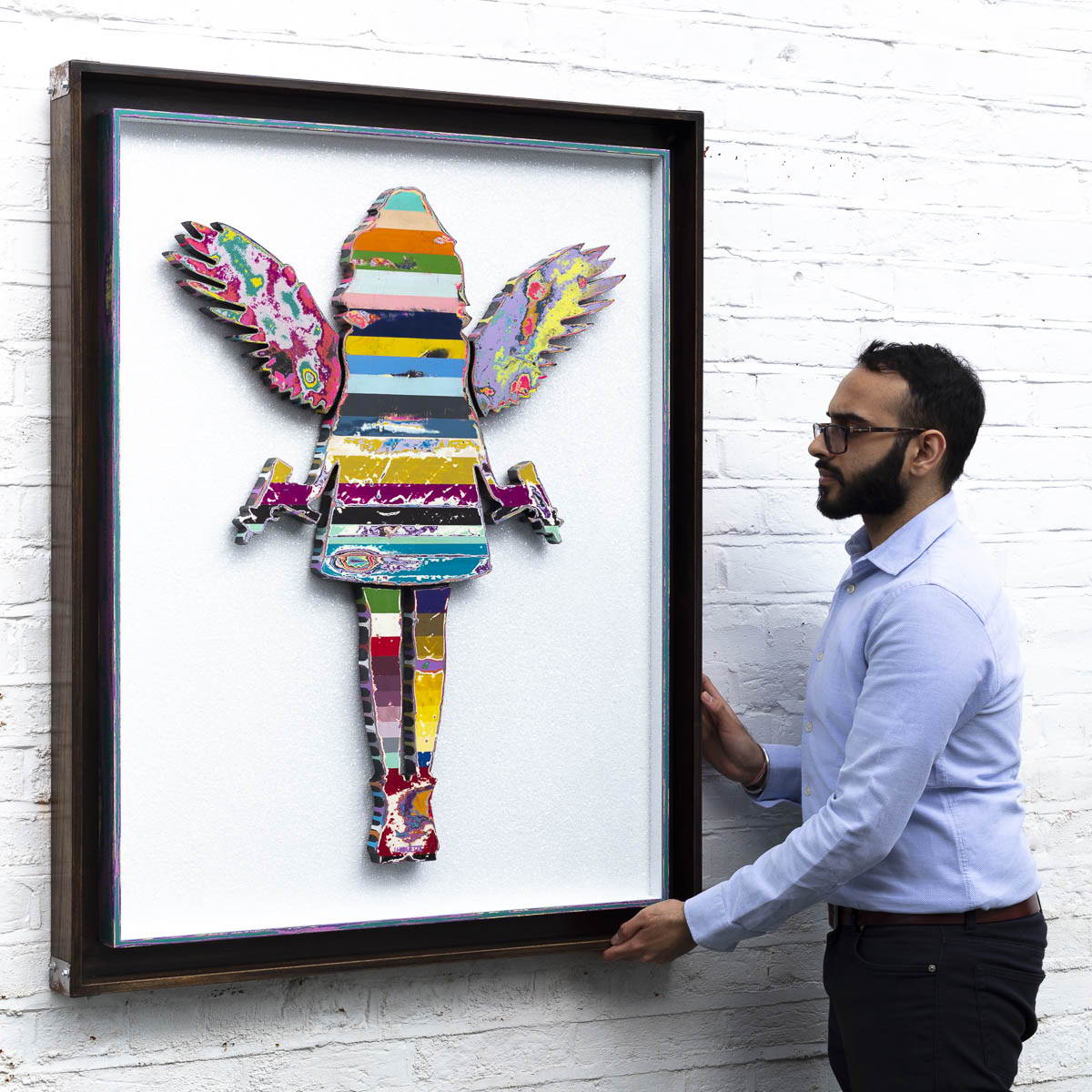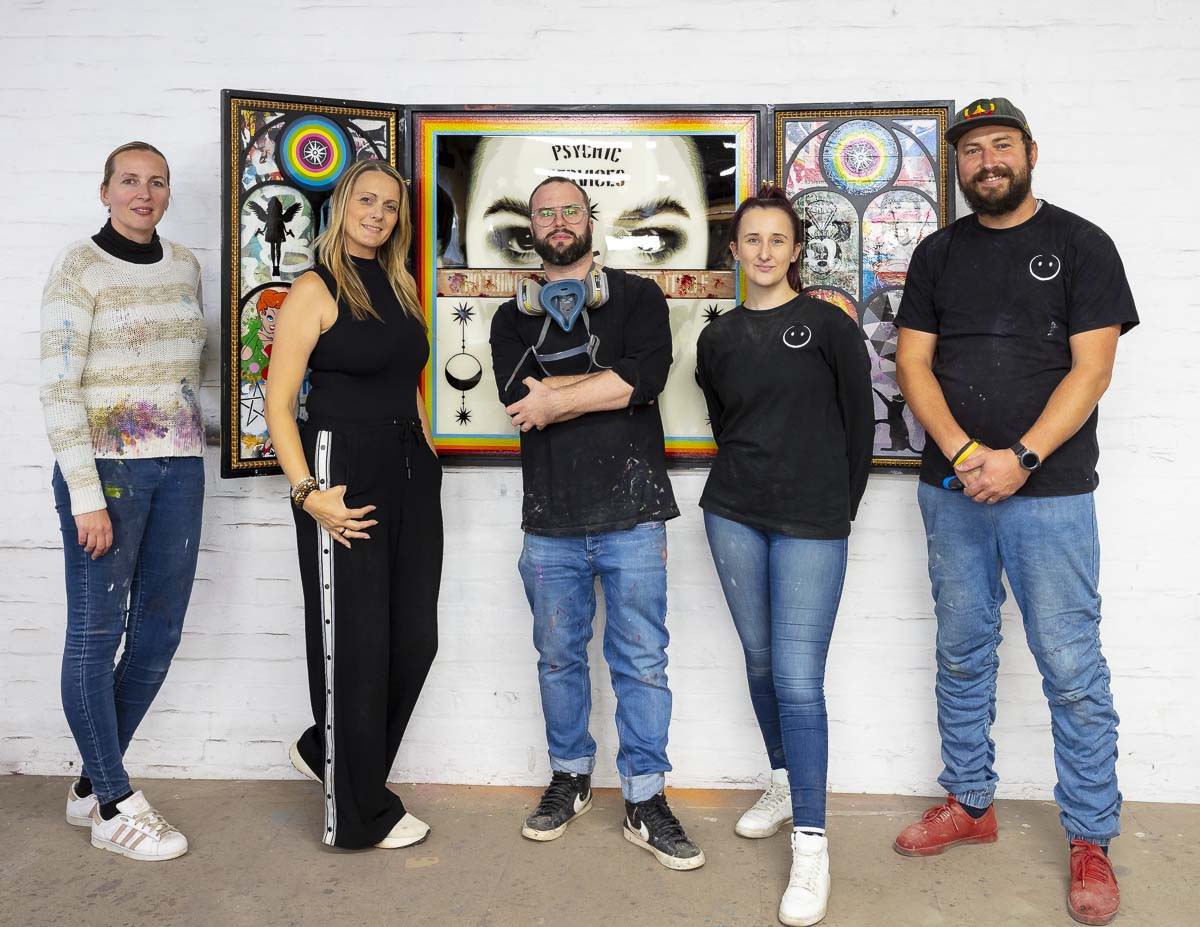 Lhouette, the master of pop maxamalism, continues to accelerate his artistic journey with a series of upcoming projects that draw inspiration from the dynamic world of speed and precision. As he pushes the boundaries of his craft, expect to witness a captivating collision of art and motion, where elements of velocity, energy, and sleek design converge. Stay tuned as this trailblazing artist unveils a new chapter in his artistic odyssey, leaving art enthusiasts eager to experience the exhilaration that awaits.
---
---
Sign Up for Exclusive Content
---