Art is the perfect gift for Christmas

Selecting art on behalf of a loved one may seem daunting with so many styles and genres to choose from, though with a team of art advisors to help navigate our unrivalled portfolio of originals, limited editions and sculptures there is the perfect gift for everyone this Christmas at Wyecliffe.

---
To help kick start your festive season, we have hand selected our top picks to provide inspiration for one of the most thoughtful gifts that can be received. Working with every budget starting from just £165 for affordable original works, there are pieces that will delight with vibrancy and stir shared memories.
With our services extending to UK and international shipment, plus 0% interest free credit available, picking an ideal present for that special someone in your life has never been easier.
---
This holiday season give the gift of art, with our extensive collection from a wide portfolio of artists. We have created some curated collections to inspire anyone, whatever your budget.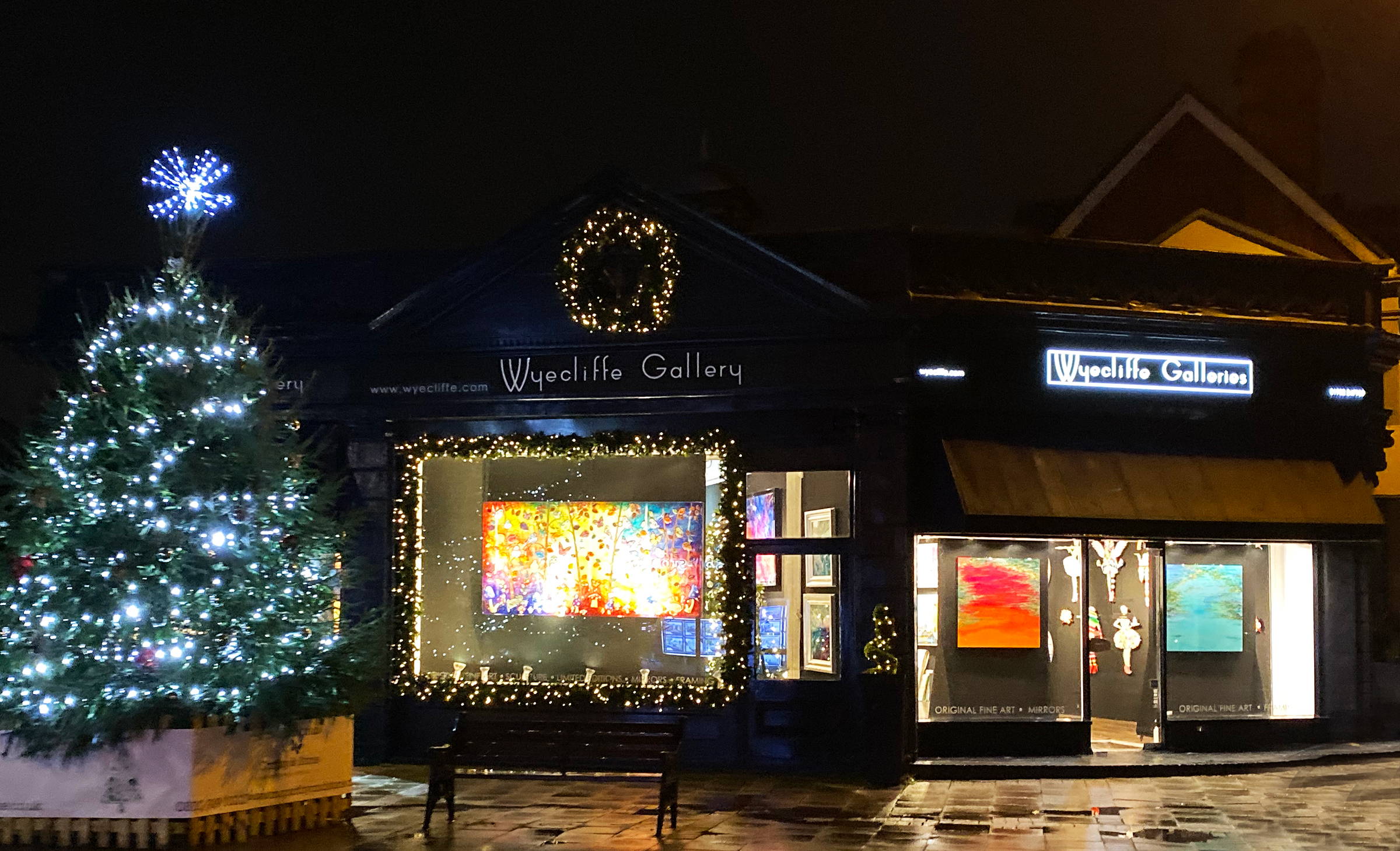 There are few artists that transcend both generation and culture, though Kerry Darlington has amassed a devoted international collector-base for her extraordinary nature and folklore inspired works. With a magpie-like approach to literary tales, the most recognisable stories are deftly entwined into the artists own fantasy world in which faeries and magic are real.
---
Take your loved one on a voyage around the world with Doris and Ted, the painted companions from the imagination of renowned artist David Renshaw. Though originally inspired by vintage photographs of the North of England, these romantic travellers have journeyed beyond their home visiting New York to the Northern Lights in each other's company. All featuring the symbolic motif of a luscious red heart, your loved one will have no mistake in how much you care if presented with one of Renshaw's heartfelt works.
Select from the rich original works on board crafted from oil paints, to the delicate format of a rare pencil sketch. Boutique editions are highly coveted, and with whispers that a new release is on the horizon exclusively at Wyecliffe, romance is in the air this Christmas.
---
Lhouette art has been showcased by The Wyecliffe Galleries, as his official dealers, for many years. Having hosted sell-out exhibitions and countless sell out collections to an ever-growing national and international collector base to whom his intensely coloured, material based urban artwork captures a fresh zeitgeist.
Elements of Lhouette's early techniques can still be glimpsed within his more polished artworks of today through the use of raw materials such as forklift pallets and other industrial throw-offs. This striking binary between the old and new and the raw and the refined, is the major juxtaposition inherent to Lhouette's work.
---
With a zingy pep for life, the charisma of Rozanne Bell radiates through her bright mixed media paintings. Born in Zimbabwe and having moved to the UK over 15 years ago, the artists talent lies in bringing the clear light of Africa to British flora and fauna. Recently introducing luxe metallics and shimmering sparkle to her coastal and floral scenes, her original paintings are a true celebration of the seasons of this country.
The ultimate selection to put an ear to ear smile across the face of your special someone on Christmas morning, highlights for the winter season include Bell's remarkable silver birches with dancing leaves in cool purple and blue hues, starting at £350.
---
An open-minded painter when it comes to his creative process, Gary McNamara experiments with different mediums and techniques to create unique portraits – Gary loves the freedom to express each unique subject and each distinct feature. The middle east acts as a driving influence for his works as the culture excites him for its flamboyancy. To start with, Gary plays around and earmarks the outcome of his paint, using a variety of different techniques where he would then start to create form, using different layers.
An enigmatic fusion of Far Eastern influences elevated with bold primary colours; Gary McNamara looks set to make his mark on contemporary fine art portraiture.
---
Innovating from the very start of her artistic career, Becky Smith presents her works unbounded by the tradition of working within just four sides. Exploring themes of natural phenomena that command reactions of wonder, gift your loved one a window into the universe travel across earth with a series of pieces that highlight the beauty of the natural world.  With an almost dream-like quality, we are encouraged to marvel at the green lights of the aurora borealis and stargaze at the infinite night skies above.
With themes of nourishment, good health and prosperity in nature, these avant-garde original works will share your good wishes with your family at Christmas time and beyond.
---
Add a little summertime to your Christmas Day with the extraordinary beach scenes of Italian born, Spanish based artist Paola Cassias. Instantly recognisable for her tiny figures scattered across the shore, her paint work is an illusion to the eye. Smooth sands and crashing waves are the perfect setting for her thickly daubed people in three-dimensional rainbow colours. Joyously flying kites and playing volleyball, her works focus on the importance of cherishing quality time.
Most recently Cassias's cast of characters have been scattered into hearts, stars and emblems of peace – whether you pick the symbol of love or a day by the seaside, your family will know how much you care when gifted one of these spectacular originals.
---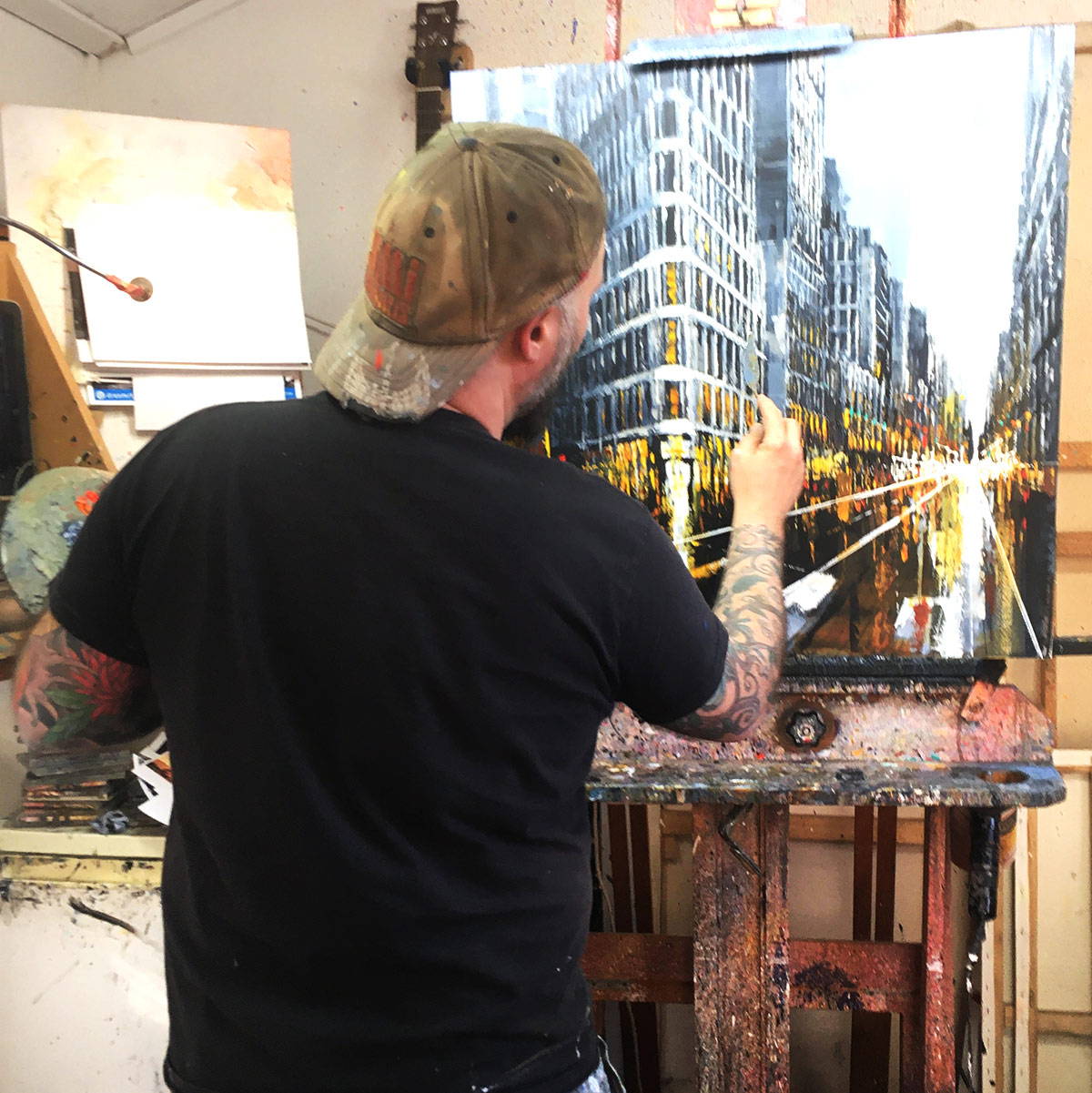 Select the awe-inspiring cityscapes created by leading British talent Simon Wright for the city slicker or the urban traveller. Capturing the bright lights and bustling streets of the world's most iconic architecture, the original works are often crafted from a monochrome palette charged with electrifying bolts of colour.
Most recently Wright has introduced a series of truly unique works available exclusively at Wyecliffe Galleries. The Silver City Collection features shimmering silver leaf paired with vivid skylines and aerial views of iconic cities.
---
Flowing rivers of colour transform the surface ofeach and every one of Brenda Herd's hypnotic compositions. Designed to be interpreted by the viewer, abstract art is the perfect choice for the discerning collector or interior design lover –with some worksreminiscent of spectacular aerial views of the earth and ocean, they areideal for starting conversationswith friends.
---
Artist Richard King has established himself as a leading British landscape painter, renowned for his breathtaking original oil on glass compositions.
Inspired by visits to the most remarkable scenes the globe has to offer, King has experiencedstargazing on the Isle of Skye to trekking across the Slovenian Alps. Bringing each adventure to life with vivid colour and light, these beautiful workscan't help by ignite passion for the beauty of the nature world.
---
Once these conditions are met: the works are painstakingly recorded in our state-of-the-art database system (including advanced location tracking) and extensively photographed by Lucy and the image processing team. With extensive 'macro' detail shots utilising the Canon EOS 5DS camera: these shots not only form the basis for internet and print promotions: but form a visual record of the work at ultra-high resolution.
Finally; the works that aren't immediately selected for the gallery walls (or better still, immediately dispatched to a lucky collector) are archived in our temperature controlled 'vault'. Stored upright, fully surrounded in custom high-impact expanded rubber: the securely stored paintings are routinely checked and rotated onto gallery displays to ensure they remain in mint condition.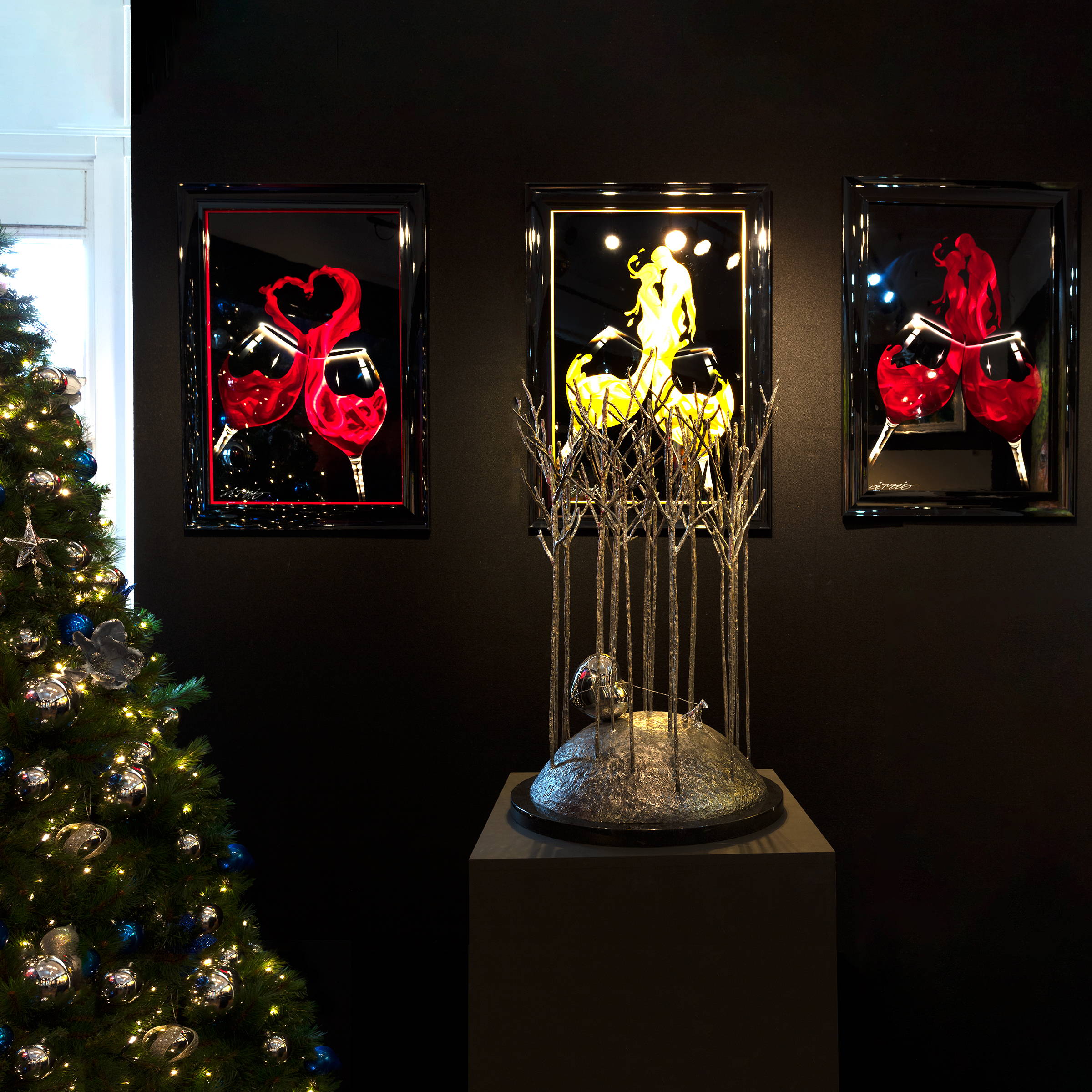 If you would rather share in the experience of selecting art for the one you care about most, Wyecliffe's versatile Gift Certificates could be the perfect alternative solution. Available in denominations of £25 and provided via email with a unique redemption code.
Speak to one of our friendly team members on 01932 847939 for advice or any additional information about our delivery services and purchasing options before Christmas. Always let us know if your purchase is a surprise present, as we will go the extra mile to ensure your thoughtful gift remains a secret, from unbranded boxes and removal of documentation within your parcel to keep your budget just between us.
---
With a team of art advisors to help navigate our unrivaled portfolio of originals, limited editions and sculptures there is the perfect gift for everyone at Wyecliffe.Order before 1pm on Tuesday 22nd December to benefit from complimentary next day delivery to the UK mainland before Christmas Day, or click and collect from our Weybridge showrooms right up until 12 noon on Christmas Eve.
Christmas UK Delivery Cut-Off
1pm Tuesday 22nd December
---
Click & Collect Cut-Off
12 noon Christmas Eve
---
| | |
| --- | --- |
| | |
| | Cut-off for Collections 12 (noon |
| | |
| | |
| | Open as usual (9.30am - 5.30pm) |
| | |