From Childhood Passion to Successful Career

A candid conversation with Becky Smith, a talented artist, exploring her creative process and inspirations. Gain insights into her unique style and the meaning behind her stunning works.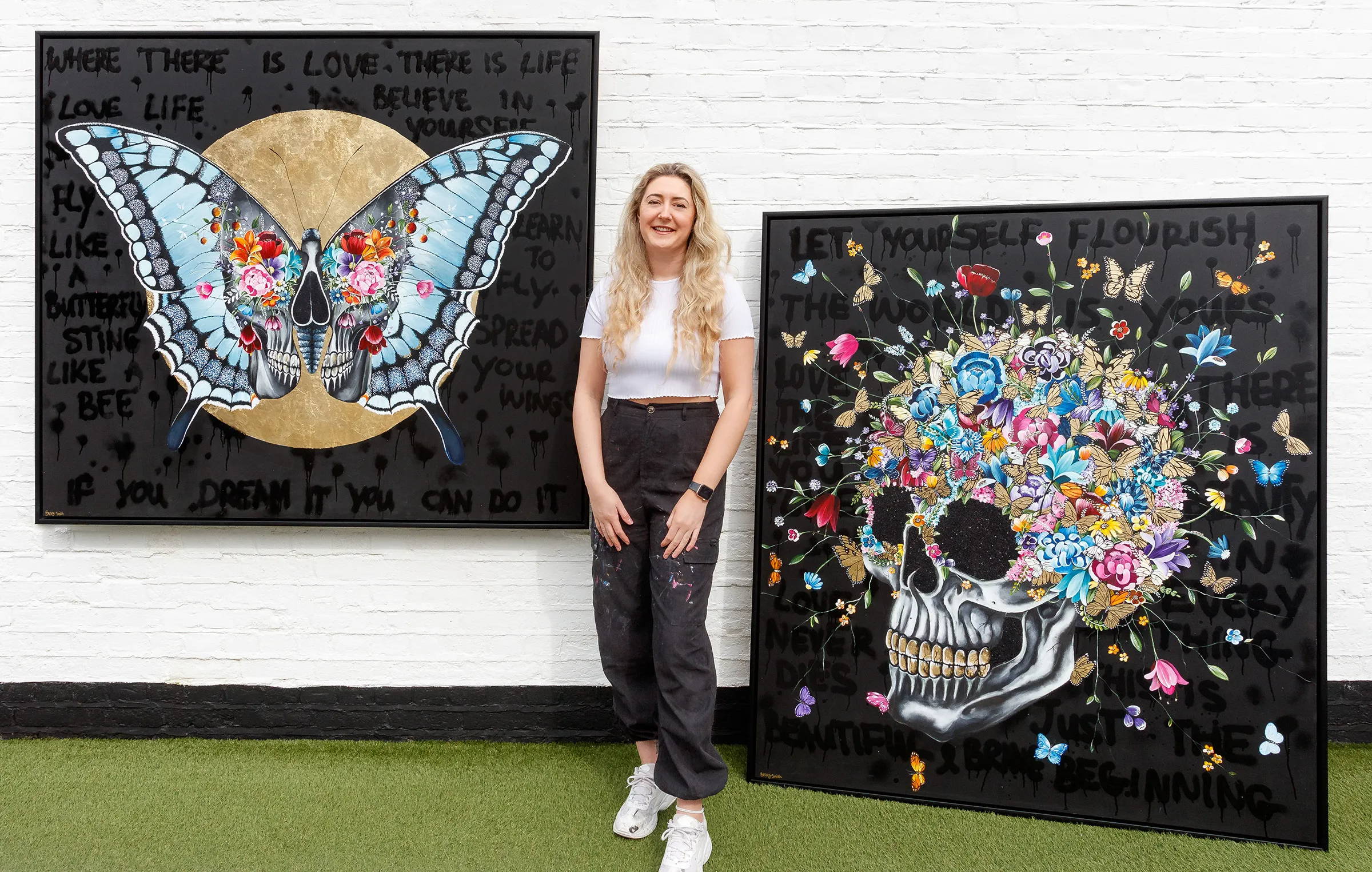 ---
Becky Smith, the young artist making waves in the contemporary art world, has just released a new collection of works featuring skulls as the main motif, adorned with an abundance of flowers and butterflies, all with gold leaf and signature UV painted details. In light of this new release, we had the opportunity to sit down with Becky and ask her about the inspiration behind the collection, her experiences with high-profile collectors, her viral success on social media, and her innovative techniques. Read on for an exclusive interview with the artist behind the mesmerizing and immersive art that illuminates the wonders of the galaxy.
When did you realize that you wanted to become an artist?
From a young age, I knew that painting was my passion, and I was fortunate to have discovered it so early on in life. I excelled in art competitions throughout school and even won a Christmas card competition for a property developer when I was just 9 years old, which resulted in my work being distributed across Middlesex and London. I spent all of my spare time in the art department, drawing, and went on to specialize in painting during a 2-year fine art college course at Brooklands.
How did you get to where you are today?
In 2016, I began a 3-year university course at Wimbledon College of Arts, but I left after one year, feeling that the course wasn't beneficial to my artistic style. I quit my retail job and started working at a gallery to gain experience in the art industry while building my own studio at home. I was so confident in my abilities that I completed the studio build in June 2018 before even selling a single painting.
It's been a journey, but I'm grateful for the opportunities I've had so far and excited for what's to come.
What inspires you to paint?
I have always been drawn to/fascinated with anything nature-based or connected to the universe. Every time I see the moon, a sunset, clear starry night, or all the blossom trees, I'm just instantly distracted by things like that. I love traveling and I love anything to do with space/the Galaxy. I also recently was given a telescope for Christmas which is another thing I love doing.
What advice do you have for aspiring artists who are just starting out?
My advice for aspiring artists who are just starting out is to never stop painting and to work hard to create your own unique style. Don't be afraid to start from the bottom and work your way up, and be passionate about what you do.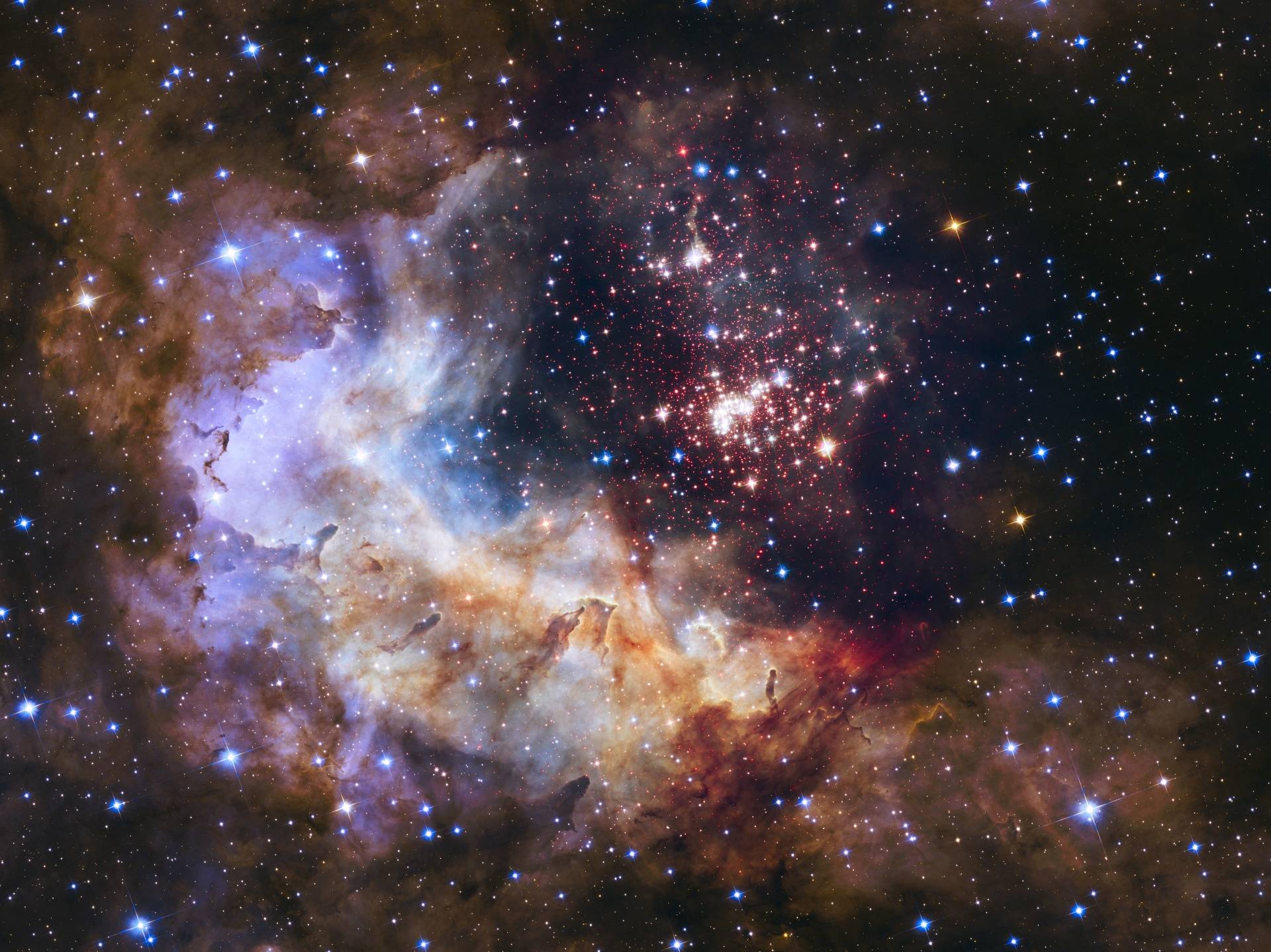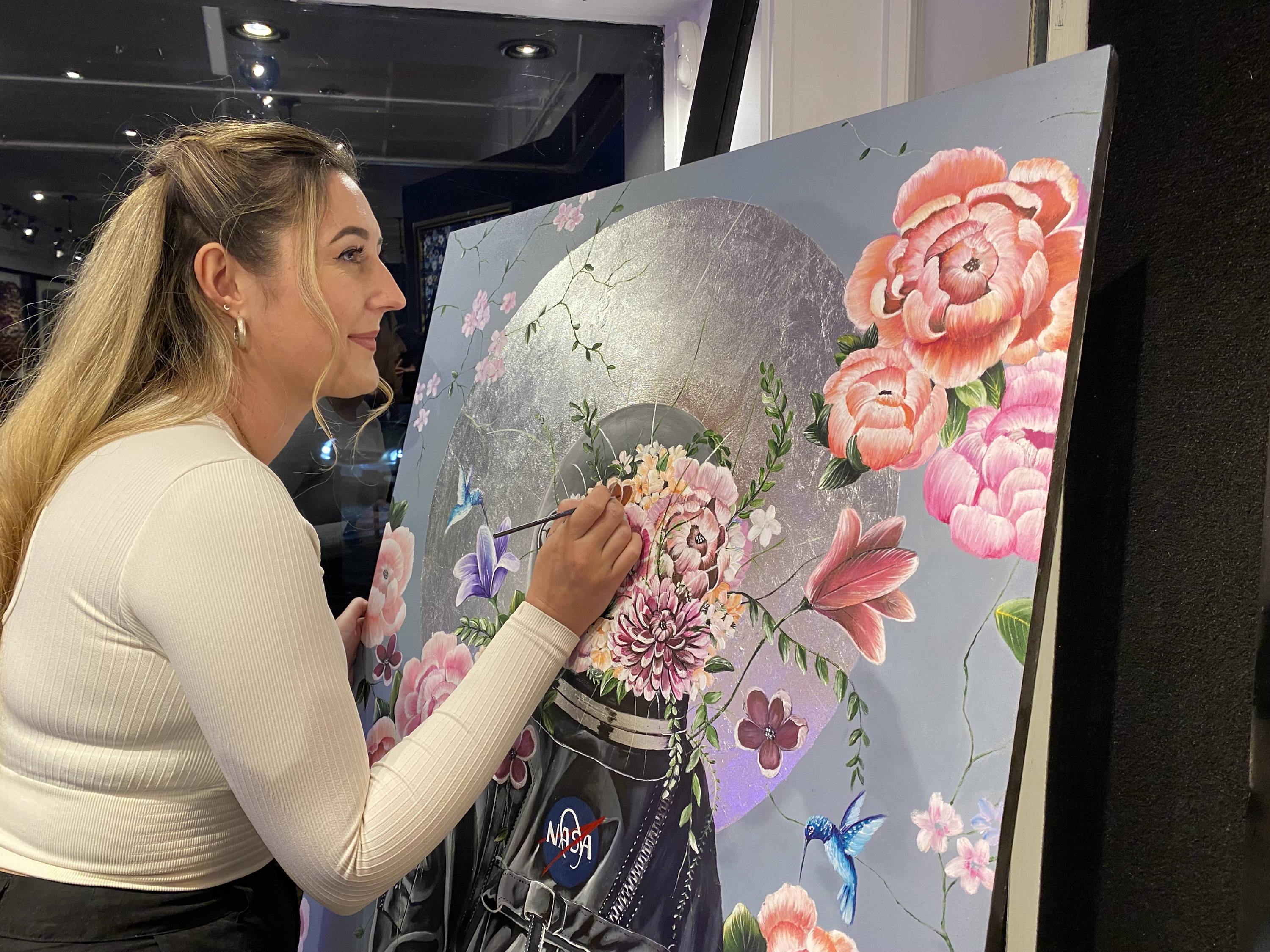 What is the biggest challenge you have faced as an artist, and how have you overcome it?
I think the biggest challenge I have faced as an artist is balancing being creative with running a business. Learning how to market my work on social media has been a challenge, but I spend a lot of my time researching how creative platforms work and how to post content based on their individual algorithms to receive maximum views.
How would you describe your artwork and painting style?
My artwork is highly connected to space and the galaxy, and my painting style is unique in that I use glow paint almost as if it's a timeless painting because you can still enjoy it at night. I love exploring the cosmos through my art, and my style is heavily influenced by my fascination with the unknown and the infinite possibilities that space holds. By using glow paint, I am able to add an extra dimension to my paintings and create a truly immersive experience for the viewer.
Can you tell us a bit about your creative process?
My creative process is quite unique, I use glow-in-the-dark and UV reactive paints to create works that transform under different lighting conditions. My paintings often depict galaxies, nebulae, and star clusters which allow me to explore my fascination with space and the cosmos. I start by sketching out the basic composition on canvas and then I layer on the paint. I typically use acrylics, but sometimes I'll incorporate oils or inks as well. Once the painting is complete, I'll experiment with different lighting to bring out the hidden features of the work. It's an exciting and unpredictable process, as I never quite know how the painting will look until it's revealed under the right lighting conditions.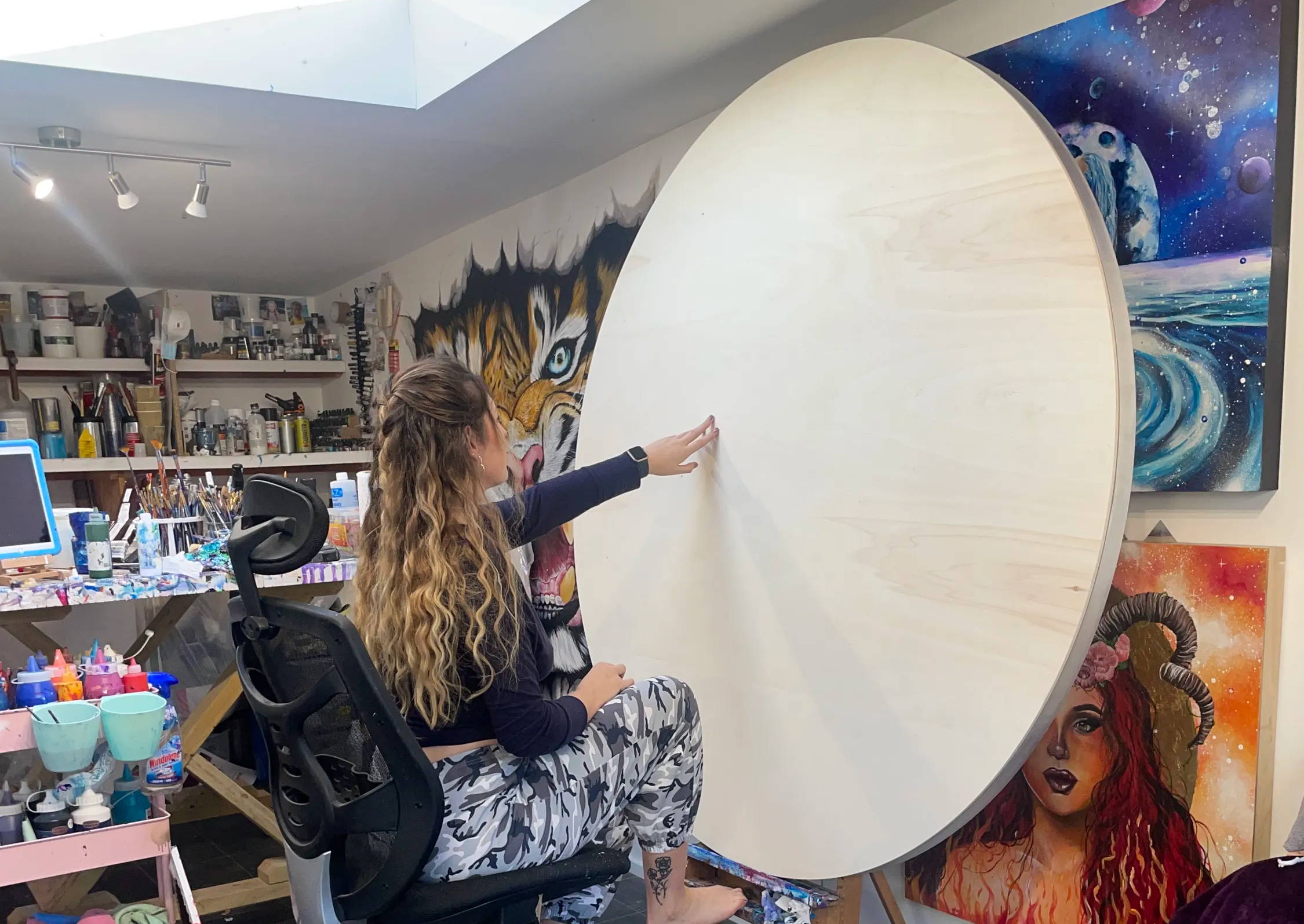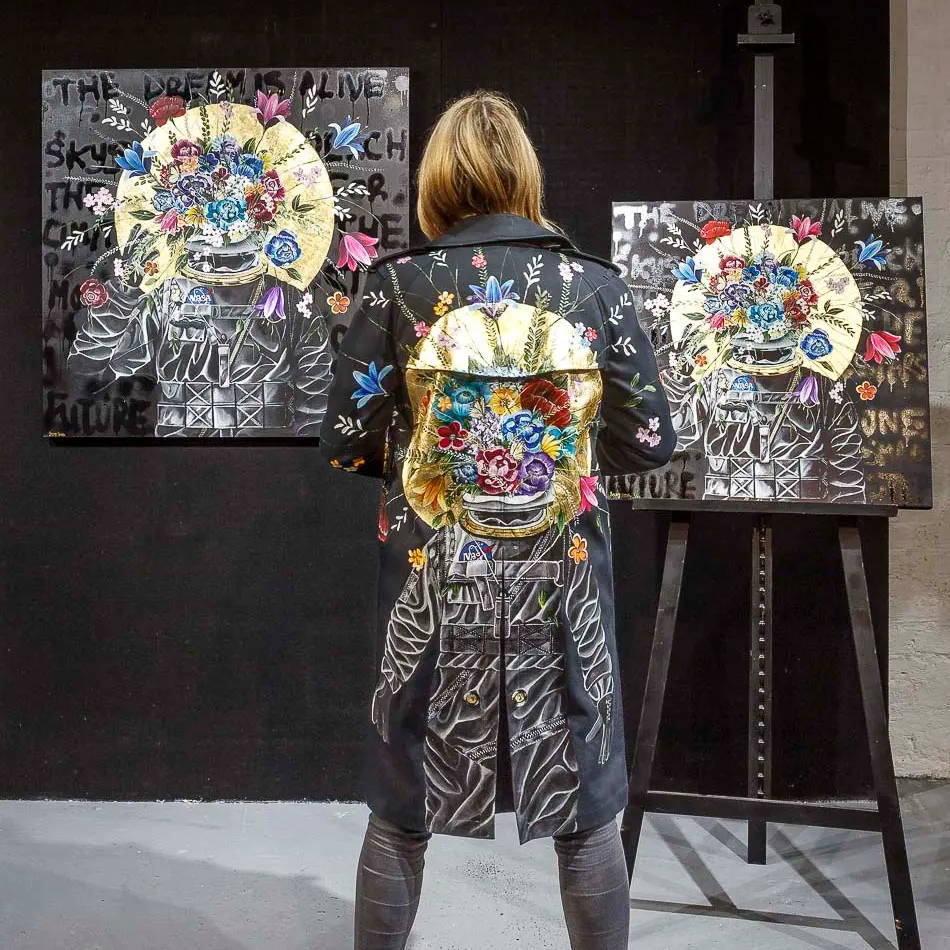 You've had some major brand collaborations, can you tell us about some of those experiences?
Recently I worked with Gent London and Wyecliffe Galleries in creating a customised vintage Gucci trench coat, it was an incredible opportunity to bring my art into the fashion world. The coat, entitled 'A Fragment of Your Imagination', was debuted on the runway at Soho House in Shoreditch during London Fashion Week. It was a completely new challenge for me to work on a wearable piece, and I had to approach it with a different perspective than my usual canvas paintings. But it was also a great chance to push the boundaries of what's possible in the intersection of fine art and luxury fashion. The coat is fully wearable and creates a stunning statement for anyone who wears it. It can also be displayed as a fine art object, giving it a dual function that makes it a truly special piece. I'm thrilled to offer it exclusively for acquisition and can't wait to see it make its way into the hands of a collector who will appreciate its unique qualities.
Another major collaboration was with Space Beams, a UK based premium glow paint producer. I became their debut global brand ambassador and my art was featured across their Amazon online listings, which caused a significant spike in visibility. It was an honor to work with such an innovative company and I enjoyed exploring the possibilities of their product.
You've had some high-profile collectors of your work, can you tell us about some of those experiences?
It's always a thrill to see my work appreciated by high-profile collectors. One of my most exciting experiences was when I recently had the opportunity to create a custom piece for Stormzy. He wanted the #Merky Books logo interpreted in my art style, which was a really fun project to work on. I have also had Luke Hemsworth, Sophie Turner and Joe Jonas purchase one of my paintings. I'm a huge fan of their work so it was a surreal moment to know that they had my art in their homes.
It's always a privilege to have my art appreciated by such high-profile figures, and I hope to continue creating pieces that resonate with people from all walks of life.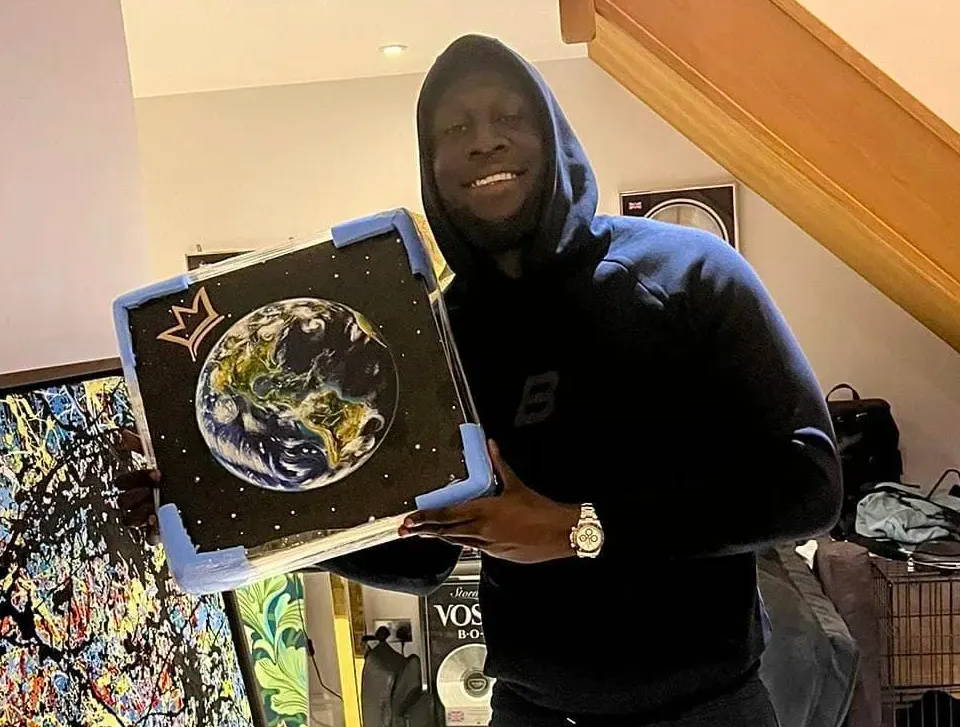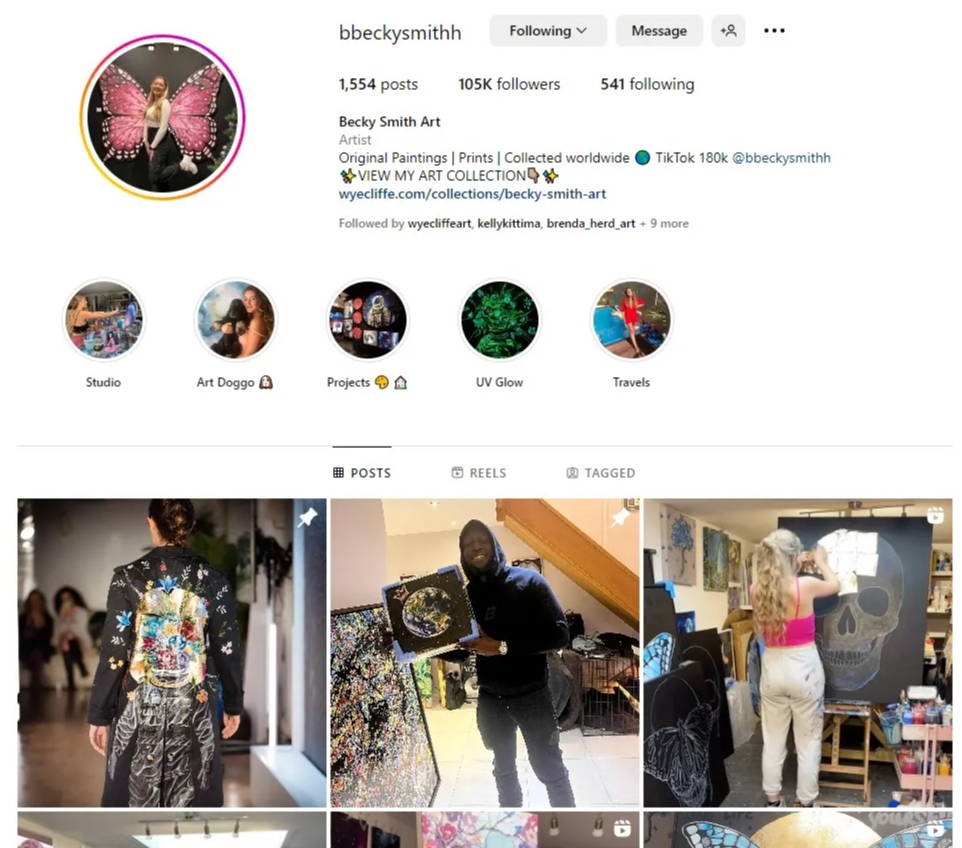 Your social media presence has exploded in recent years, can you tell us how you've approached building your following?
I've always been passionate about sharing my art with as many people as possible, and social media has been an amazing tool for doing that. I started by sharing my work on Instagram and TikTok, and I was fortunate enough to have some of my videos go viral. I've always tried to be authentic and engaging with my followers, and I think that's been a big part of my success. I also collaborate with other artists and brands whenever I can, as I think that's a great way to reach new collectors.
Can you tell us about some of your recent projects and what you have planned for the future?
One of my recent projects was a collaboration with the largest global social video publisher LADBible Group. They shared my content on their platforms and it amassed over 7 million views each. I've also had live-painting sessions and my first in-gallery exhibition, all hosted at Wyecliffe Galleries. These have been a great way to connect with my followers and inspire them. In the future, I'm hoping to continue to push the boundaries of my art and explore new techniques and themes. I'd also love to have more opportunities to collaborate with more brands and other artists.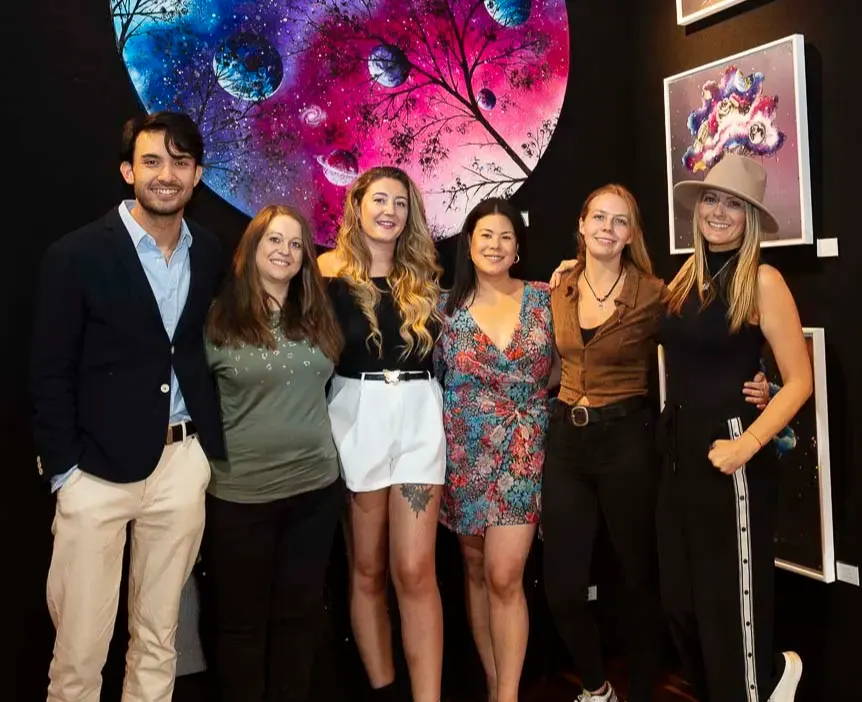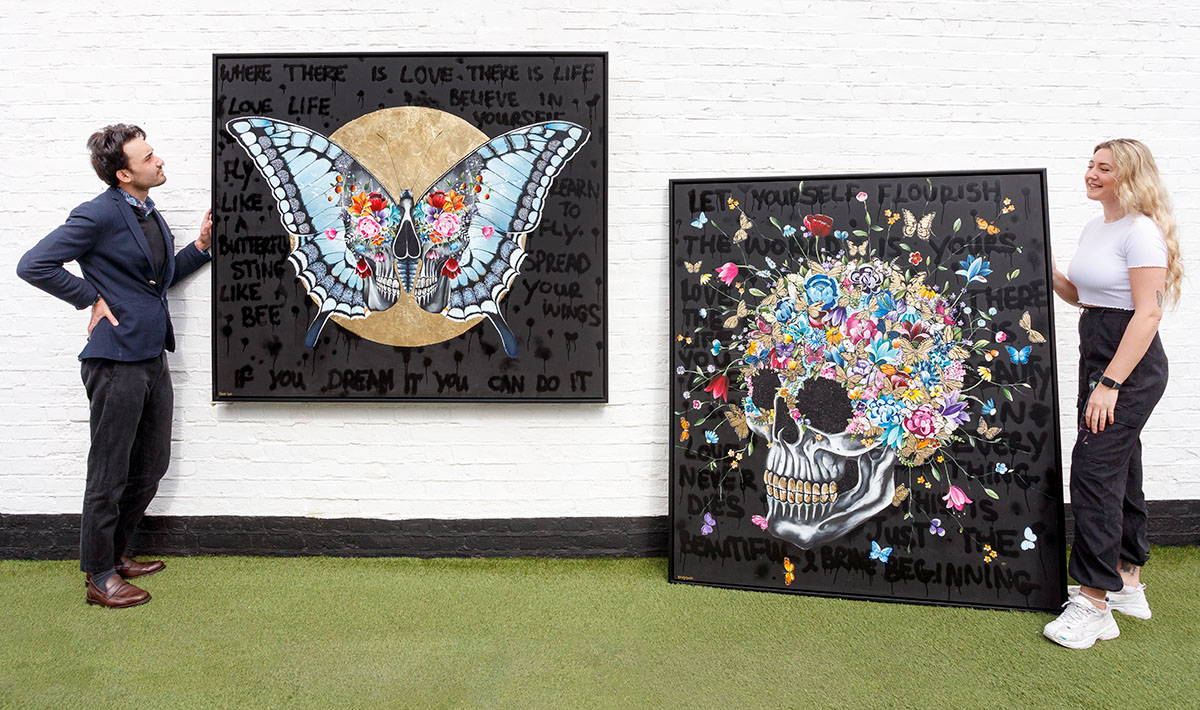 Tell us a bit more about your new collection, what inspired you to work with skulls as a main motif?
As an artist, I've always been drawn to the beauty of Mexican culture, and the Día de Muertos festival in particular has been a major inspiration for my latest collection. Each piece features a central motif of a skull, adorned with vibrant flowers and butterflies that represent new beginnings and growth. The matte black background serves as a canvas for the vibrant colors to pop, and to add a personal touch to each work, I've included quotes from my followers and collectors. It's almost like they are part of my artwork in a way. I wanted this collection to capture the joy of life and the power of renewal that comes with the spring season, and I hope that viewers can feel that energy and excitement when they see these pieces. I'm excited to release this collection of artworks and share then with art enthusiasts who appreciate the beauty and strength I have tried to capture.
---
---
Sign Up for Exclusive Content
---