Looking toward the future of painting, Wyecliffe Galleries came across the works of Harriet Hoult in her South London studio. Presented in her signature minimalist white frames, the edges of every work were left raw and exposed to unveil the extent of the craftsmanship involved in every piece. Signed with a stylish HH, the artist represents a refreshing perspective on contemporary abstract painting, with impressive ambition to drive forward the genre to new and unexpected places.
Juxtaposing colour, line and form, Hoult works the materials until her paper appears to be encased with her thoughts. Abstract art at it's very best; richly evolved in acrylic and mixed media the overall impression may be untamed, though delve deeper and delicacy unveils itself. Softly drawn pencil lines infer windows and paths delicately mapping fragments of little cities. Hoult seeks to pour her experience of place and time into a visual symphony; staccato lines support pianissimo colour.  
Bringing a parallel between the scenery and the way we experience it, the artist sees her work as a kind of meditation for her own wellbeing and that of the viewer. The reminder perhaps we need to take a longer moment to experience our surroundings and collect the memories for future moments of contemplation. A mirror into our hopes, Harriet carries the sense of belonging, freedom and beauty through every composition.
Wyecliffe Galleries speaks with Harriet to understand a little more about her background...
Have you always painted with abstract as your genre? How has the work developed as you've become more assured in the style?
I grew up in an artistic family, both my Mum and Granny were artists, so I had a lot of inspiration from early on. As a child, I used to love drawing and painting from life. I wanted everything to look as realistic as possible. I only started to paint abstract work about eight or nine years ago after a period in Cornwall where I was inspired by the St Ives artists such as Barbara Hepworth, Terry Frost and Peter Lanyon. My work has developed a lot since then, it has become more layered and textured.
I love the mixed media approach which really gives a tactile invitation for the eye to investigate, using both colour and texture to reveal form. I've noticed that some works have almost stitching on them; do you often use fabrics / threads within compositions?
I sometimes use things like string or netting to add to the overall texture and interest of a piece. I have a roll of netting that I found by the sea in Cornwall and I love incorporating that into the work. I also collage with newspaper, pages from books or ripped up bits of paper. I have all sorts of implements that I apply the paint with in different ways to build the layers and create depth.
The titles on many of the pieces are very evocative, and some of them seem to reference places. Do you travel a lot for inspiration? Or are they personal places referencing memories?
I only ever name a painting once its complete. The way I work is very intuitive and instinctive and it's usually in the process of painting a particular piece that I realise what it's about. My work is based on places and moments and a painting will be named to reflect this. I've spent a lot of time in Cornwall, so there are quite a few with names of places there. My environment has a big impact on the work and as I have moved studios or travelled to different places over the years, I see that reflected in the colour palette, the structure and the overall tone of the painting.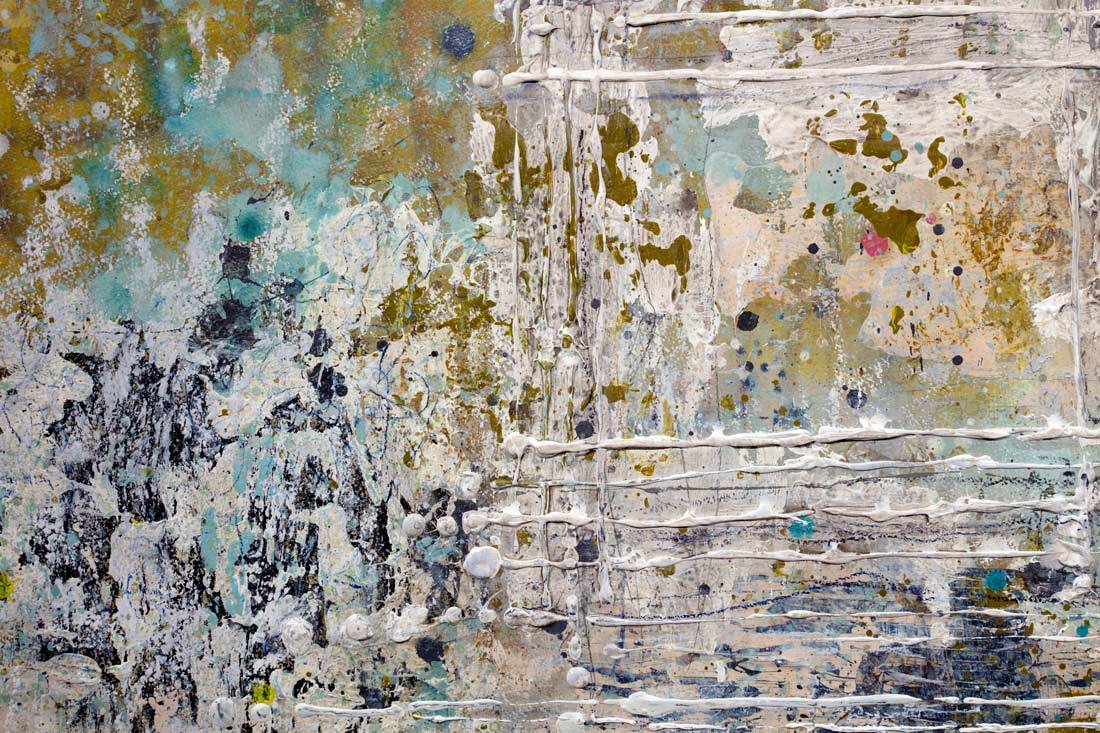 Please tell me a bit about the residency you are currently undertaking and any particular works you are hoping to complete.
I'm currently on a six month residency at a studio in Thames Wharf, Hammersmith. The building was formerly the Richard Rogers studio and it is a fantastic space light space right on the river next to The River Café. I'm one of nine artists that have been selected by public art Curator Ben Moore, to work together for a three month period culminating in a collaborative exhibition, 'Plei'. The show will be opened by BBC art critic and Christie's Curator, Terence Rodrigues on the 24th Jan. Right now I'm busily working on getting the pieces complete in time for the show.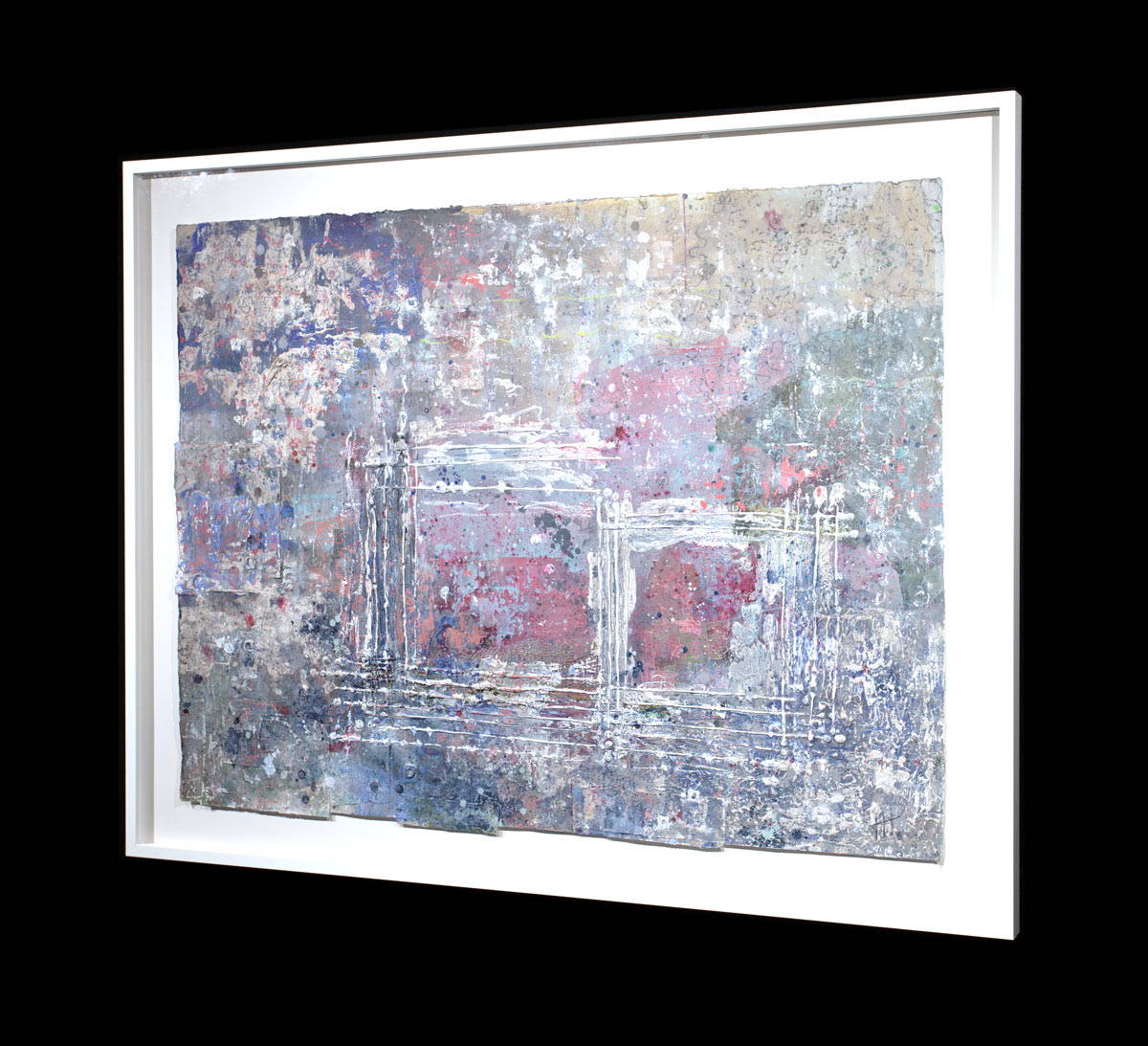 Recognised by collectors and critic alike, the act of sculpting paint and stitching thread into paper has won Hoult a dedicated collector base in both the UK and internationally. In soft hues, reminiscent of the Farrow and Ball palette, each work has a distinct yet subtle character lending itself to art of the highest calibre, though suitable to live with every day.
Wyecliffe Galleries is pleased to support an extensive range of both original works and limited edition prints for sale, please visit Harriet Hoult's full collection here: