Lhouette Art - Original Wall Sculptures
"I love the idea of contrast in art so with my silhouette paintings there is usually something to counter the cheery colour "
- Lhouette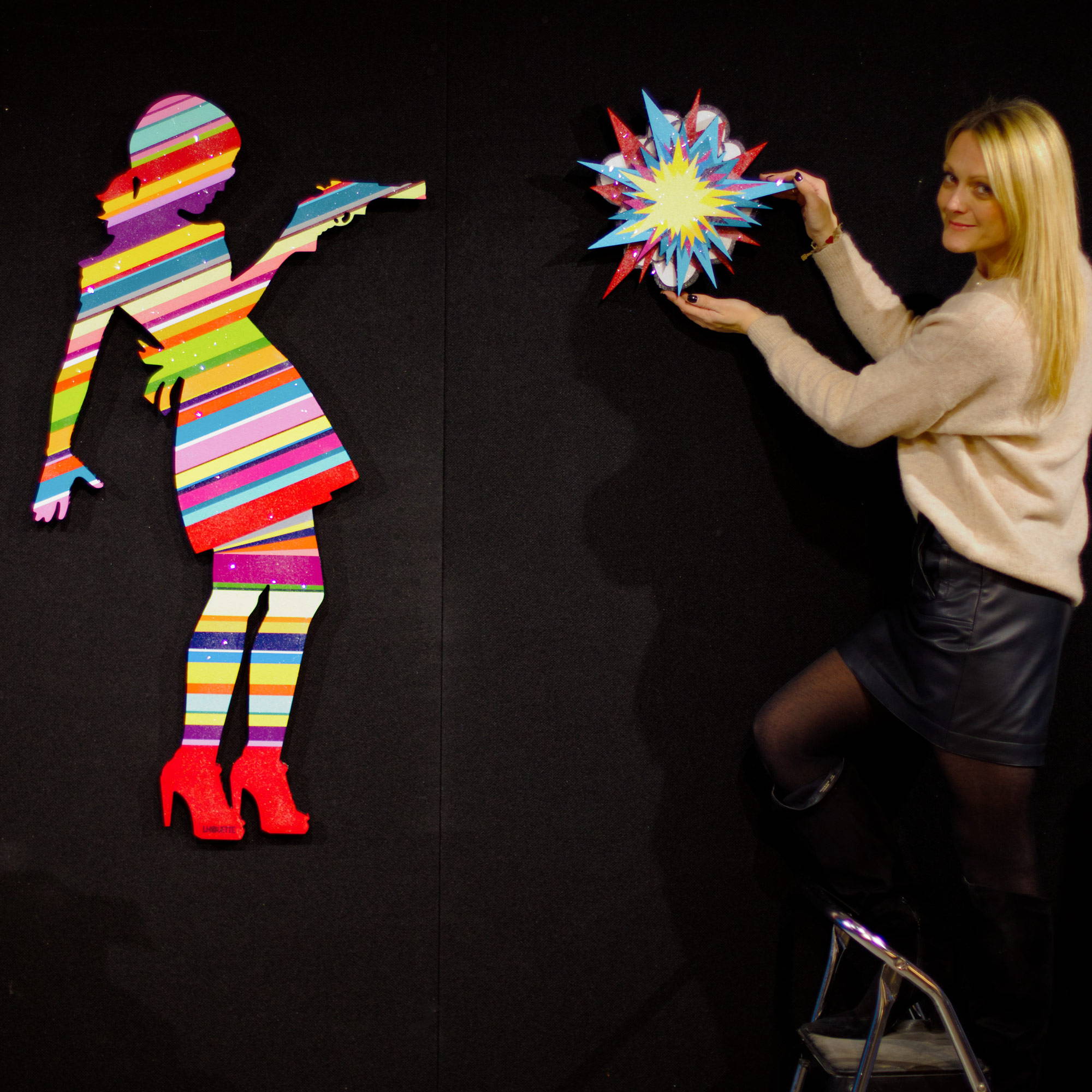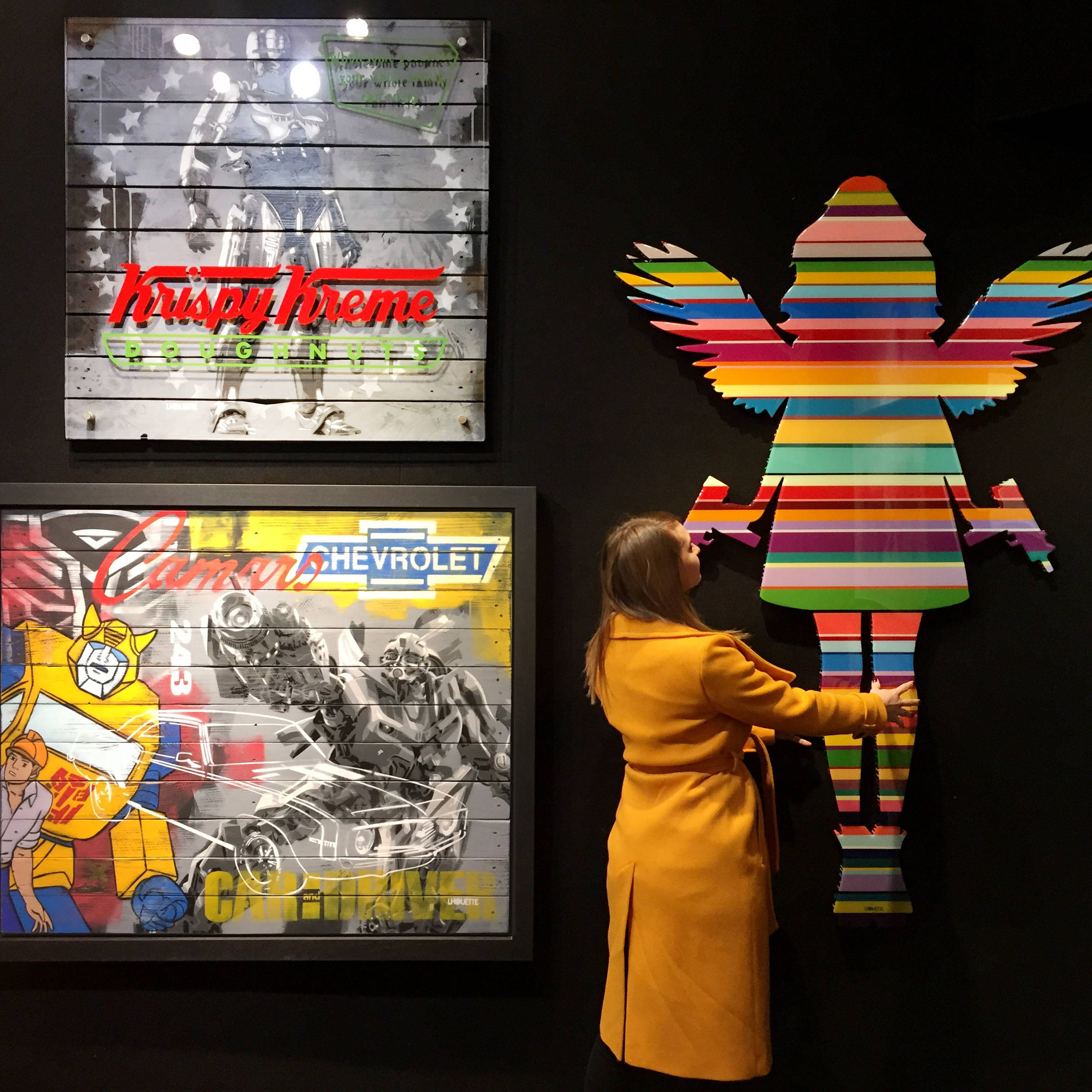 Breaking the mould can be hard to achieve within the perimeters of just four two dimensional sides. A canvas can contain an artist's ideas, a little too neatly, a little too precisely. Rejecting the typical tools of the artist's trade, raw woods, oil drums and torn papers have proved to be rich materials for Lhouette, whose resourcefulness has won critical and commercial acclaim.
Born from his very first original works on reclaimed pallets, and lending themselves to his artistic name, Lhouette has created a distinct cast of seductive female characters. Named Angel Cake, Little Miss Sunshine and Drop the Bomb, each sweet candy coloured woman is armed with weapons ready to unleash cultural chaos. Outlined in stencil and aerosol, the ladies first found form overlaid on fluorescent stripes punctuated by global brands.
---
It was only a matter of time before a square or a rectangle could no longer contain the artist's fervour, or the charisma of his girl squad. Recently introducing a bold array of original pop art wall mounted sculptures, the recognisable silhouettes were born into reality in cut wood coated in gloss resin. Some exceptional double sided free-standing sculptures mounted into solid blocks were presented for the first time at seminal exhibition at 45 Park Lane, Mayfair. Commissioned by the Dorchester Collection, these specialist works paved the way for ambitious multiple piece wall sculptures such as the incredible Tokyo Dreaming.  A single geisha with chopsticks holding her neat bun in place, she carries an arc of colour above her head. The rainbow is her crowning glory, where a perfect circle sits beneath her form, punctuating her as a female exclamation mark.
Resin has typically sealed the striped sequences and iconic brands under a perfect layer of glossy shine. Recent sculptures have begun to buck this trend, instead coated in opulent diamond dust. Angelic forms cast in diamonds are countered by subversive imagery; Little Miss Sunshine wields a revolver; a ballet dancer aptly named Drop the Bomb grasps grenades ready to detonate.  
Few and far between, the wall sculptures are a rare opportunity to introduce a new dimension to a collection, supplementing even traditional wall based urban art with new invigoration. With recent commissions with Harrods for a one of kind chess set, Lhouette's vision is beyond the borders and beyond the frame.
RELATED PRODUCTS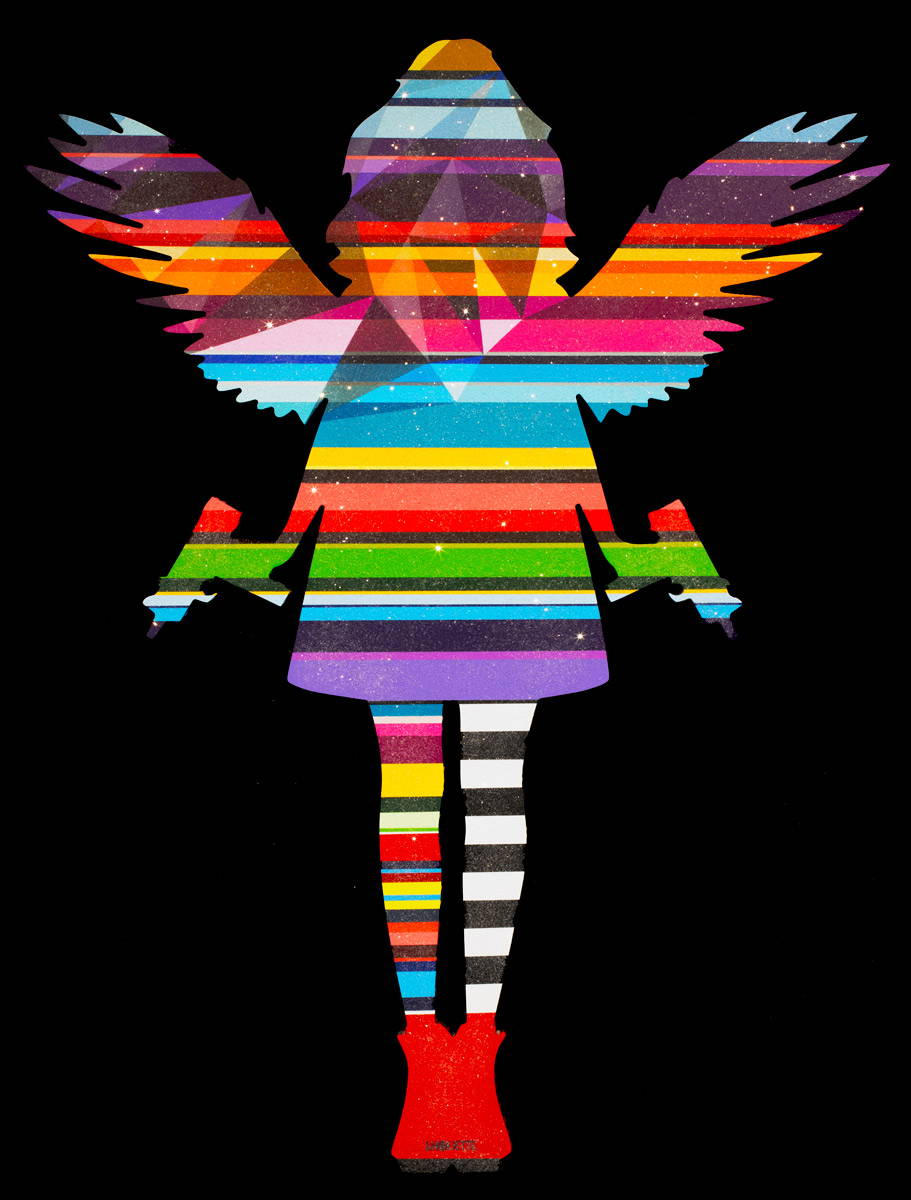 Angel Dust Sculpture - Original
Drop the Bomb Sculpture I - Barney - Lhouette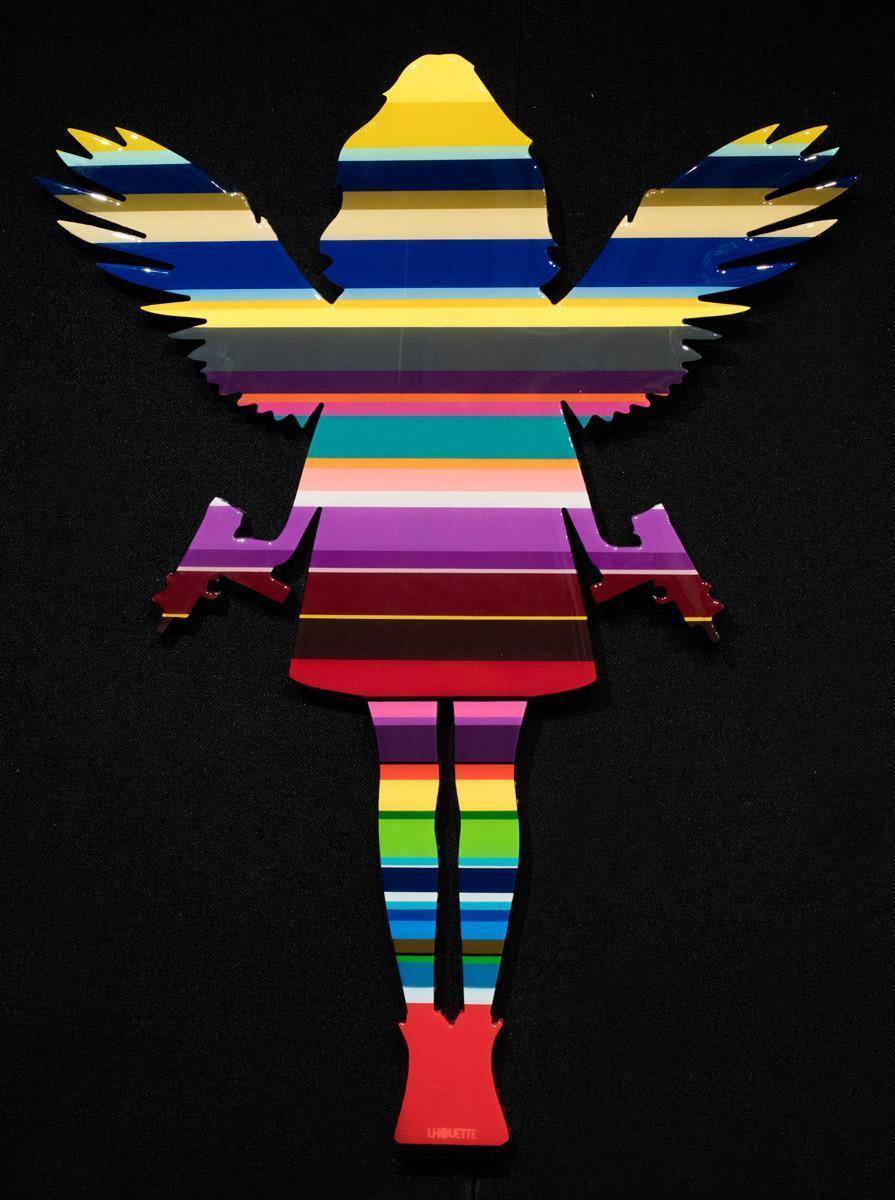 Angel Cake Sculpture - Striped Mini II - Original
ABOUT THE AUTHOR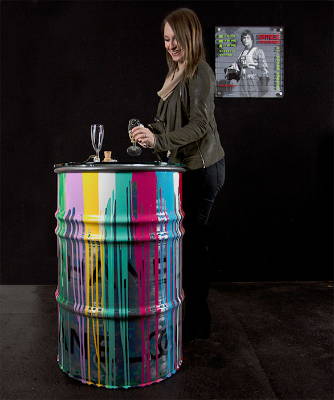 Having completed four years training in prestigious art institution Central Saint Martins, Katia graduated with a degree in Fine Art. Over the last decade she has forged a successful career in art consultancy, managing galleries across the South East. Her adoration of art has seen her travel to study the renaissance and baroque periods for several months in cultural haven Italy, and has been additionally educated at Sotheby's Institute in Art and Finance.
---
Also in News
The UK's most popular contemporary artist is the subject of our latest in-depth look at 'The 12 Days of Christmas', today we celebrate 'six woodland creatures' in a beautifully enchanted faerie woodland: Kerry Darlington's 'Moving Infinity'.
In today's '12 Days of Christmas' article, the theme is 'Seventh Avenue'. Hit the town with Wyecliffe and artist Veronika Benoni as we investigate her luminous, breathlessly exciting New York cityscape 'Rush Hour'.
Discover artist Simon Claridge's homage to dedication, persistence and standing up to life's punches: 'Muhammad Ali - The Greatest'. A landmark collaboration with legendary photographer Terry O'Neill.