Lhouette - The Girl from Planet 9
It's landed! Wyecliffe are extremely excited to present the new release of Lhouette's bold and intricate new piece 'The Girl From Planet 9' straight from his studio. A limited new series of just 1 Original, 20 Limited Editions and 5 Artist Proofs.
This rising star most recently selected by Damien Hirst for the prestigious Dorchester Collection, 45 Park Lane has developed an international following for his hard juxtaposition of high and low culture, attention to detail - and iconic post urban glamour style.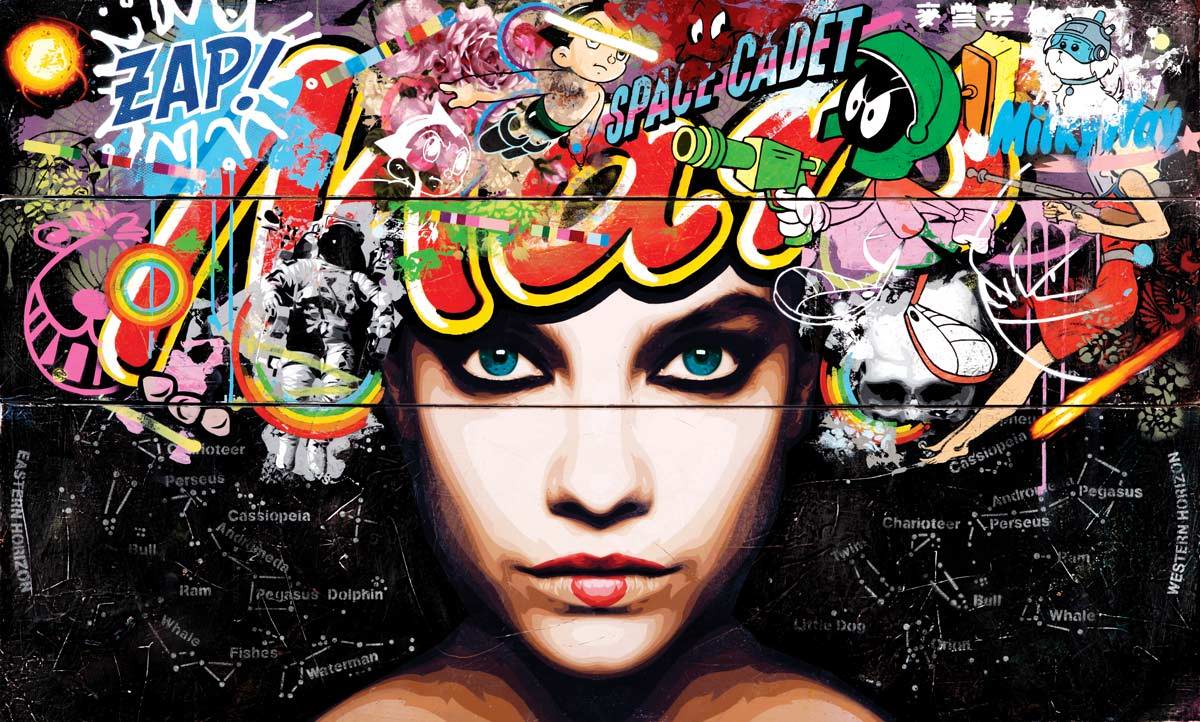 This work celebrates the infinite potential of outer-space: from ancient superstition to pulp adventure, from astrology to hard science, children's space-hoppers to Buzz Aldrin and all the brands, cartoons, toys and rich cultural signifiers our civilisation has attributed to the great unknown.
It's fitting that the name of this work echoes Ed Wood's cult sci-fi cult classic Plan 9 from Outer Space: infamous for its surreal, almost dreamlike juxtaposition of genre references and pulp-fiction tropes.
The focal point of this work is the titular 'Girl' herself with shades of cosmic glam-rock, Queen Amidala from Star Wars and Laureline from Valerian and the City of a Thousand Planets. She is the perfect icon for this semiotic mix of signs and symbols.
Individual science fiction stories may seem as trivial as ever to the blinder critics and philosophers of today - but the core of science fiction, its essence, the concept around which it revolves, has become crucial to our salvation if we are to be saved at all."
Armed with this postmodern zeitgeist and his trademark attention to colour & form: Lhouette has created a work both dynamic and luxurious. All materials are bespoke - from the treated wooden board panelling to the extensive layering of aerosol and acrylic paints to create the composition seen before you.
The perfect artwork for a variety of interior design spaces; from living rooms, to dining spaces - and even cinema / game rooms.
---
Also in News
Wyecliffe has a range of art for every budget, take advantage of our team's favourite artworks for under £600 which are not only affordable but great additions to your home.
Lhouette Returned for the first time in three years to Wyecliffe Galleries for an exclusive event. It was a spectacular evening, with our entire Weybridge showrooms dressed in Lhouette artworks. 
Richard Knight loves to paint landscapes, cities and people, creating a record of places he has visited which inform his studio paintings. Richard uses the confusion of light and movement in each painting to create hazy impressions and using stencils he builds texture throughout his paintings, making each one entirely unique.