'Hunter/Gatherer' and 'Pop De-Pendants'

Leading contemporary pop artist Lhouette returns with extraordinary new titles 'Hunter' and 'Gatherer' alongside the seminal new series 'Pop De-Pendants'. Wyecliffe Galleries delves behind the scenes with the artist, with an exclusive insight into his unique practice and inspiration.
---
Lhouette; A True Ambition
---
The visionary of an entirely new genre of Pop Art, contemporary artist Lhouette is defining an era of creation that seeks to un-pack society's relationship (and borderline obsession) with virtual technology. Witnessing the source and subsequent flood of digital art, shallow screens and NFT's, Lhouette is the definition of a working paradox. A breed of artist rarely witnessed, the immense facility of his countryside studios is breaking new ground in creative production, although with an entirely traditional respect for the quality and importance of tactile materials at its very core.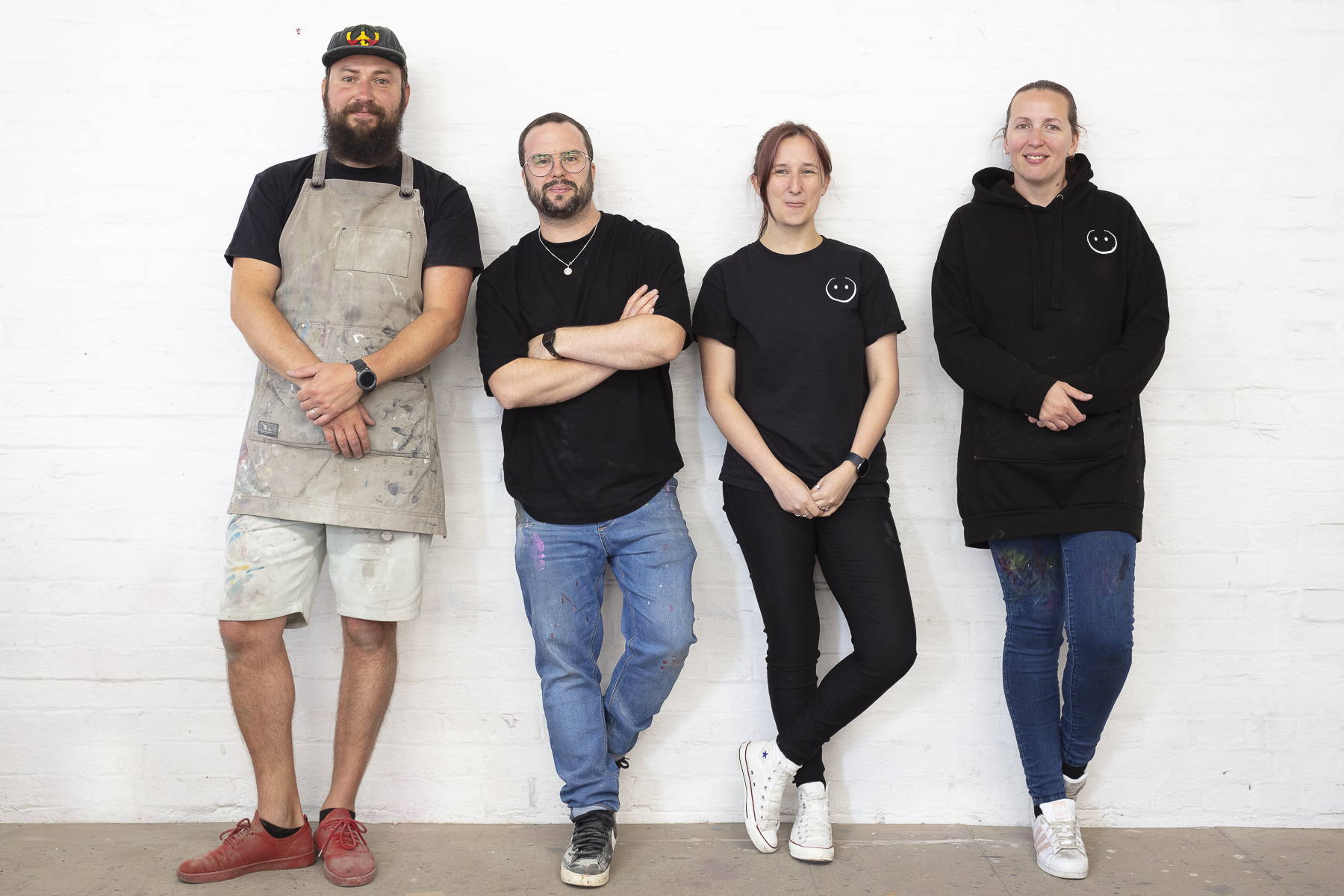 Employing a total harmony between his artistic pseudonym and his practice, Lhouette's distinctive silhouettes are already over a decade in evolution. This month is witness to the unveiling of a compelling series of original fine art objects with Wyecliffe Galleries that pushes beyond the concept of what 'wall-sculpture' can be. A maverick of form, the artist plays with shape and structure alike, blurring the lines between canvas and frame, and colliding two dimensions with a 3D vision.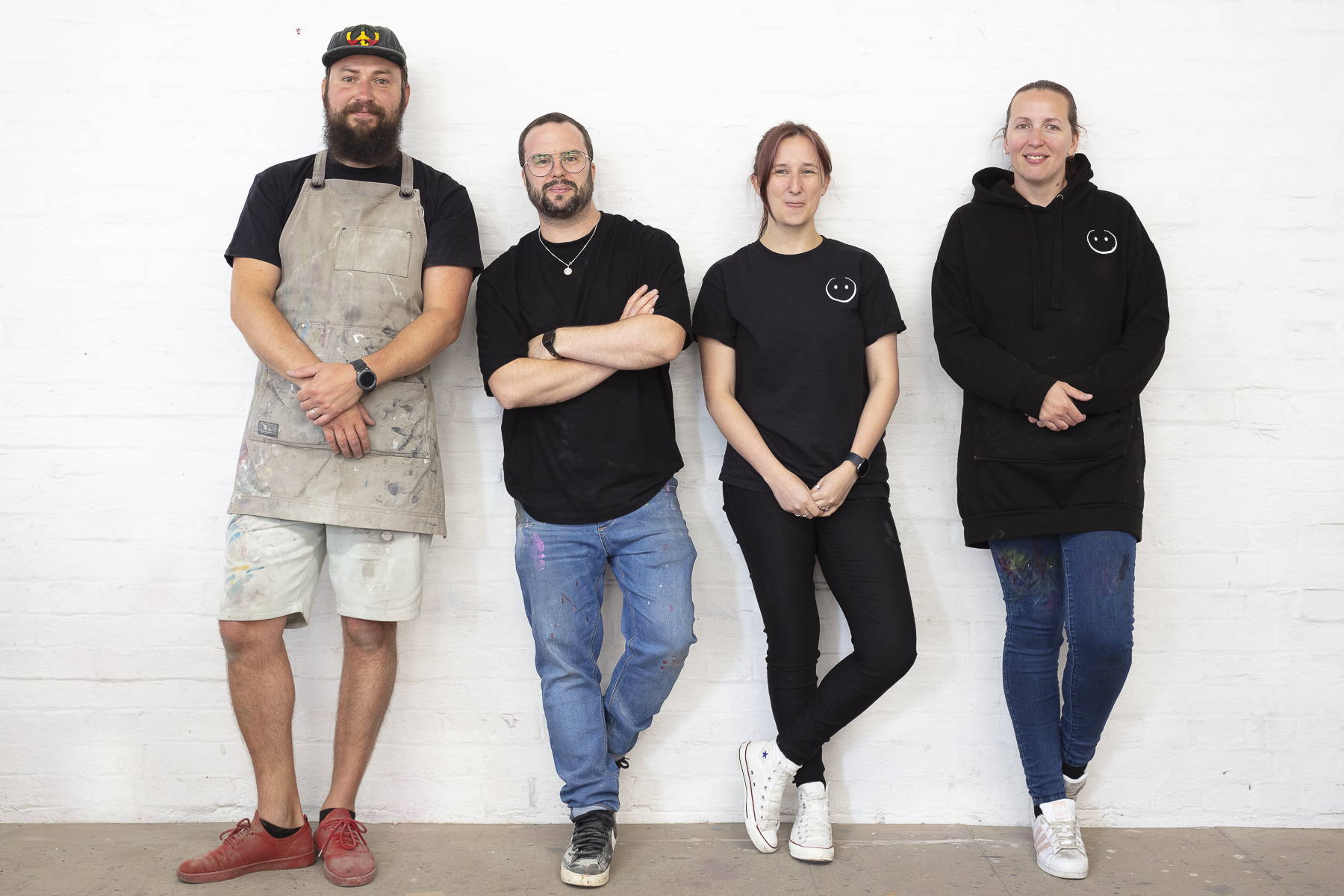 ---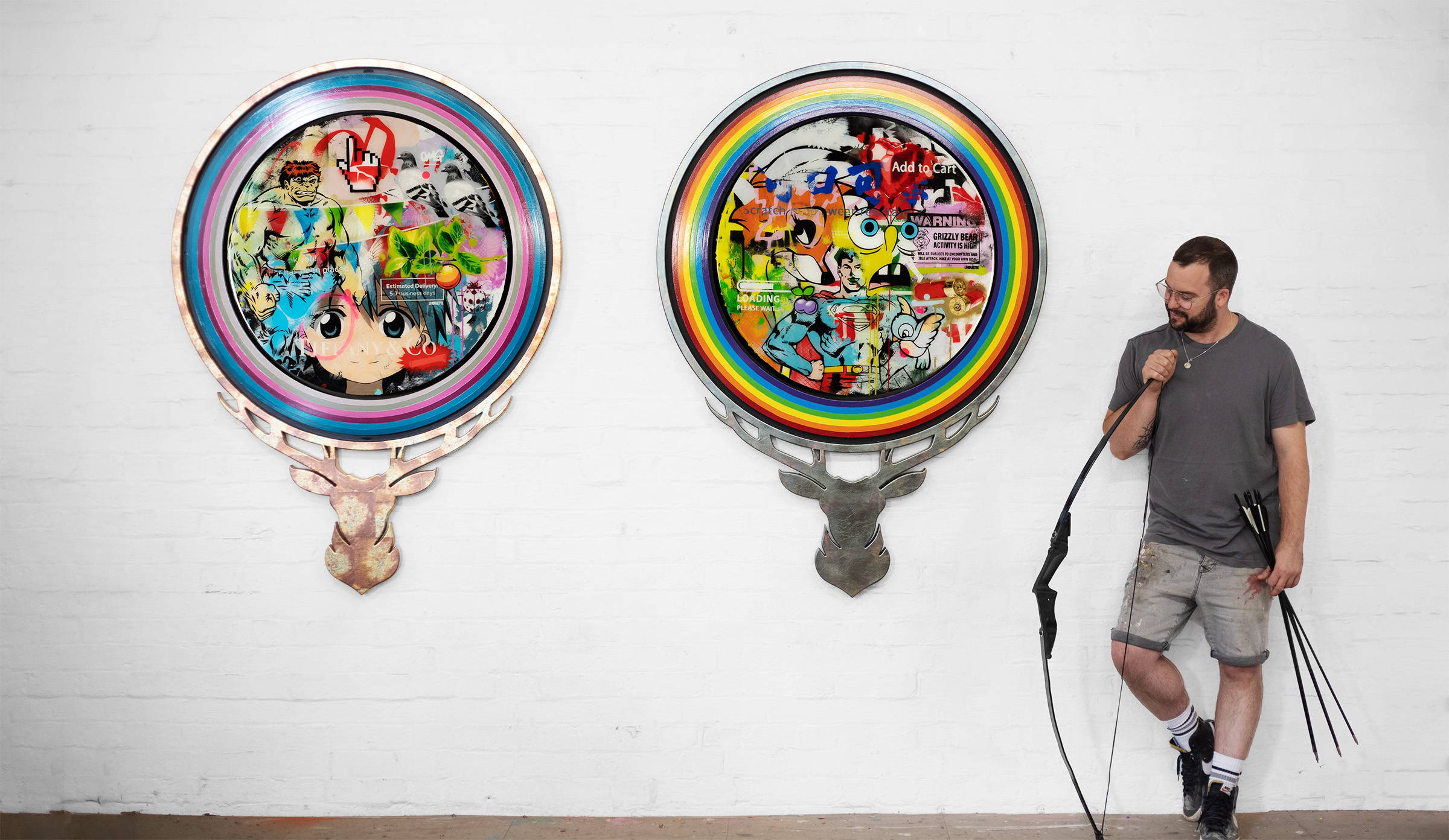 'Hunter' and 'Gatherer' together form a daring duo of life-size compositions, with antlers reaching from their stag profile. Looking towards the origin of humanity itself, the early sparks of inspiration for the works were found in ancient relics and research into early civilisation. Providing a commentary on what 'survival' has come to mean in the 21st Century, Lhouette queries a society whose relationship with the natural world has become far more removed than ever.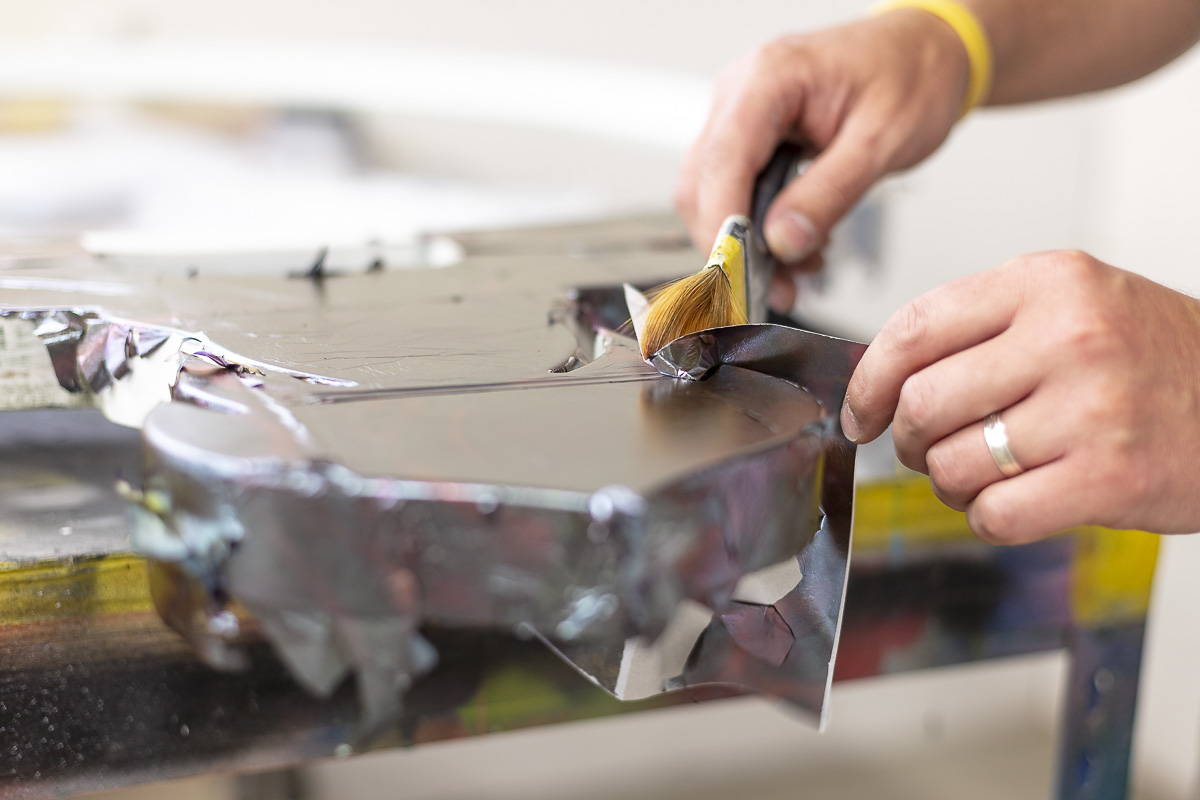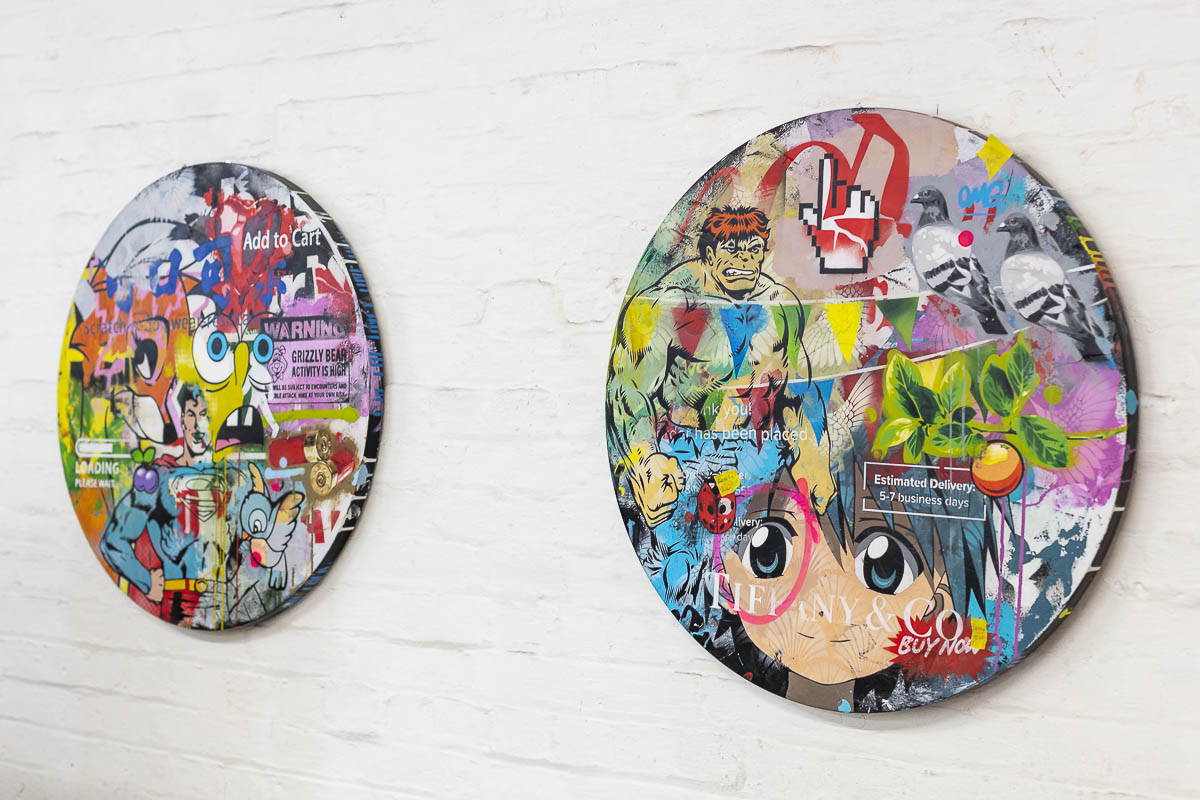 Ideas of the past, the notion of the hunter-gatherer has all but become extinct, instead replaced by a culture of convenience; Next Day Delivery and Click and Collect are now phrases embedded in our language. Creating his own Pop Art view of the wilderness, the circular canvas between each of the stag's antlers is a smash-up of signature Lhouette pop collaging, laced with a new focus. Greenery is dispersed alongside cartoon birds and foxes; a grizzly bear warning sign jumps out as a reminder of the power of nature that humanity so easily forgets. Digital symbols interrupt their presence, a stark reminder that we are surrounded by a cyber world at all times.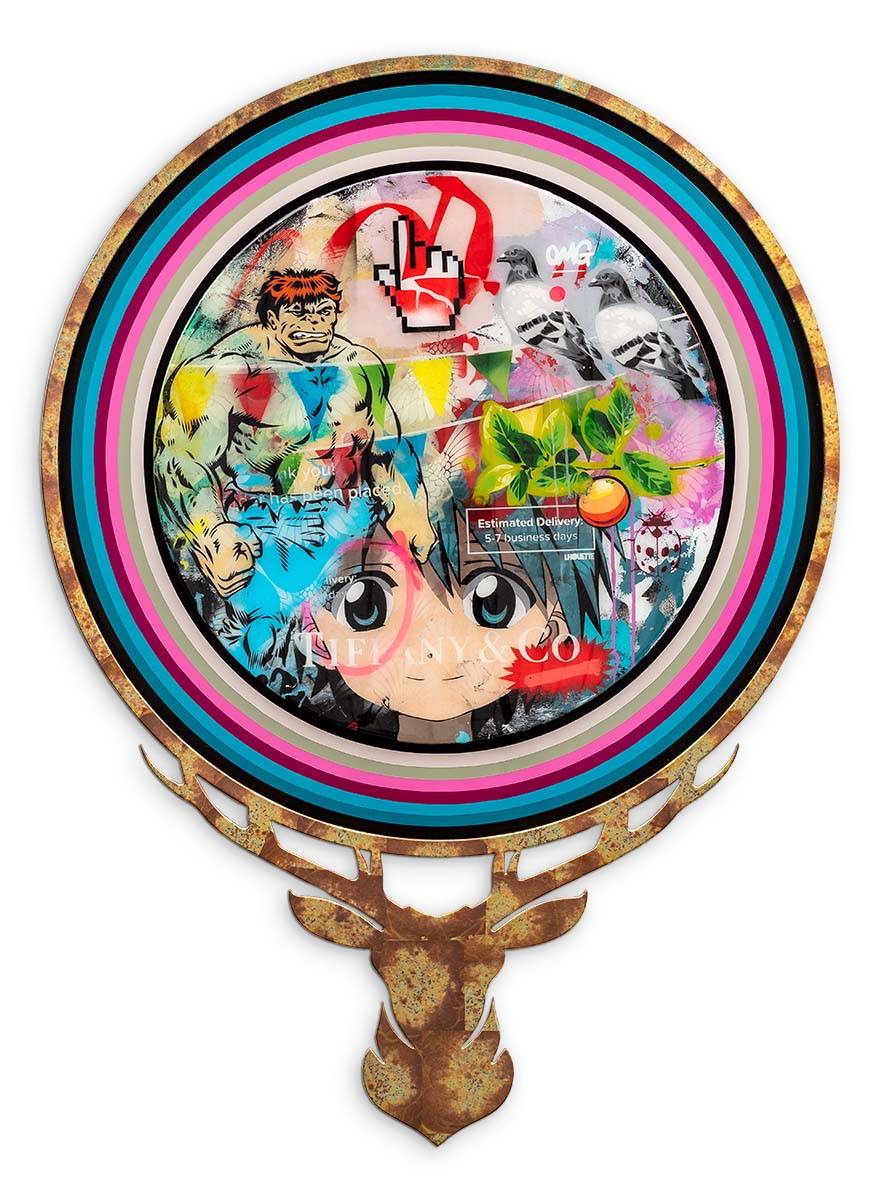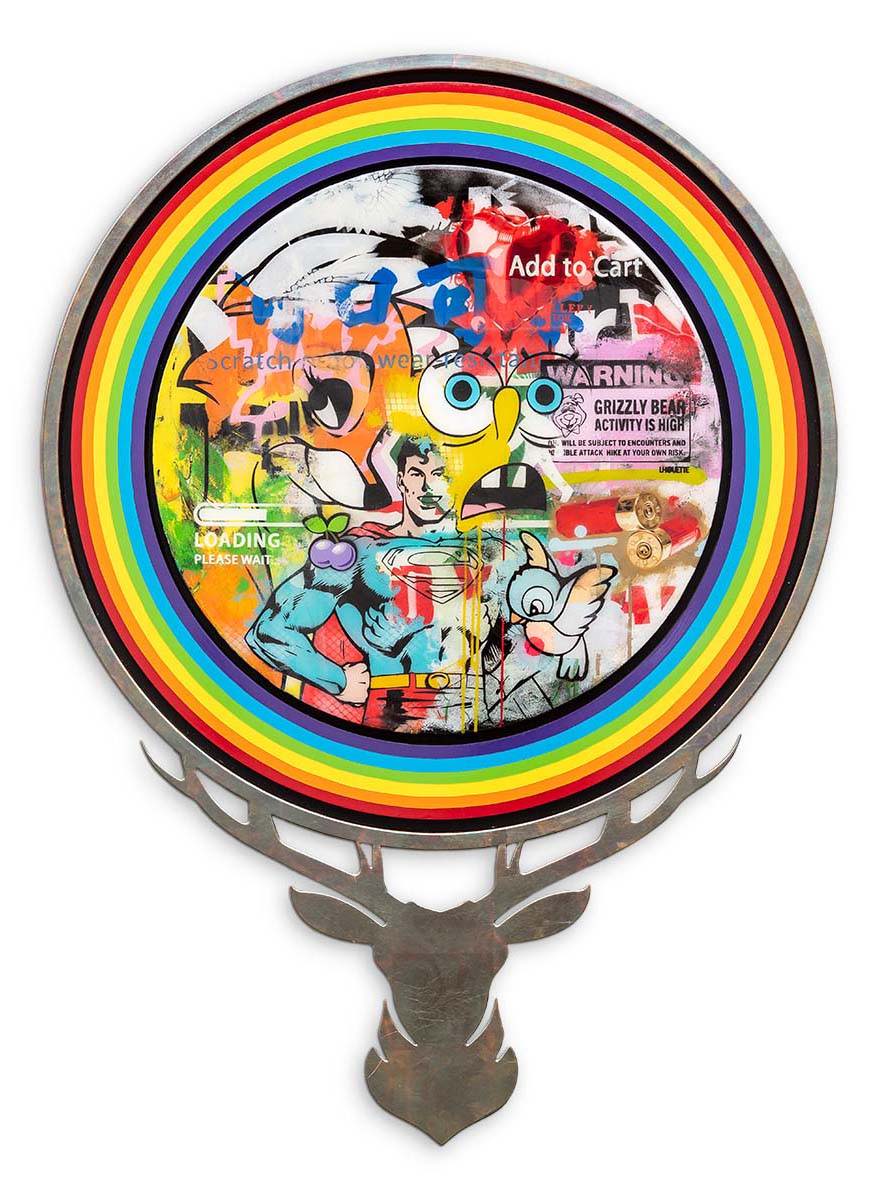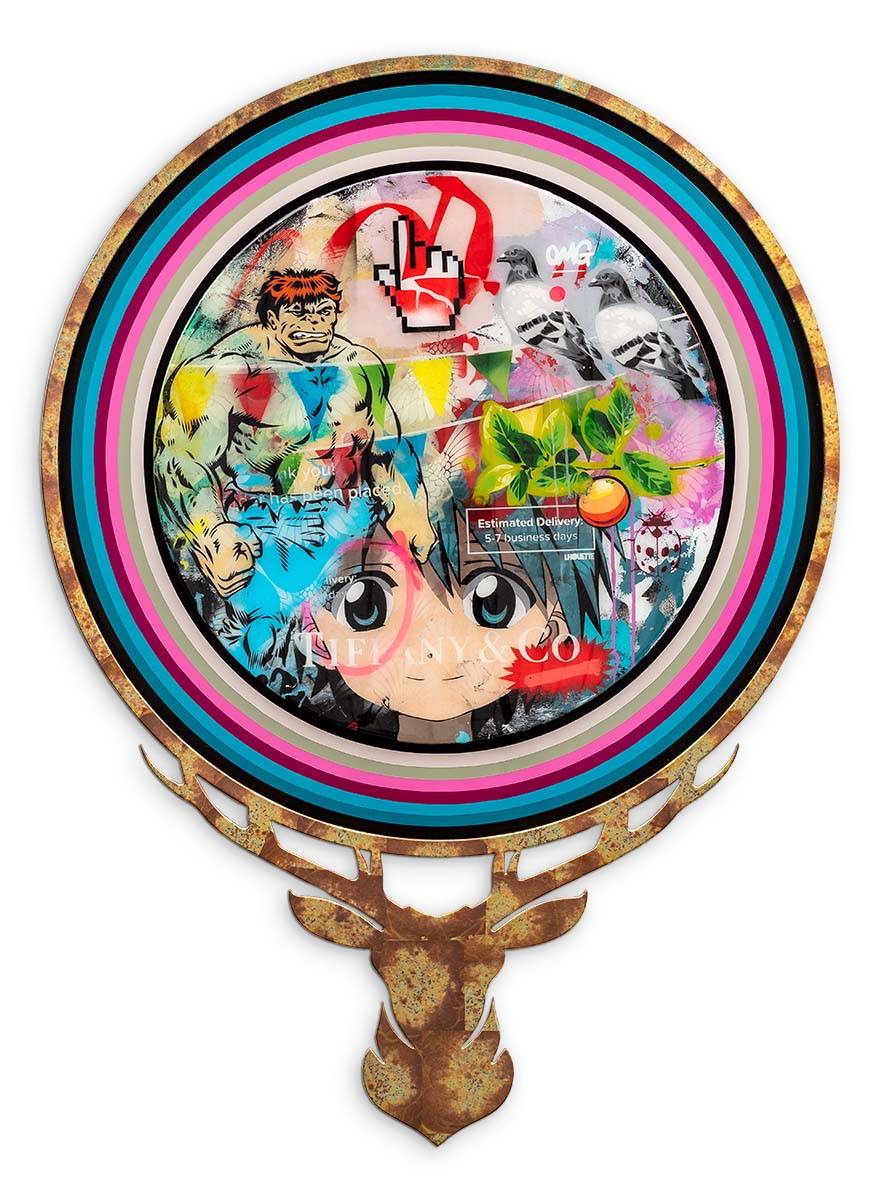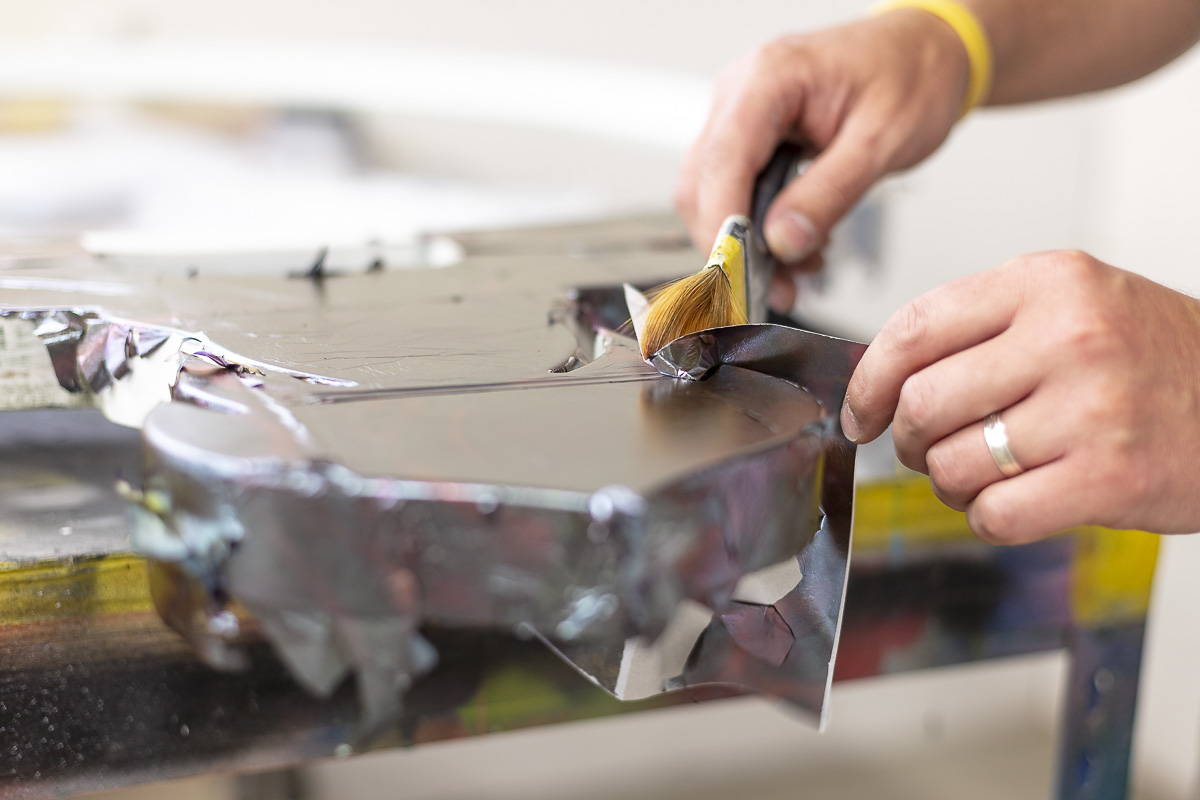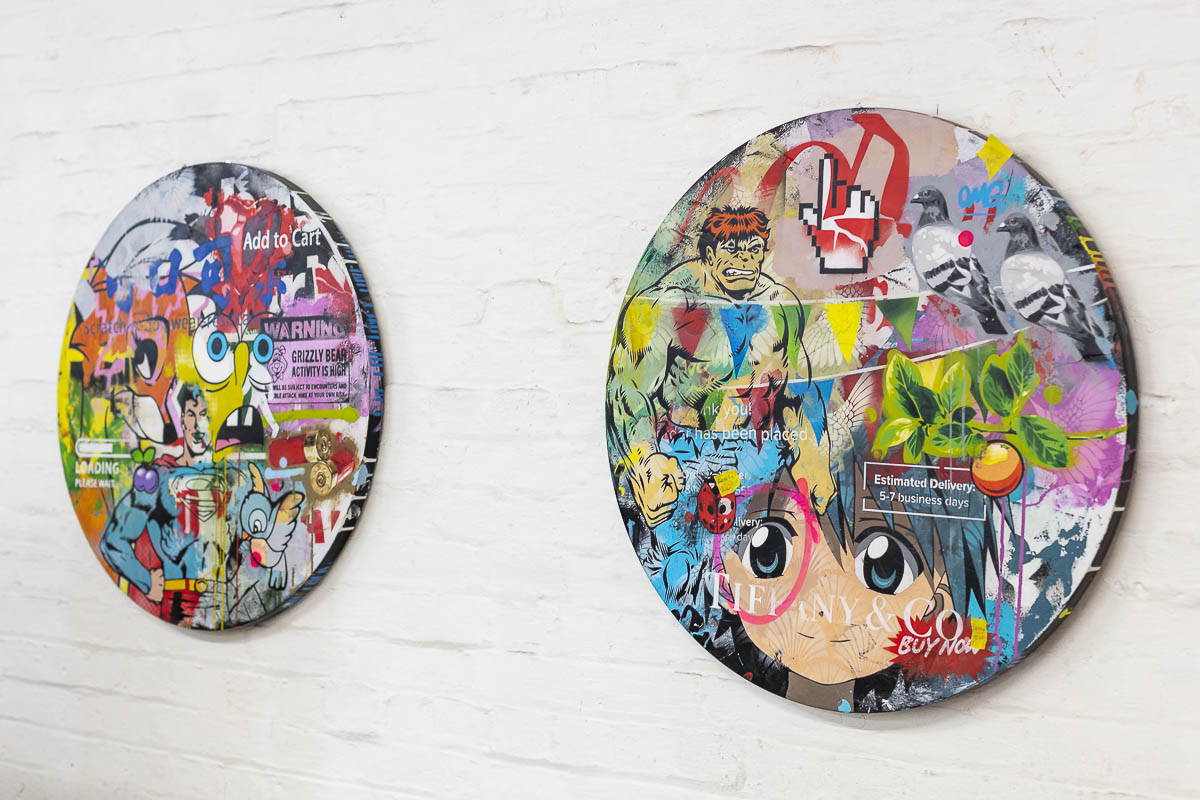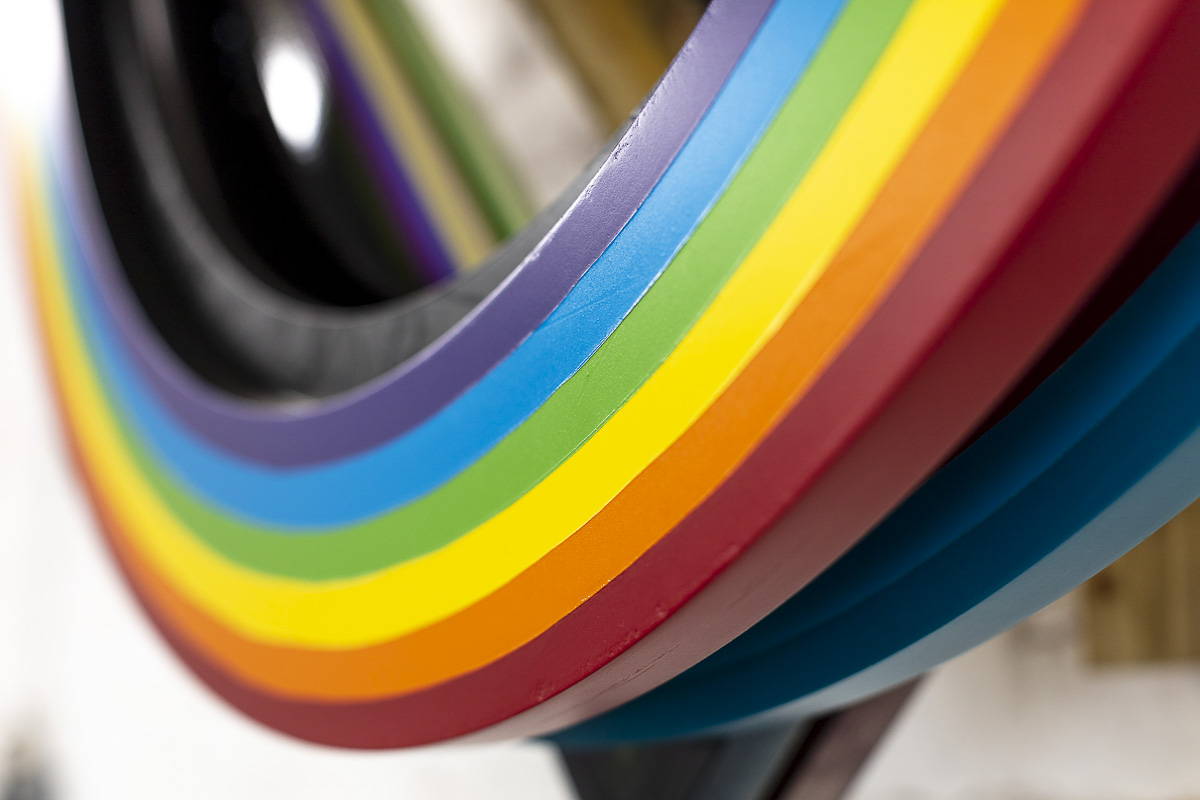 Always envisaged as a pair, each silhouette has a dynamic interpretation of the theme. 'Hunter' is bold with bright rainbow colours, its stag furnished with variegated petrol leafing, whereas 'Gatherer' provides a subtler counterpart with a luxurious gold patina. Emulating the rich gilding of frames more commonly associated with oil paintings, as well as depicting the trophy of the hunt in so many historical masterpieces, Lhouette cleverly adopts and borrows the elusive language of the museum-level institution, re-purposing it for the contemporary generation.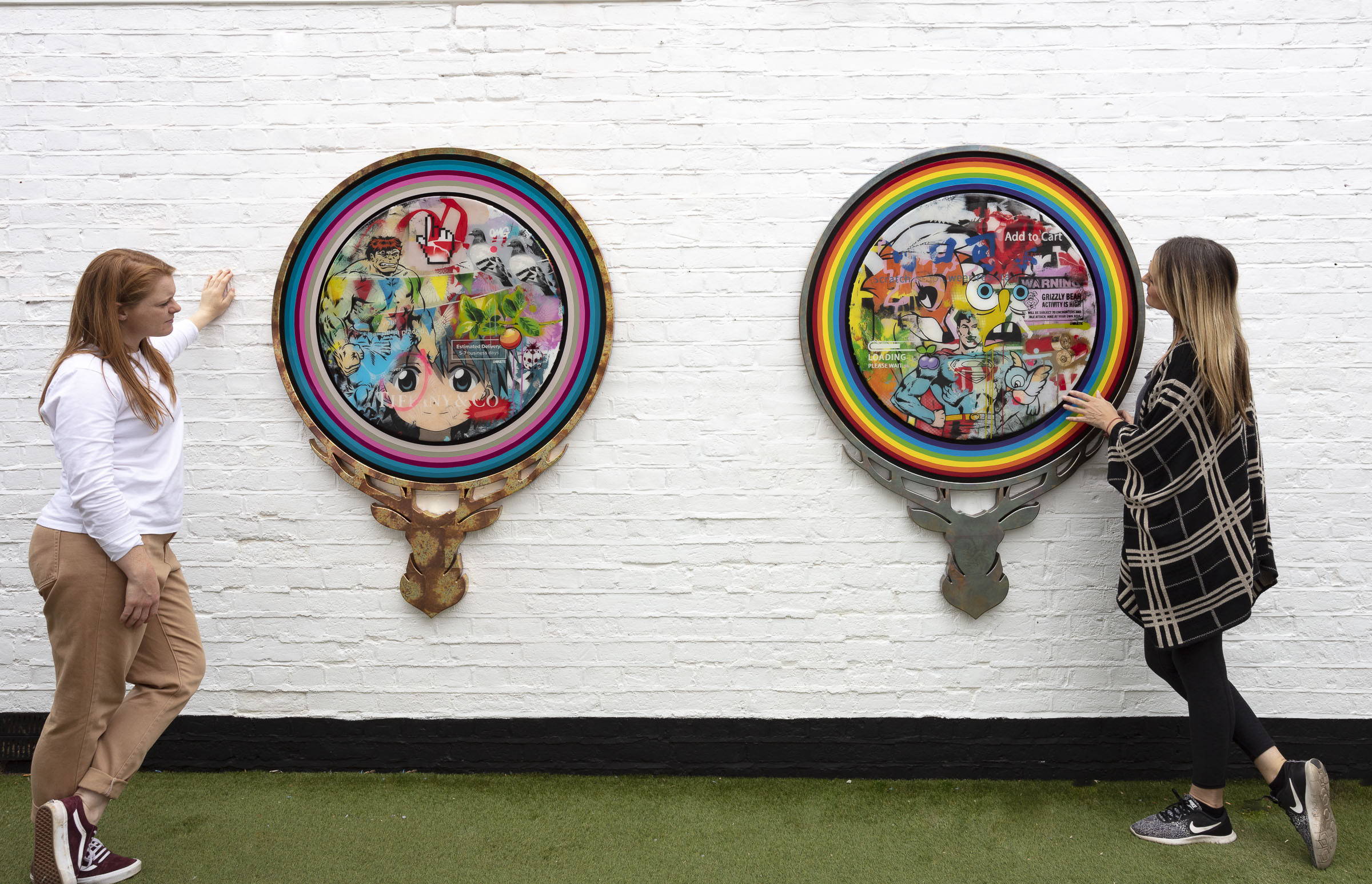 A self-confessed Pop Art purist, Lhouette doesn't edit or alter the imagery he appropriates; he instead approaches his renowned practice in terms of collage and placement to re-contextualise every emblem. Not tampering with the source material, his focus is instead around the application of the reference, underpinned by absolute devotion to cutting each stencil by hand, the painting process and involved refining. 'Hunter' and 'Gatherer' are perhaps the pinnacle of this practice; a double hit of ambitious and complex structural construction, alongside visual arrangement that could be described in terms of composing a symphony.
---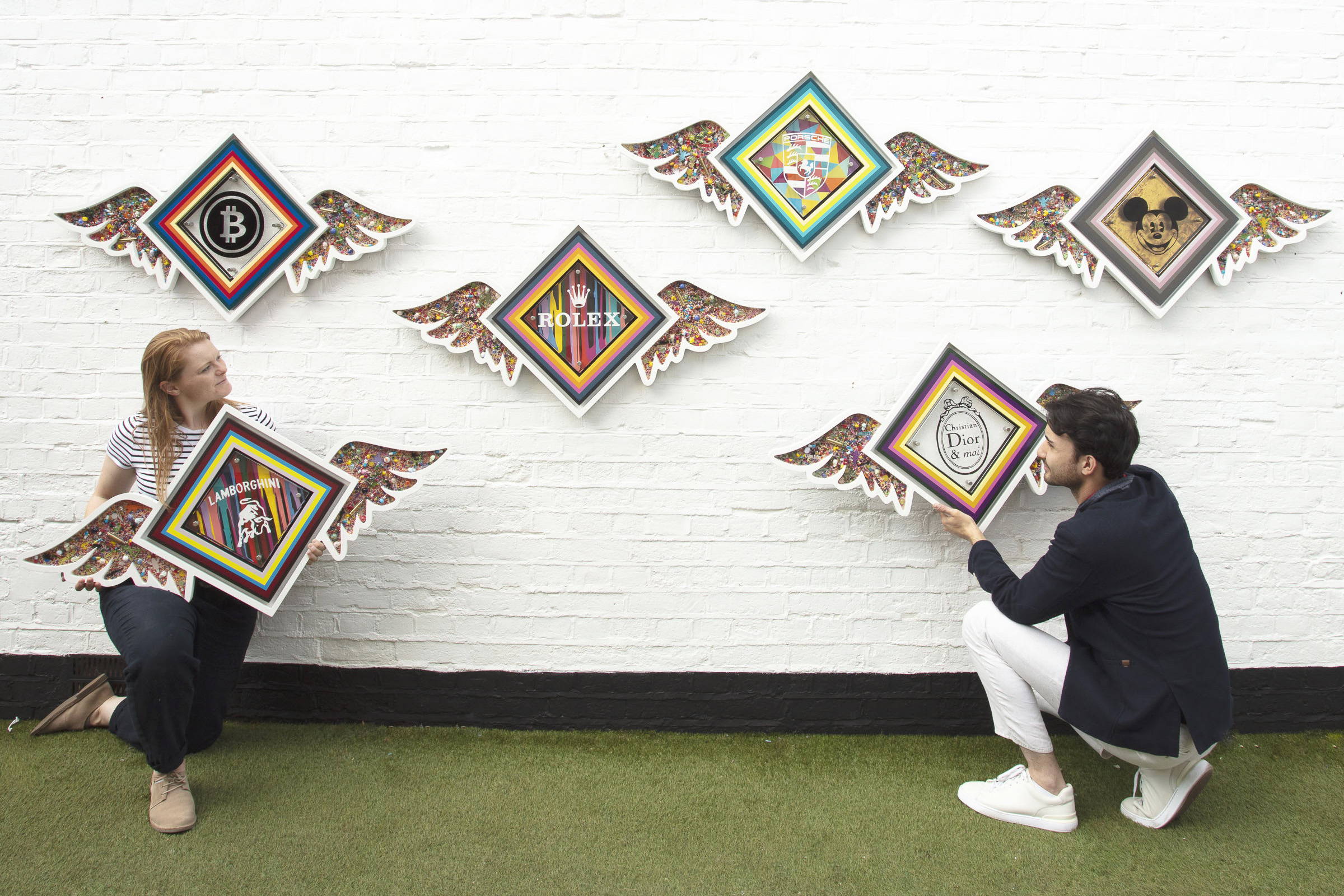 A new formation of original works entitled the 'Pop De-Pendants' join 'Hunter' and 'Gatherer'. Winged diamonds encrusted with confetti-like colour and emblazoned with global brands; en-masse they resemble a collective of flying messengers spreading the word of mass consumerism and social class. The origin of the 'Pop-Dependants' in the shelves of second-hand stores is perhaps therefore both pertinent as well as ironic; though as the master of juxtaposition between old and new, raw and refined, collectors have come to expect nothing less of Lhouette.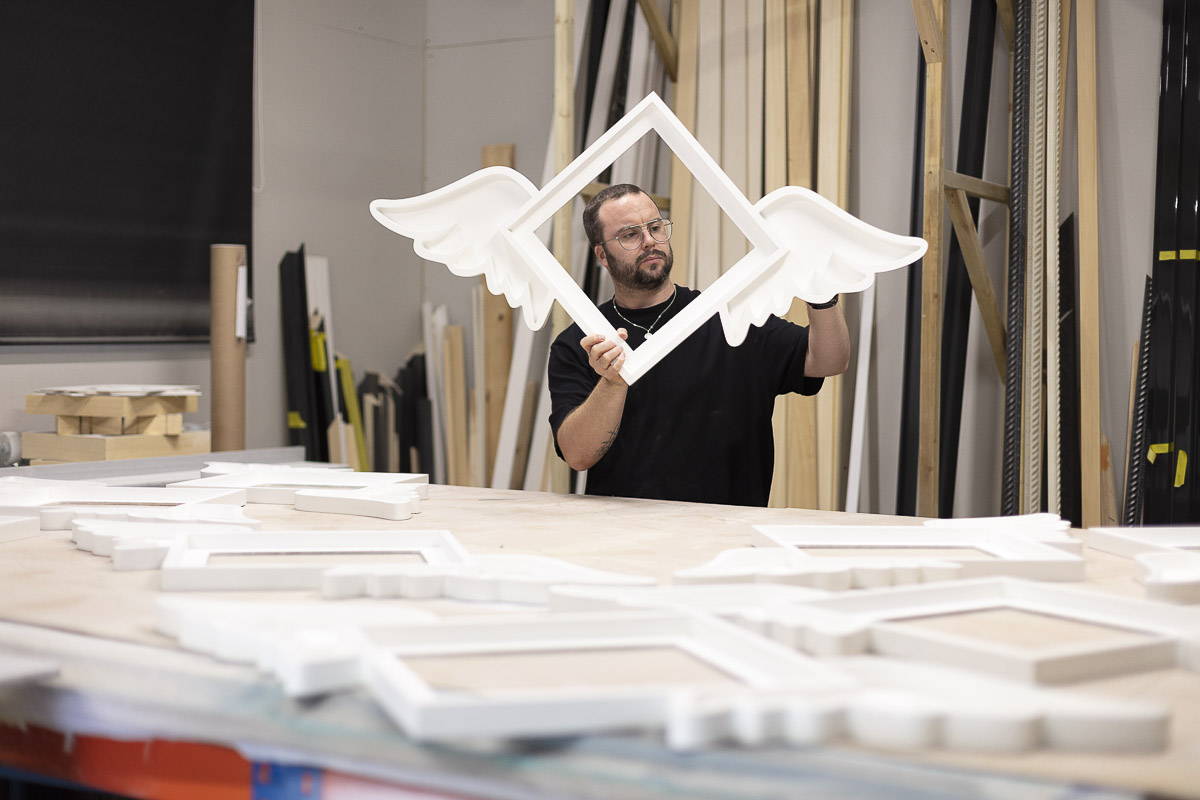 A thrift shop native, the artist can spend countless hours in vintage and antique emporiums, lost amongst the ready-made collisions of eras on their shelves. Imagining the countless ways to re-contextualise each misplaced or discarded possession, with a magpie-eye Lhouette is drawn to anything shiny or decadent. Inspired by trinket-like jewellery and pendants, Lhouette has taken something that can be so neatly held in the hand and upscaled it, and in so doing transformed both its practical purpose as well as its meaning.
This is a method not uncommon to the Pop Art movement, though applied with Lhouette's idiosyncratic visual language the concept at once feels glossy and new. A cornerstone of the DNA of his studio practice, the artist is not only re-contextualising objects with scale, but most importantly the ideas that underpin their making. With an inception-like quality, Lhouette is not only mining the consumer and art worlds - his own portfolio provides large nuggets of inspiration. The symbolic silhouette of his first character 'Angel Cake' has become not just a talisman to his studio and collectors, but something of a trademark signifying his presence. Borrowing her wings, the 'Pop De-Pendants' invoke her spirit, and are perhaps instantly recognisable as Lhouette's inimitable output as a result.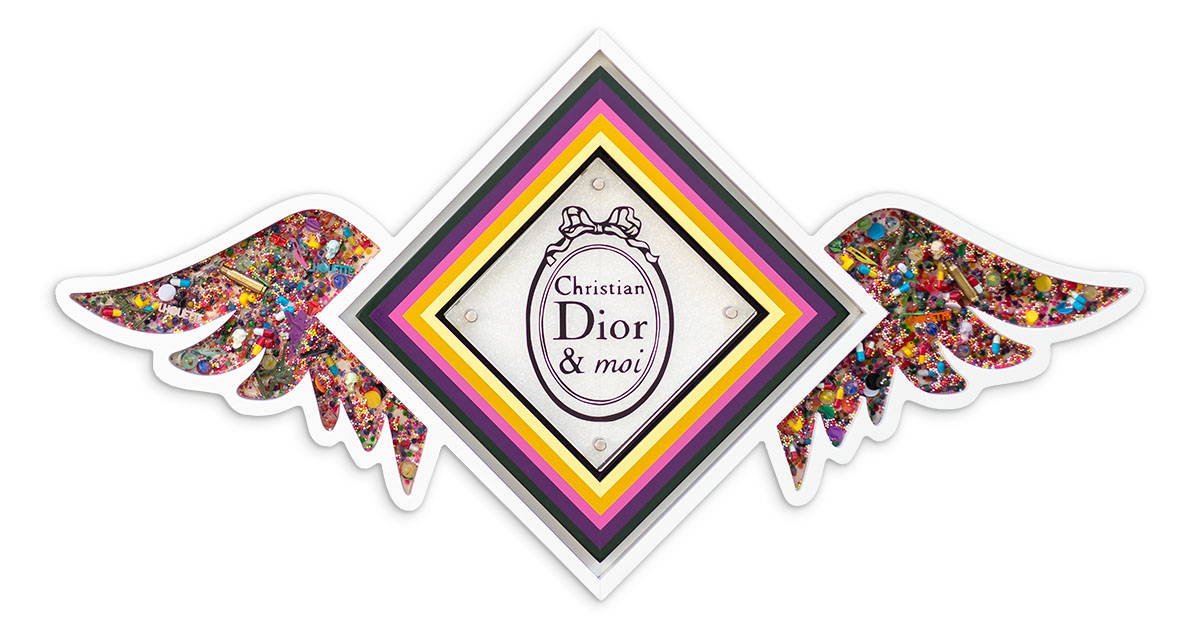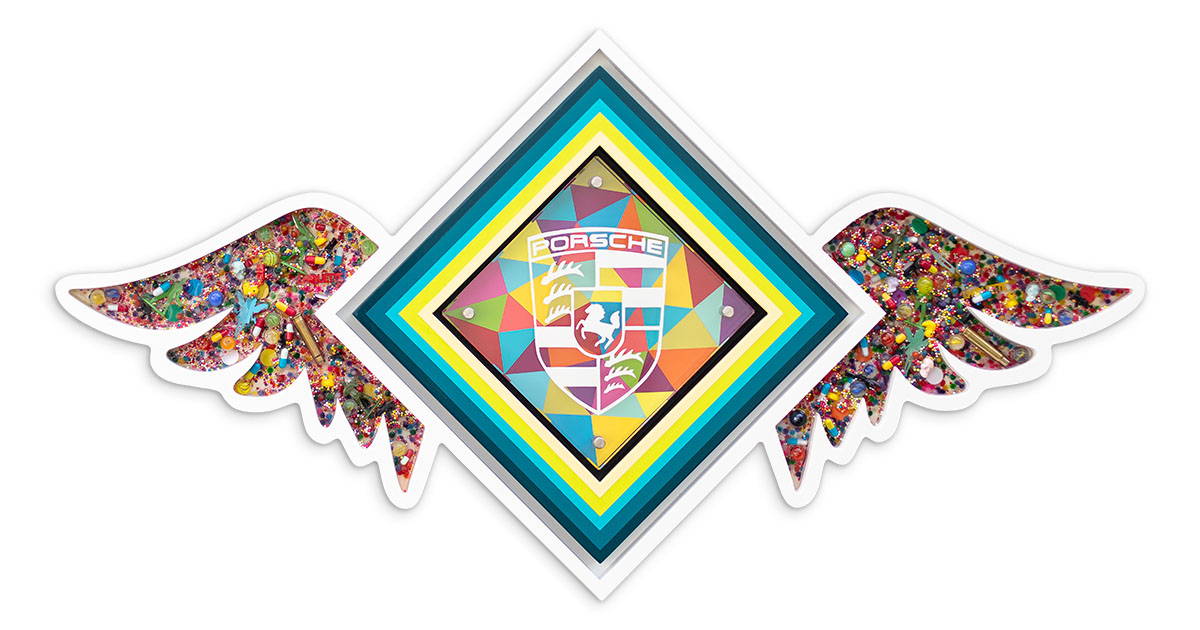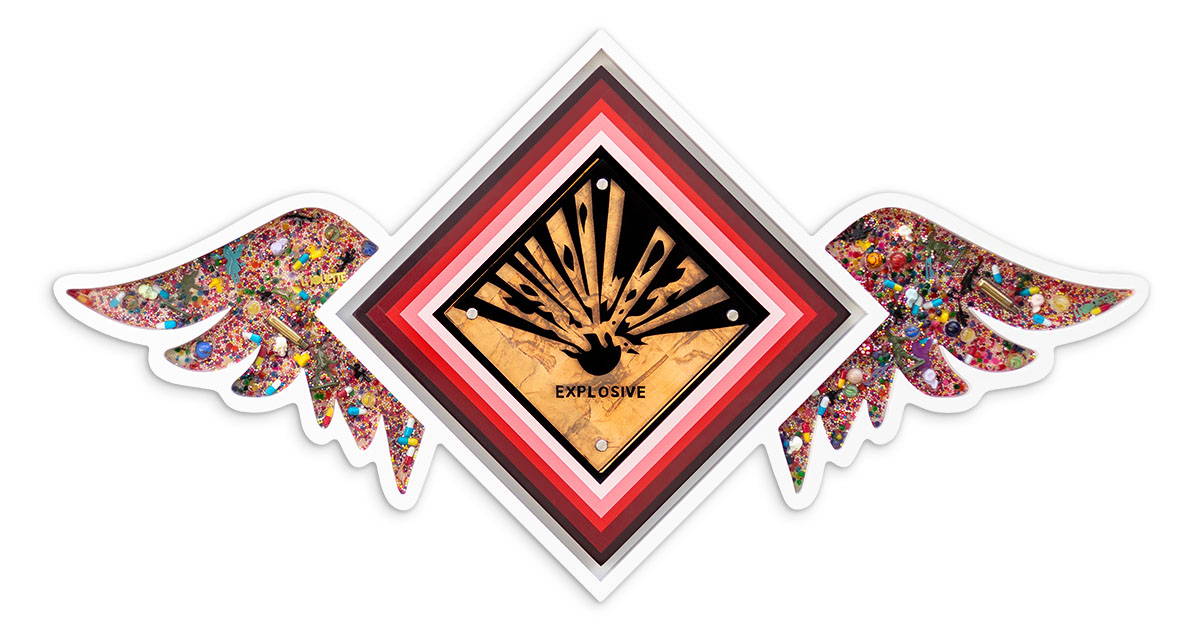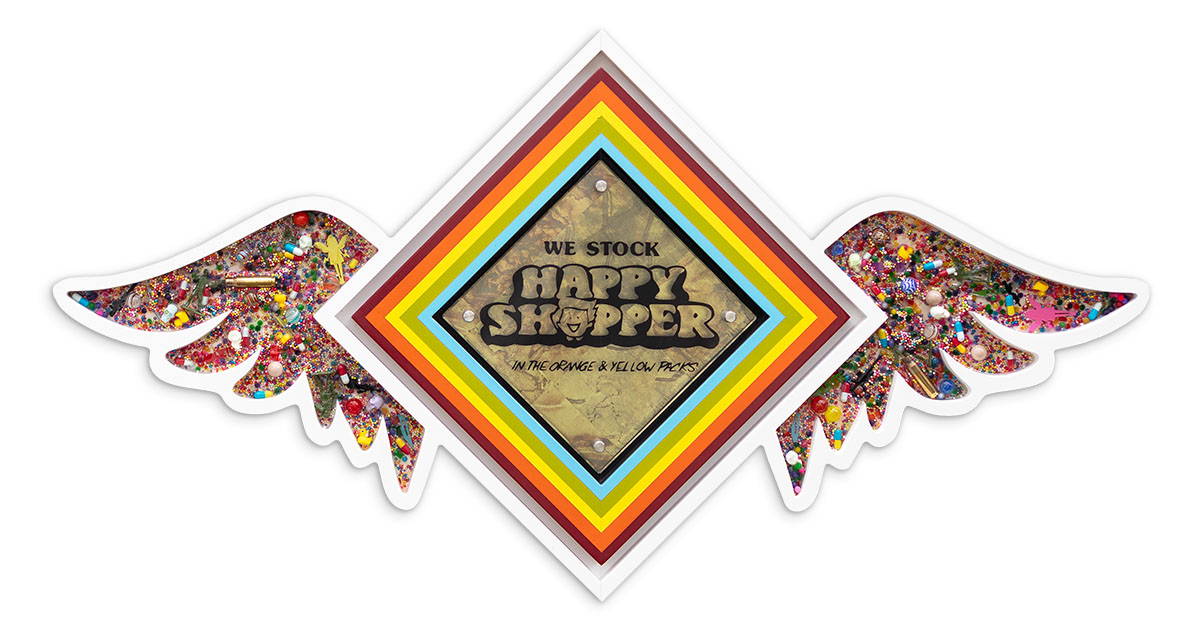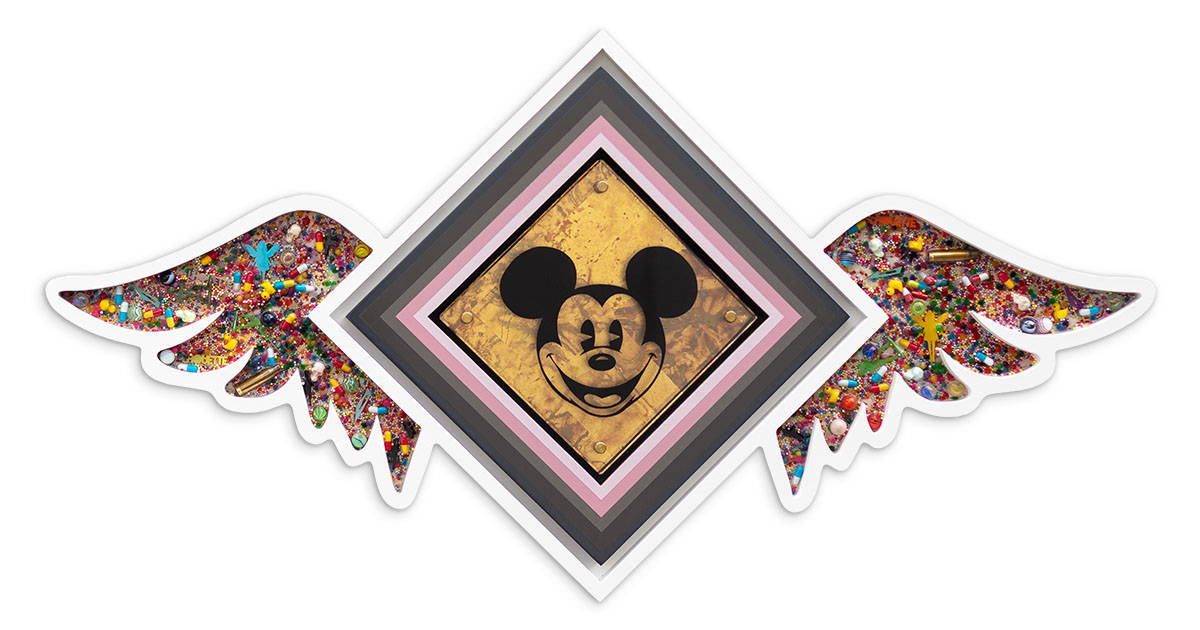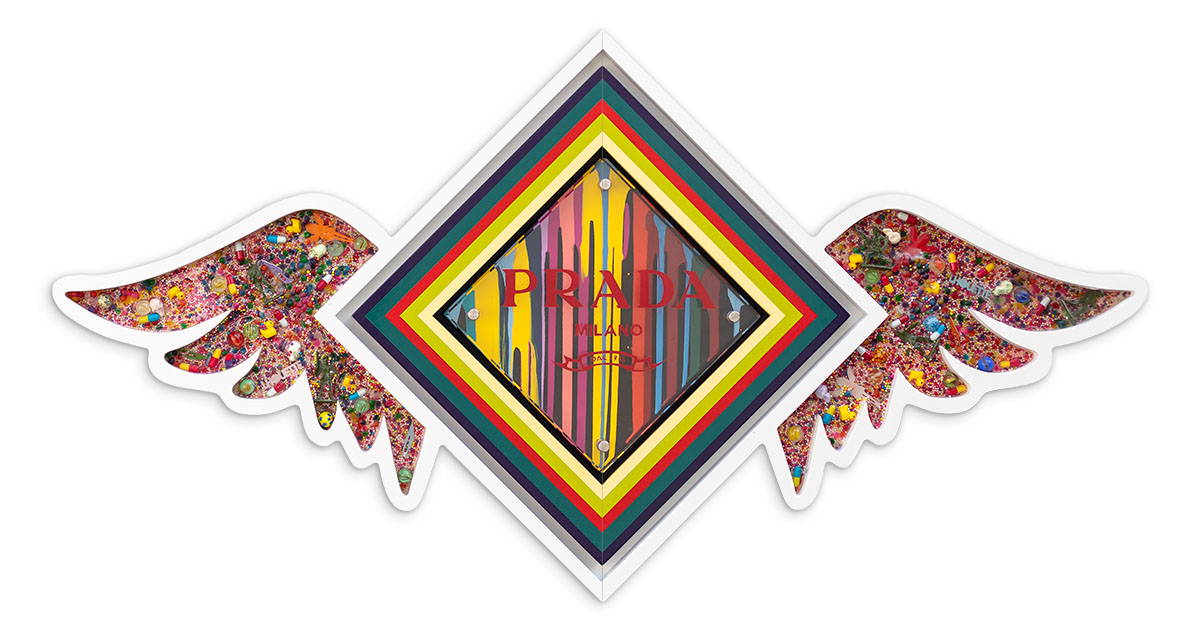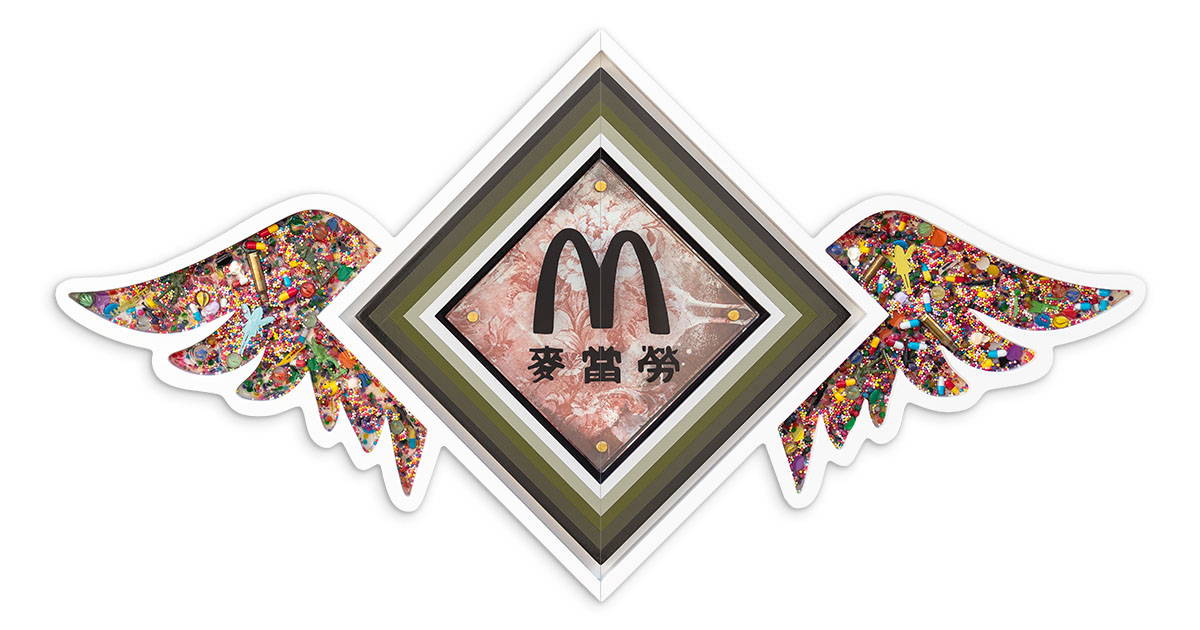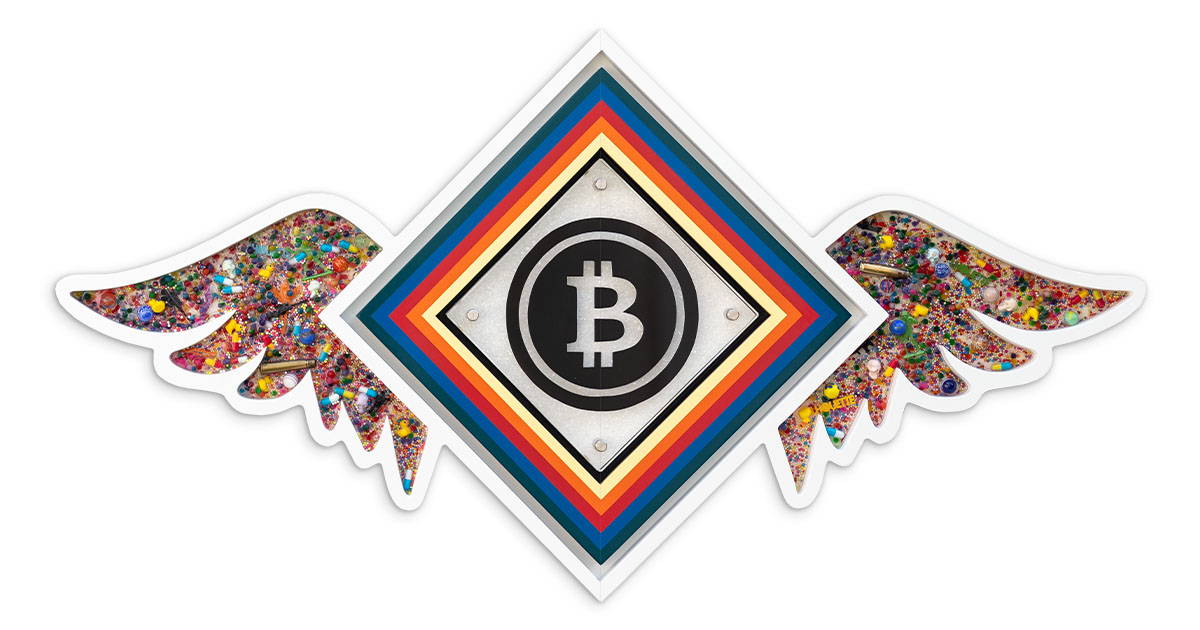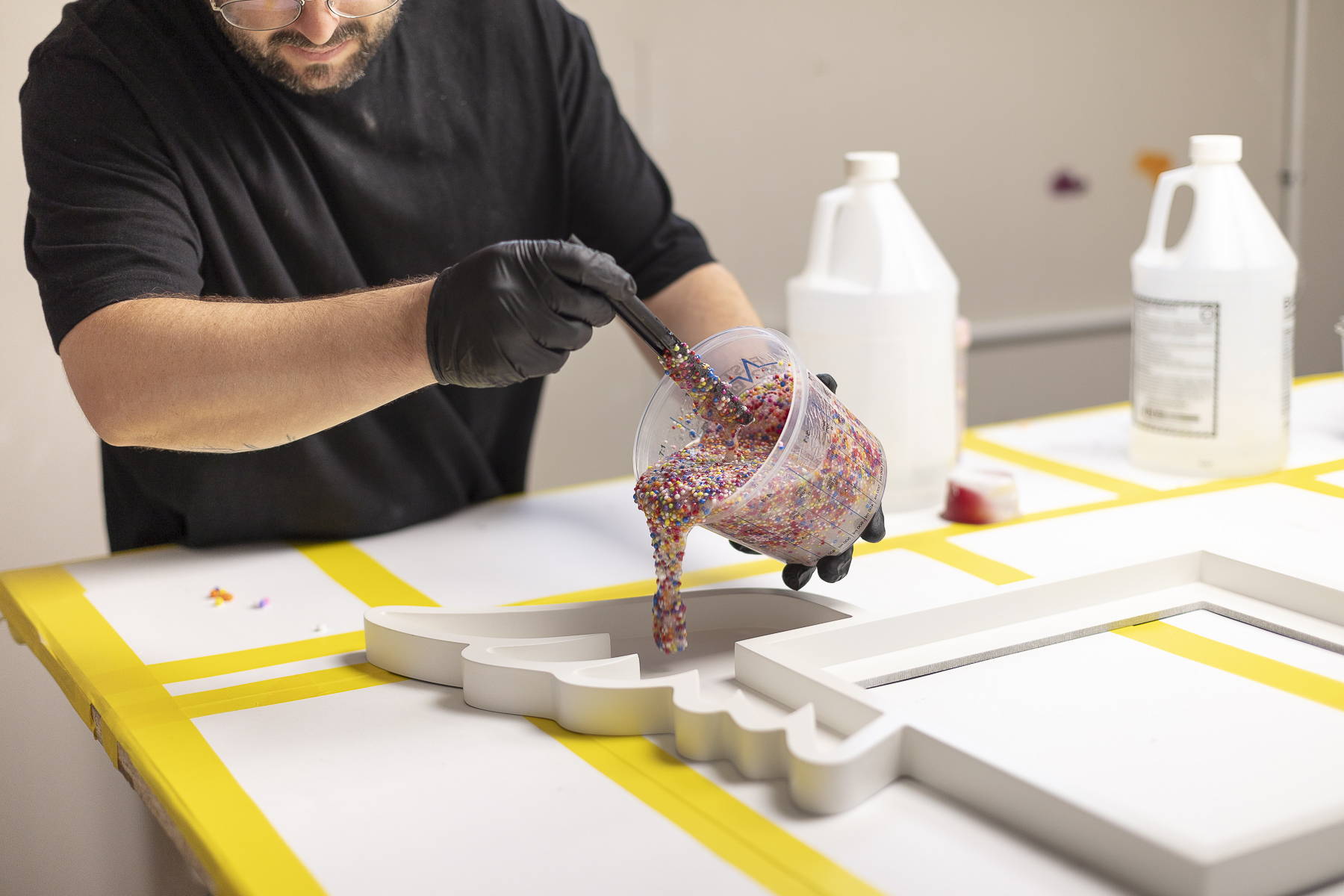 With a more subtle association, collectors may spot references to the 'Colour Crate' series; early works which began his love of bold and intense colour designed to "allure the eye". An expert in creating visual and conceptual contrasts, Lhouette's 'Pop De-Pendants' place highbrow global companies such as Prada and Porsche with vibrant paint-pouring and circus-bright geometric patterns, re-branding each with a tongue-in-cheek attitude. By contrast, corner shop Happy Shopper is given a glow-up, with luscious, marbled gilding as the backdrop to its smiling logo.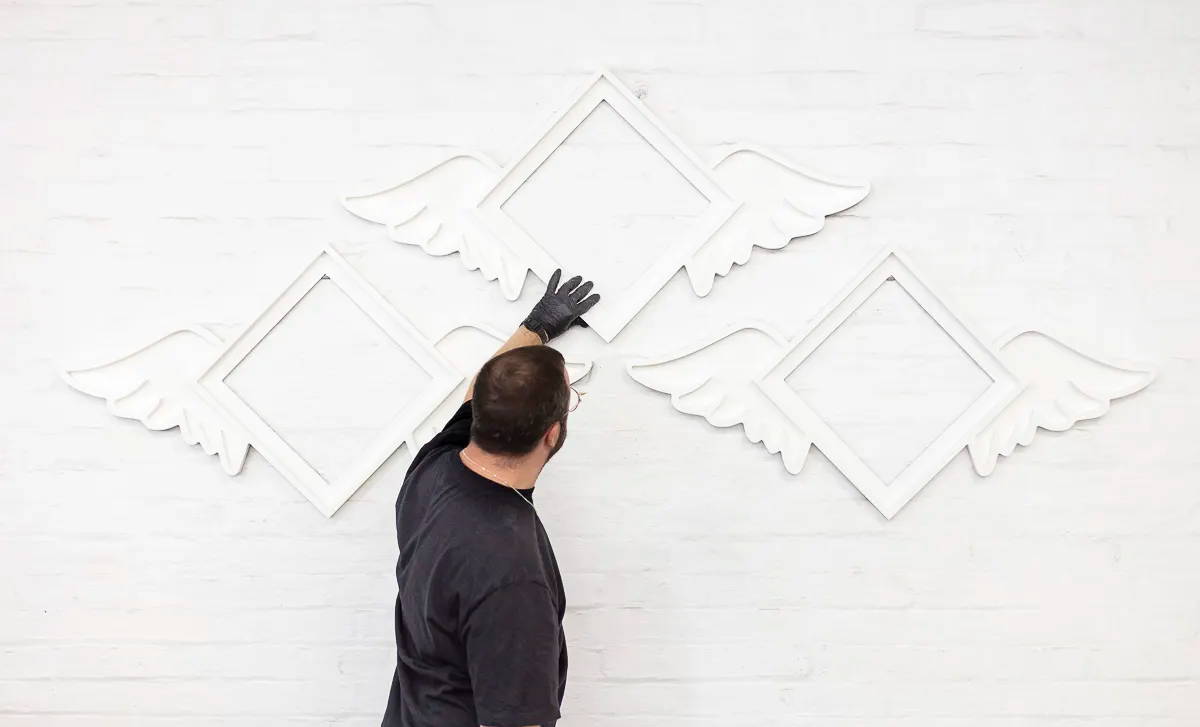 Diving into society's relationship with consumerism and waste, each wing is loaded with brightly-coloured medicinal pills. Symbolic of consumer addiction and dependency, there is a nod to this theme with a play-on-words within the series title itself. A "netting of iconic imagery", Lhouette re-frames the emblems of modern advertisement, entertainment and currency into art that raises thought-provoking questions with light-hearted fun.
---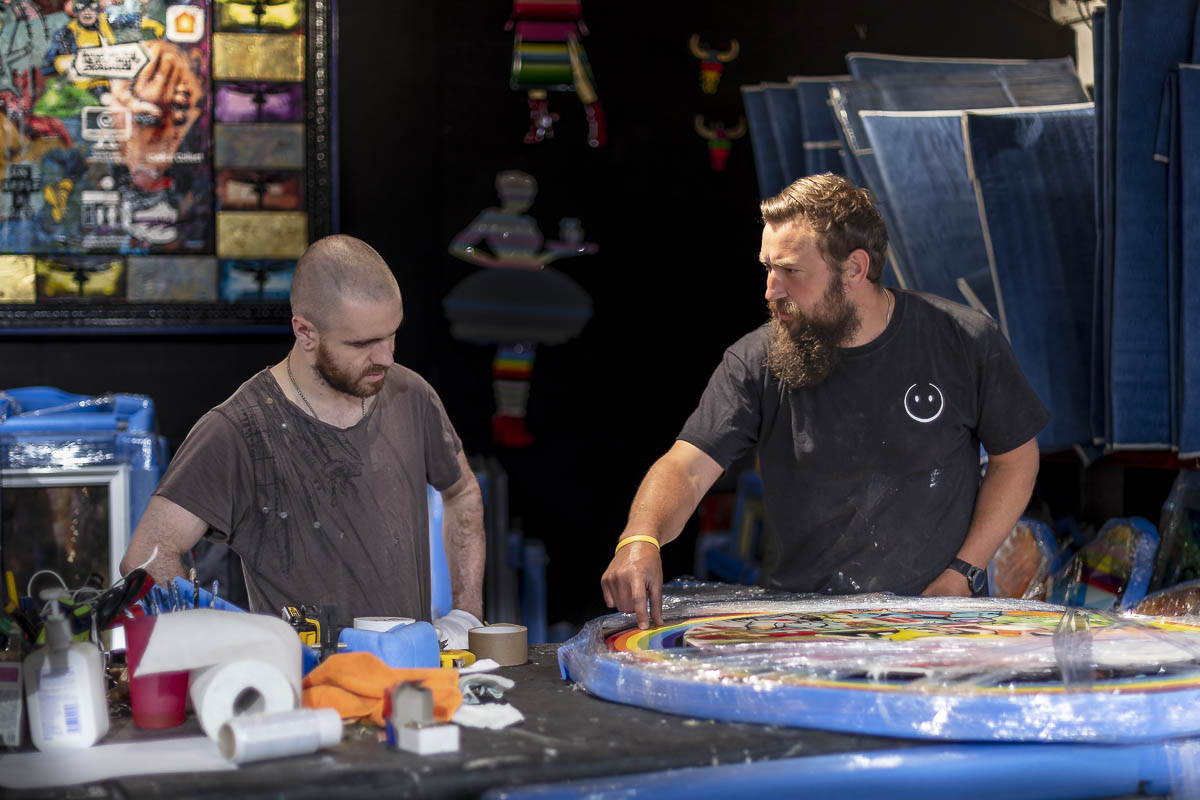 An artist that possesses both in-studio facilities and techniques rarely found elsewhere, Lhouette is on a mission to own his creative output from inception to realised fine art piece. With a vast ambition and no limitation of material or machinery, his quality comes from the constant refining of methodology and technique born from a dedicated perfectionist. The 'Hunter', 'Gatherer', and 'Pop De-Pendants' represents a concept imagined and achieved with nothing short of tenacious commitment. Wyecliffe Galleries are privileged to have held the position as Lhouette's flagship gallery for over a decade; with a relationship built on collaboration and mutual respect, we are pleased to offer these original works as now available for acquisition.
For all enquiries please contact info@wyecliffe.com or +44 (0)1932 847939.
---
---
Sign Up for Exclusive Content
---