The great cities of the world, at first, may seem to be an unusual choice of genre for a Yorkshire boy hailing from Mirfield which boasts a population of less than 20,000. Delve deeper into the roots of cityscape painter Nigel Cooke however and a great love of visual communication reveals itself in a path that has lead to character design in Hong Kong, and live sessions as a caricaturist across the UK. Prior to this, a position in the Merchant Navy cemented a lifelong appreciation for travel. Uniting these two passions has ignited a collection of artworks revelling in the bustle of metropolitan culture.
From Yorkshire to the World - The Evolution of Nigel Cooke
Early works envisaged capital cities in black and white lines with red accents taking form in London double decker buses and traditional telephone boxes. Highly stylised, each presented a stillness reminiscent of photography; traffic paused, and pedestrians halted mid-step. Quickly the street scenes developed, in place of white buildings tones of sepia brown added warmth in place of drama. Raised painted lines crafted from a flick of the artists brush has injected new pace to recent works. The evolution from monochrome to blazing colour blocking against dove grey highlights is the mark of progression made by an engaged and ambitious artist. Introducing dawn skies and splashed orange sunsets has allowed Cooke to play with light; a new interpretation of his otherwise timeless days.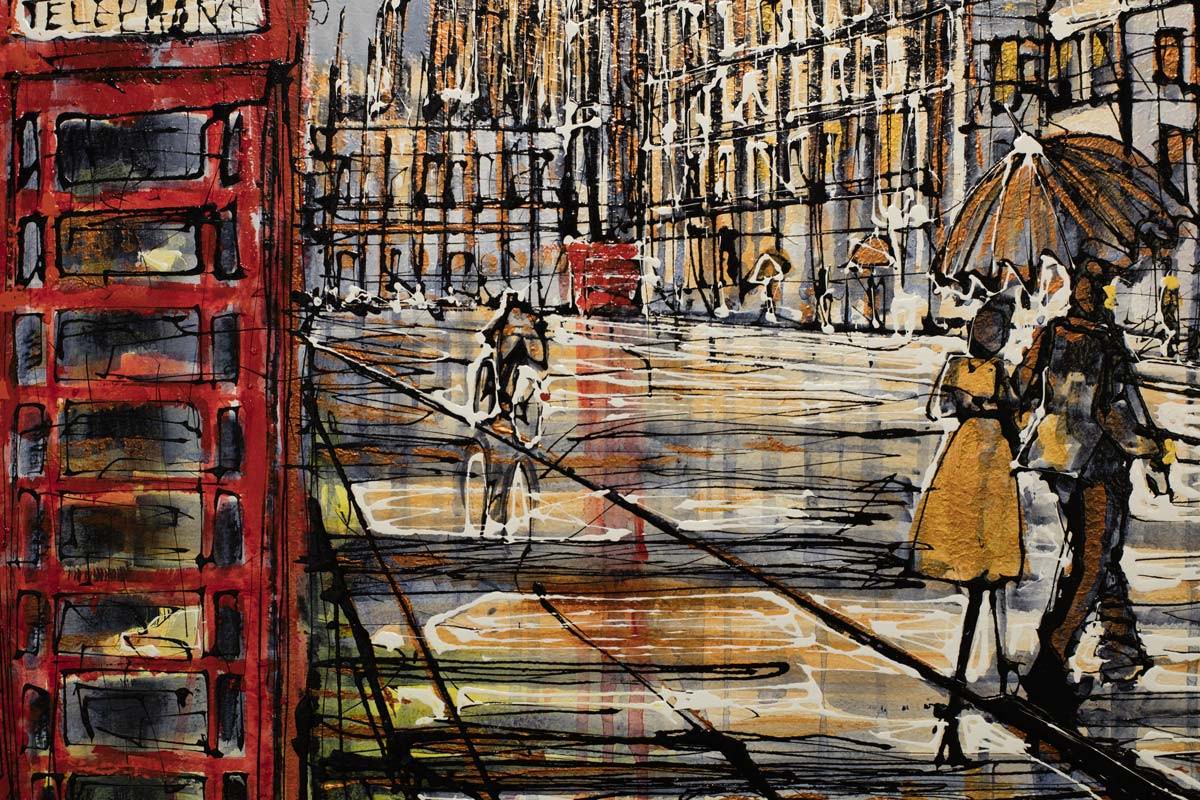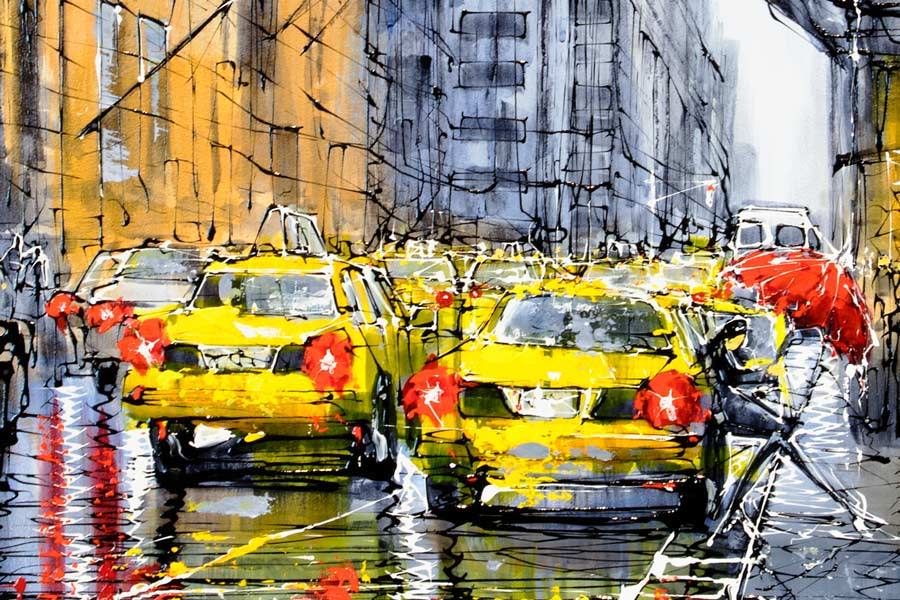 Nigel Cooke's Technique
Crafting iconic architecture from the defined lines of pure unmixed black and white acrylic painting, depth and focus have also been on the agenda for development. A professional background in building character through animation and pencil have served Cooke well in highlighting the familiar lines of modern buildings fondly nicknamed the Walkie Talkie and Cheese grater. Though mostly featuring London, Cooke has ventured his paintings to New York, Sydney, Paris and Amsterdam, each with spellbinding results. The capital of Holland often receives an autumnal treatment, branches ablaze with leaves fashioned from deftly dabbed paintwork. France's home city is often seen in the tail end of summer, hot smoky nights under the Eiffel Tower lit in paint-the-town red. Meanwhile the skyscrapers of New York sit against a backdrop of periwinkle blue and deep purple; contemporary shades for the city that never sleeps.
A motivated and cultured painter, new expressive cityscapes arrive weekly at Wyecliffe Galleries directly from his Yorkshire studio. To keep up to date with fresh paintings, please sign up to our newsletter at info@wyecliffe.com.
---