Kerry Darlington's Latest Edition
We all grow up with wishes. Before we blow out the candles on our birthday cakes every year, many will close their eyes and make a wish, never to be shared with another soul – else it won't come true. Some make a wish when they find a solitary eyelash, or when they throw a coin into a fountain.
Wishes are granted in fairy tales; sometimes a genie can conjure as many as three to transform a life. The heart's desire is a potent notion to many artists and is a theme which crops up in various guises in the works of UK bestselling artist Kerry Darlington. Dorothy wishes to be home in Wizard of Oz, and Peter Pan wishes upon a star; most recently a series of intricate yet minimal portraits have emerged inspired by folklore from world cultures.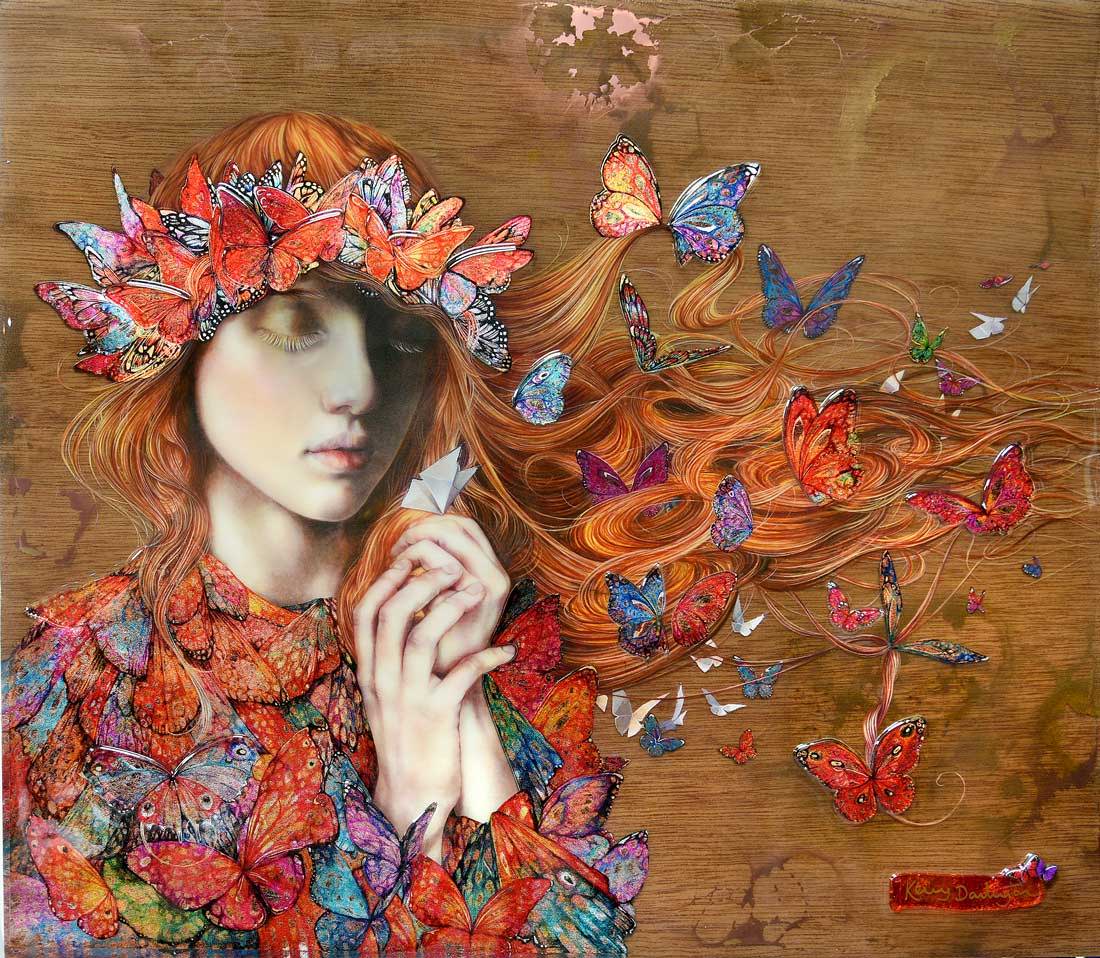 Companion to Kerry's 'The Paper Boat'
Wish Upon a Paper Butterflyis the follow up piece to coveted unique edition The Paper Boat. A small edition of just 95 pieces, the series follows on from smaller boutique works available exclusively at Wyecliffe Galleries. Painted as a sibling pair and designed to hang side by side, at the heart of each composition is an elegant, timeless female – otherworldly in nature. Each has flowing locks, gently twirling in the wind; Wish Upon a Butterfly see's Kerry return to an auburn-haired muse, with warmth radiating from within. An origami butterfly is poised on her hand, ready to take flight and join the mass of coloured wings. Adorned with a crown of the creatures, she is dressed in their allegory – with associations of resilience and transformation, they are also evocative of the enduring circle of life. Expanding on her research before undertaking the portrait, Darlington speaks about the ideology behind her latest work;
A paper butterfly is a symbol of metamorphosis, for me a beautiful, contemplative melancholy. For the Japanese, a white butterfly symbolises the soul of a departed one. The Native American people believe that the butterfly can carry a wish to the Great Spirit upon their wings"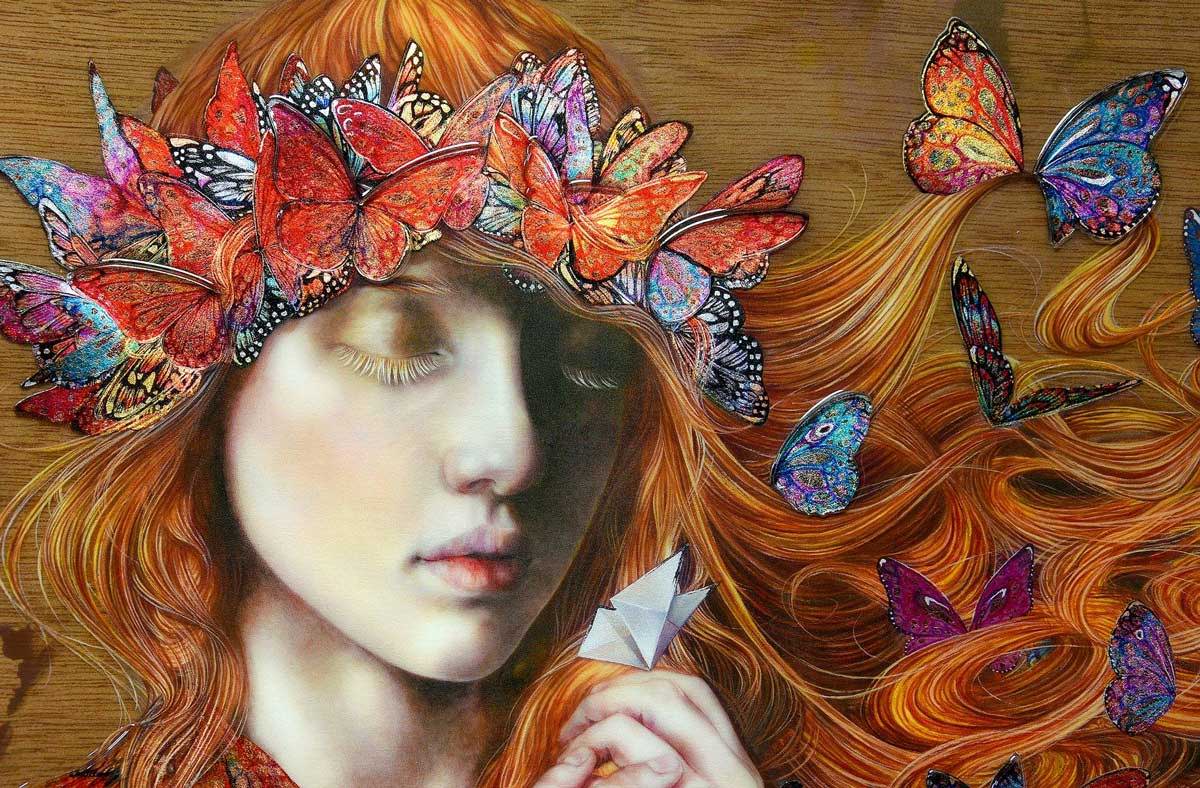 Kerry Darlington's Influences
Visiting the Mediterranean frequently to meditate, reflection and time gone by are clearly on the artists mind. Both The Paper Boat and Wish Upon a Paper Butterfly carry notions of loss and renewal, each of which are symbolised in the fragile nature of the origami itself. Hold your love too tight and crush the folded paper, let it go and trust that it will be safe. Acknowledging that sometimes wishing may be futile, we all must carry hopes that cause us to chase a dream, believe the unattainable might one day be reality and live every day knowing that tomorrow might be better.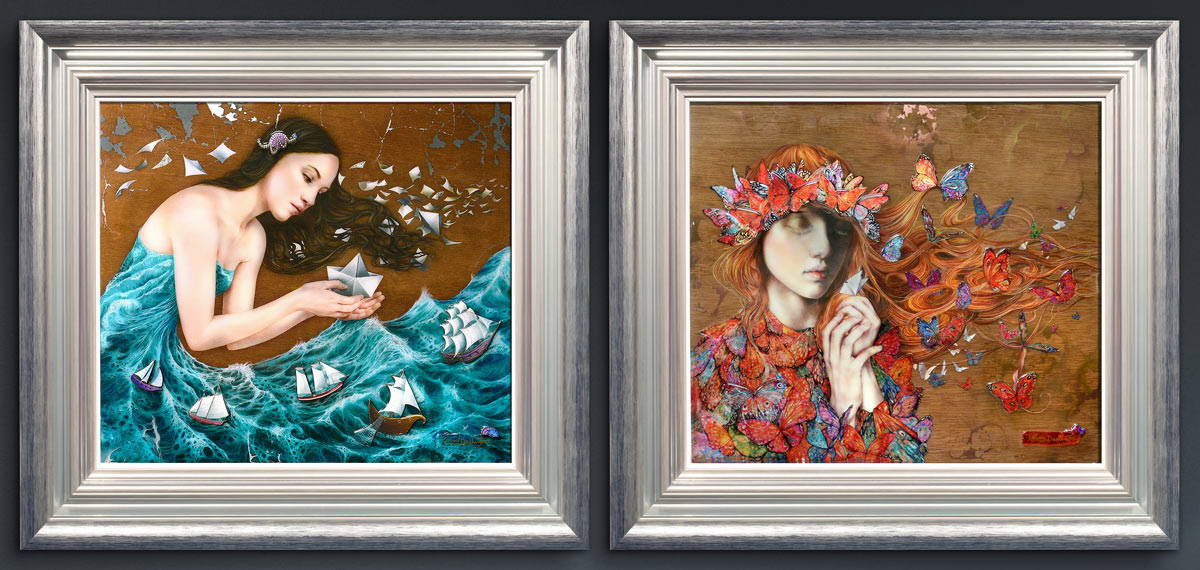 An ode to those who wish, even knowing that the answer might be no, is the truth of humanity. We love even though our hearts might be broken, we live knowing that one day we won't. The ultimate story teller, Kerry Darlington narrates the story of life in all its evolutions, in strength and valour, in heartbreak and sorrow. Her works hang on walls across the globe, and bear witness to the everyday triumphs of the families who choose to share their homes with her art.
I painted this as a pair to 'The Paper Boat', in acrylics and ink upon wooden board and metal leaf. I hope you enjoy it as much as I loved painting it!"