Celebrating International Women's Day

Celebrating the cultural contributions of Wyecliffe's leading female artists we present five contemporaries, whose creative practices and stories are nothing short of remarkable.
Making the art world a more inclusive place their agendas are to dispel the idealistic idea of beauty, challenge the boundaries of fine art itself, as well as provide forms of art therapy that serve to shape the future of art-collecting. Hailing from the UK, France, Africa and America each artist offers unique visual experiences alongside an infectious sense of commitment, wonder and belief. Female artists do not need us to place them on the map – they are doing it for themselves, though we are privileged to unite their profiles and histories in a survey that outlines just why they are so important.
---
One of the single most distinguished artists living and working in the UK, Kerry Darlington's ferocious commitment to imagination and storytelling has won her a global collector base. Challenging the notions of fine art and illustration, she has united the narratives typically drawn on the pages of books with complex, accomplished original paintings crafted through hundreds of hours in her studio.
Born in 1974 in Rhyl, North Wales, the artist adored the intricate drawings of Arthur Rackham, emulating them through hundreds of drawings as a child. Studying Illustration at degree level, Darlington was heavily influenced by the Belle Epoque stylings of the Art Nouveau as well as the natural realism of the Pre-Raphaelites. This period of study, as well as time spent living in Bolivia, South America infused her work with its unique blend of vibrant colour and technical finesse. With a portfolio now spanning portraiture, volcanic abstraction, as well as magical compositions of folklore and fantasy, no matter which artistic genre Kerry Darlington undertakes, her style is so assured and distinctive that even were the signature to be removed, it would be undeniably hers.
Darlington's unique portfolio transcends culture and generation, leading to thousands of people who may have never previously considered collecting art, feeling that they can be involved too. Approaching her to practise in the spirit of accessibility and authenticity at the very core, this is the great gift Kerry Darlington has offered the art world and those who may have found it previously too exclusive to enter – she has opened so many doors, that have previously seemed to be closed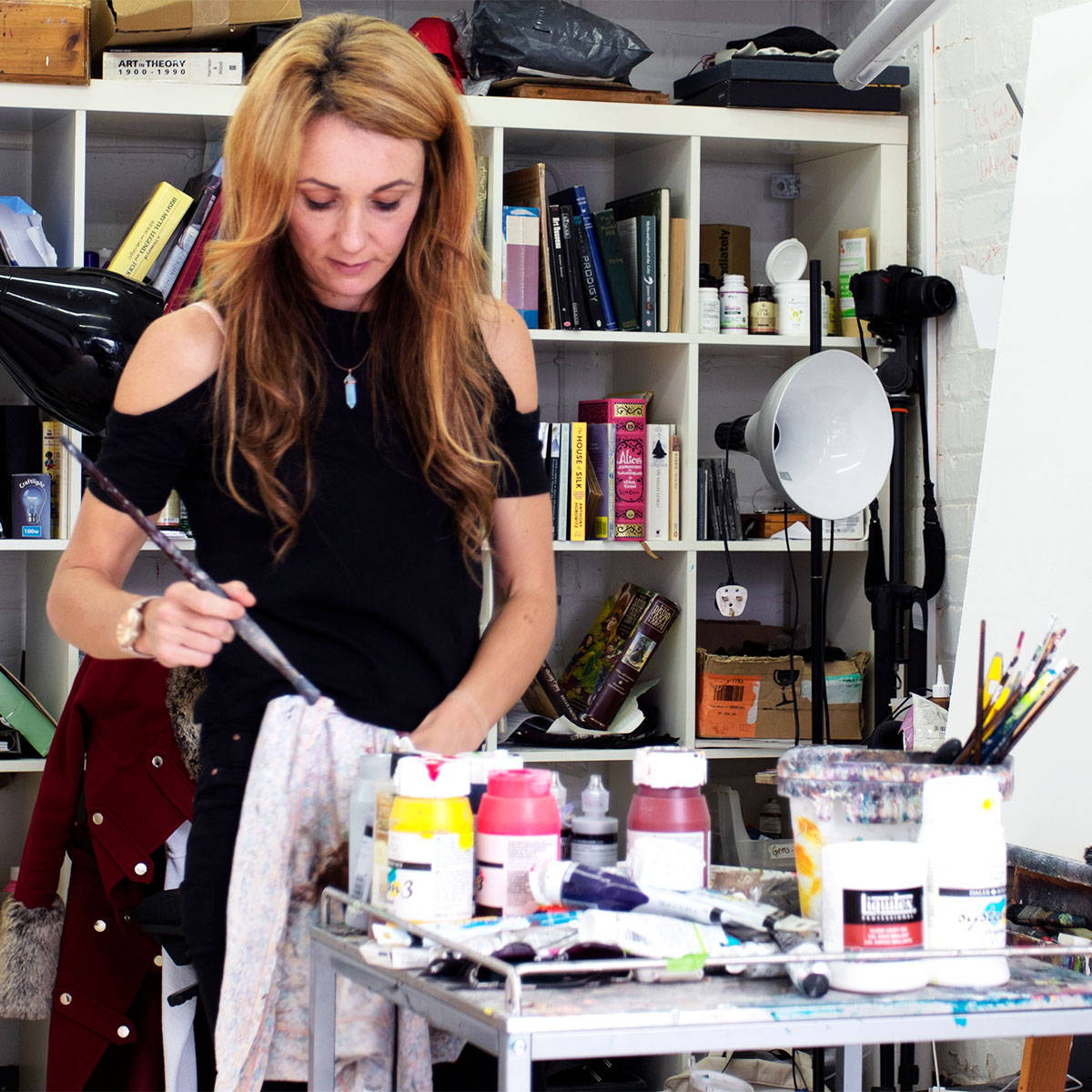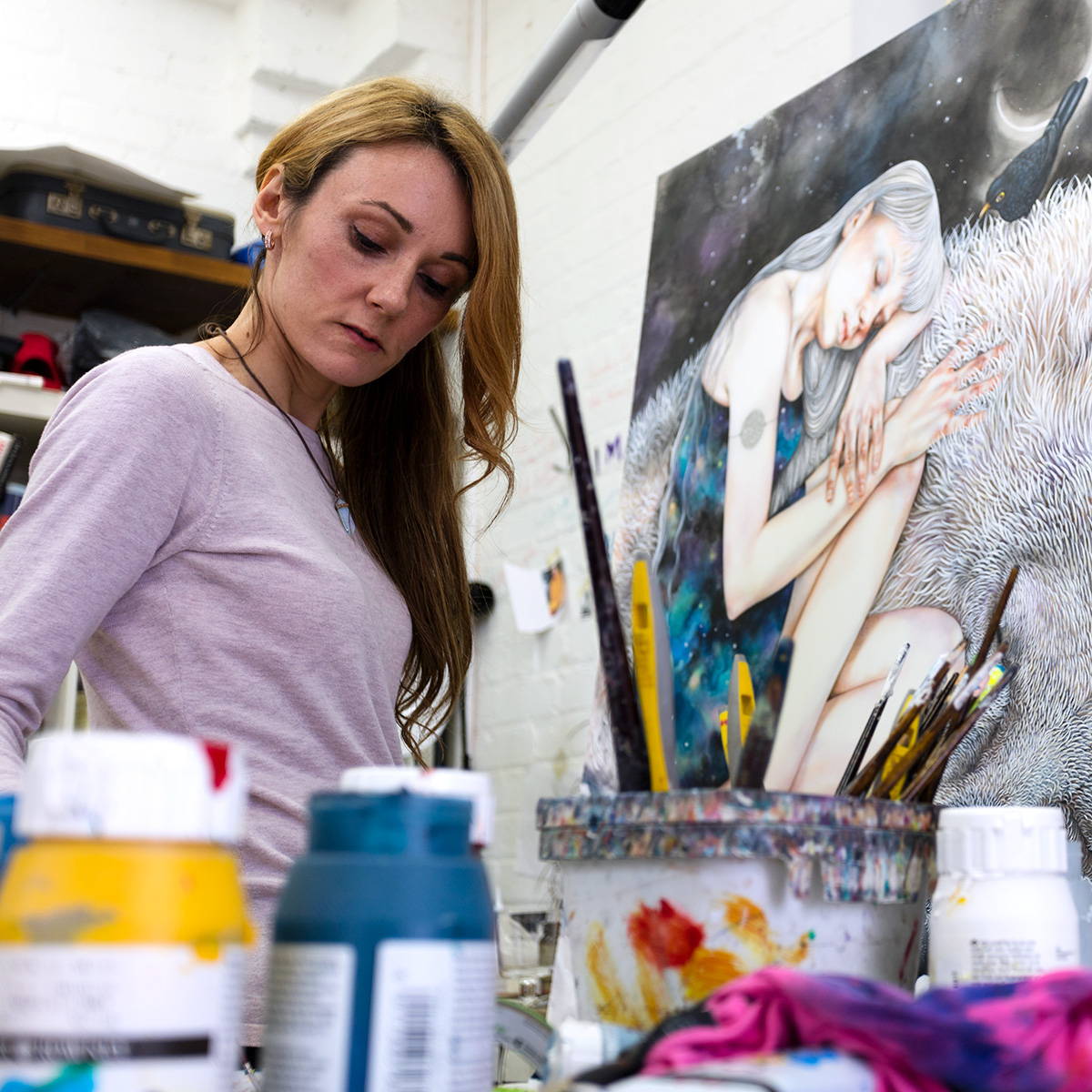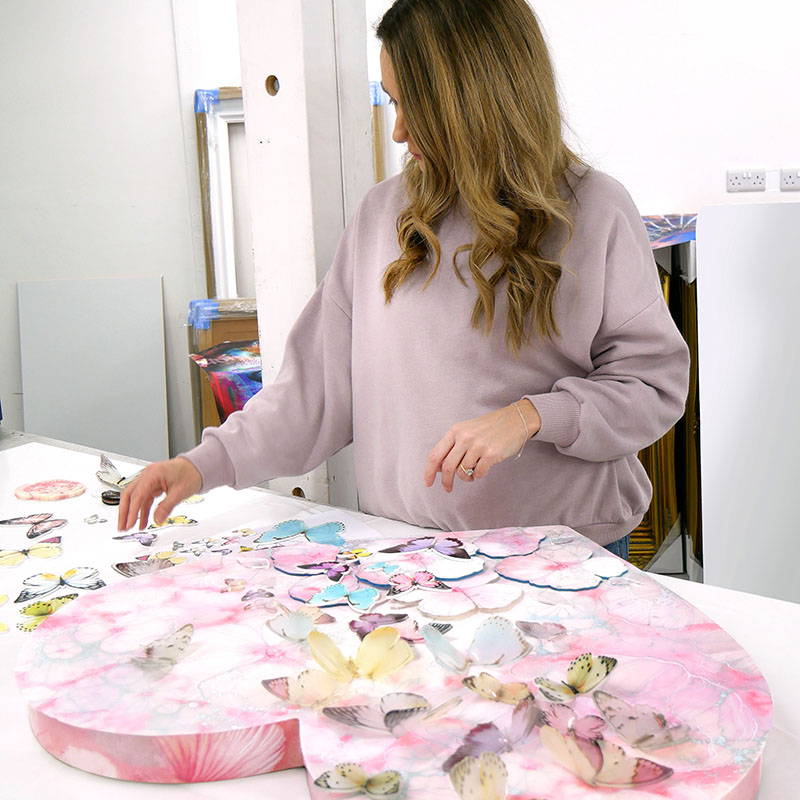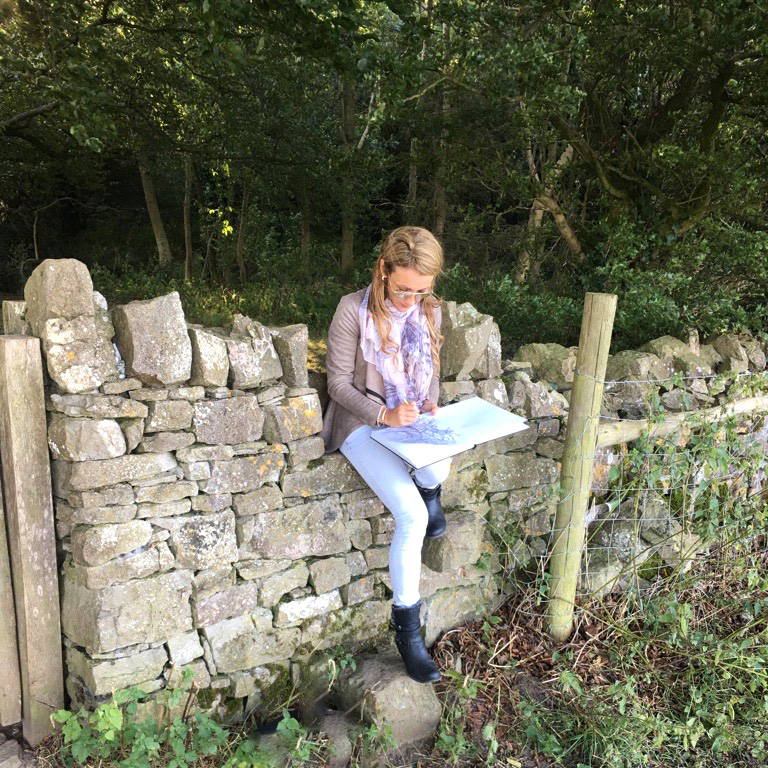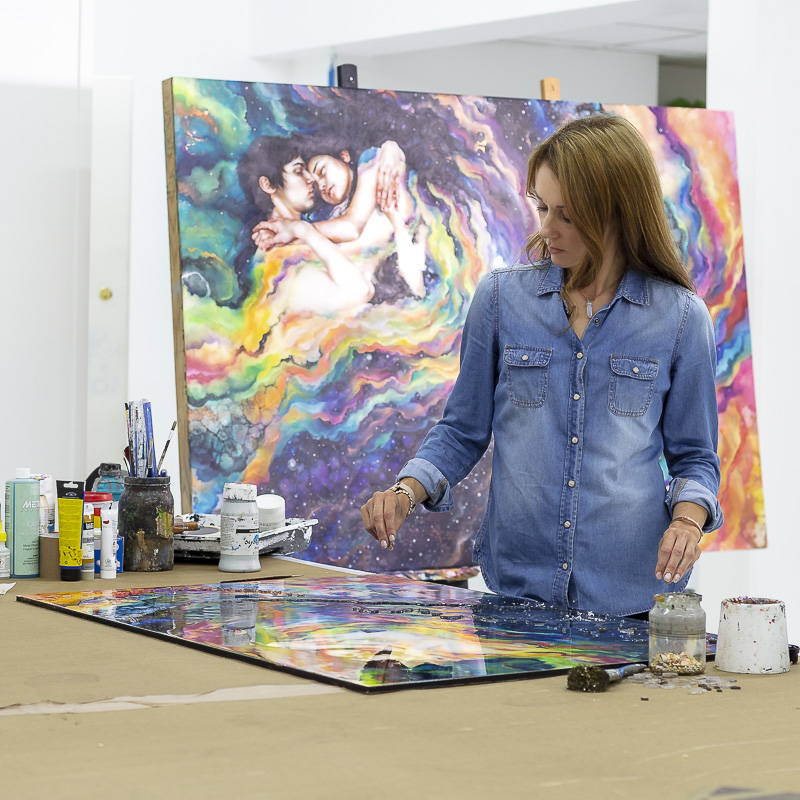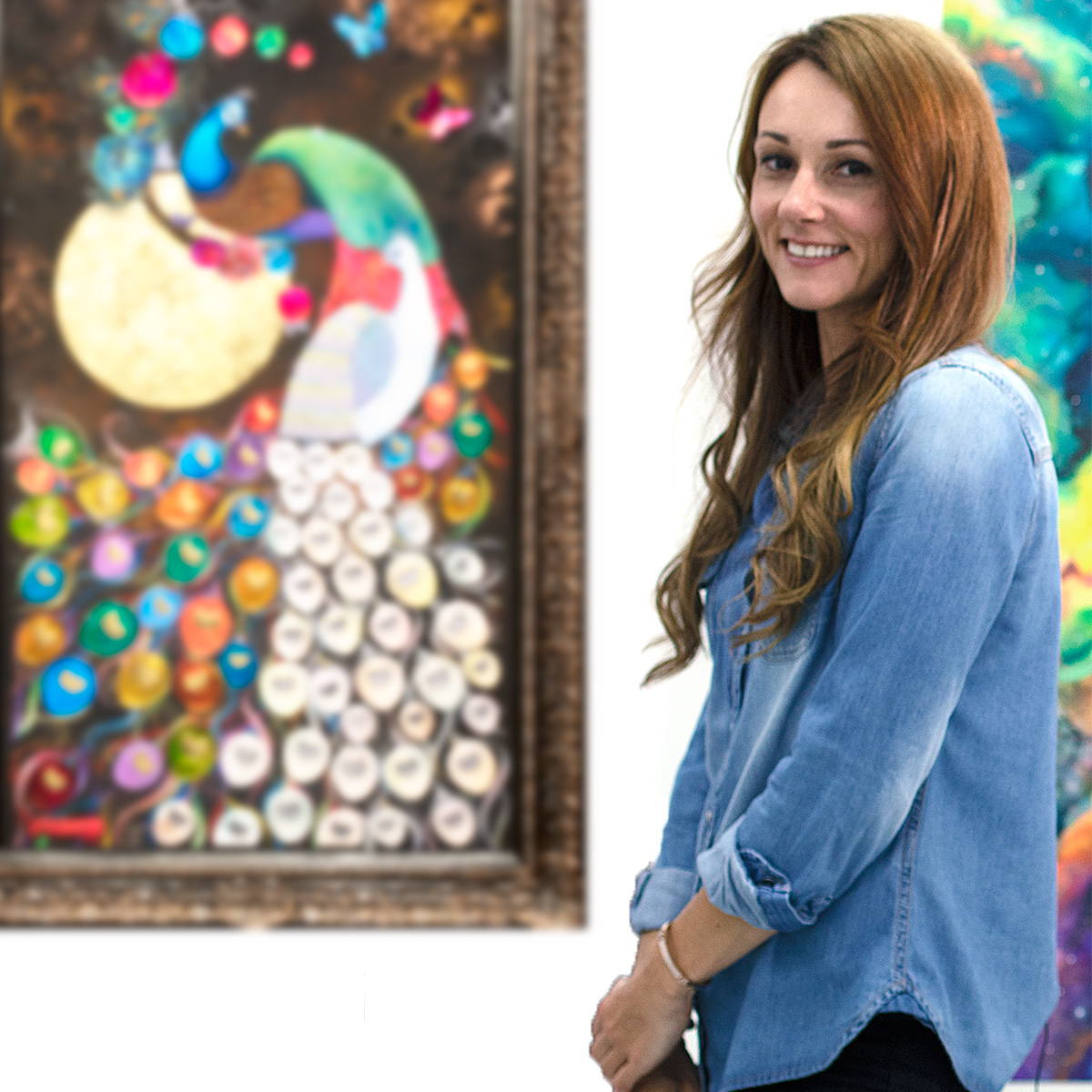 ---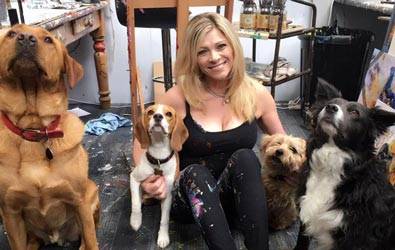 A life of two chapters united by the art that has been inspired by two locations, Rozanne Bell has left a piece of her soul firmly rooted in her birthplace of Zimbabwe, though now also possesses a profound love for the rolling hills of Dorset that she has called home since 2002. Experiencing the world through her palette knife, Bell has spent over three decades depicting the native botanicals, wildlife and rich landscapes of Southern Africa and England. Resulting in a collective of paintings whose charisma is matched only by the gregarious energy of their maker, her international artistic profile is that one few ever reach.
Having been painting since she was 15, Bell won early acclaim for realistic works of florals and anamorphic animals with exhibits of her original works countrywide in Africa, though her arrival in the UK compelled a change of direction and ultimately, status. Reacting to her newfound environment as well as the cultural differences in collecting taste, Bell found herself starting her artistic career again from the very beginning. At the time of writing, exactly 20 years have elapsed since Bell had to leave her home. Describing the time as 'not really being in reality, a totally upside-down time of my life', she turned to art not only as her profession but as her mental escape. This is where Rozanne Bell differs from many of her contemporaries and makes her profoundly inspirational – she is an extraordinary example of resilience, tenacity and sheer work ethic, aside from being immensely talented as an artist.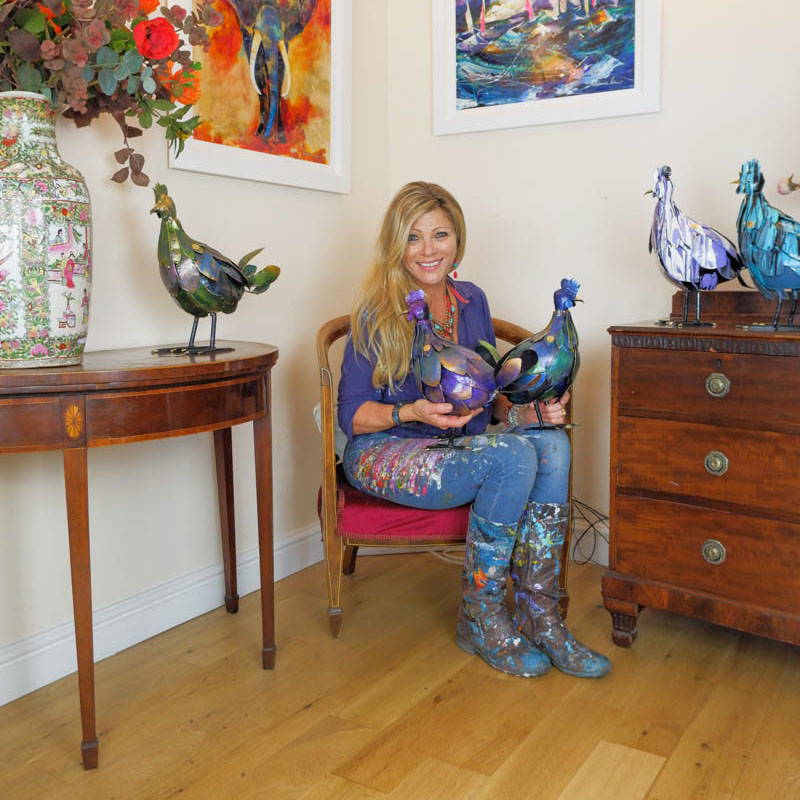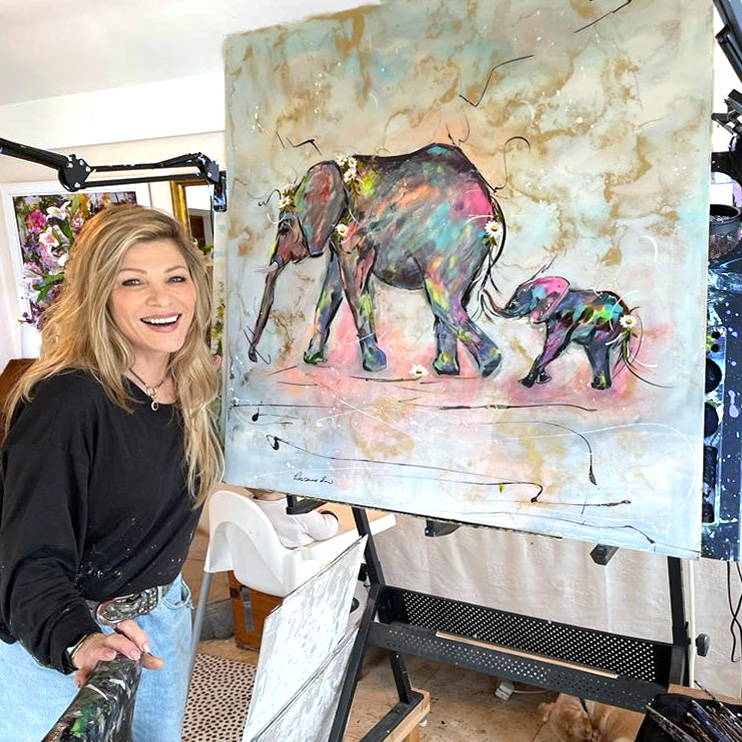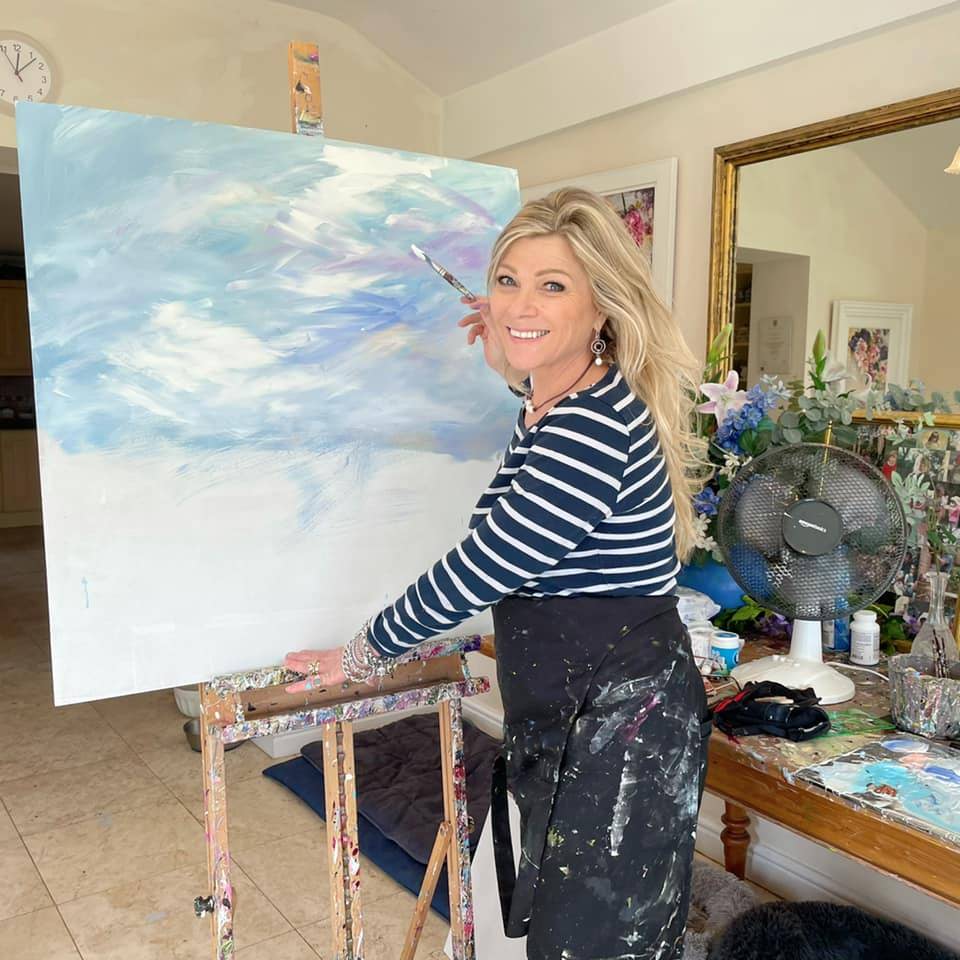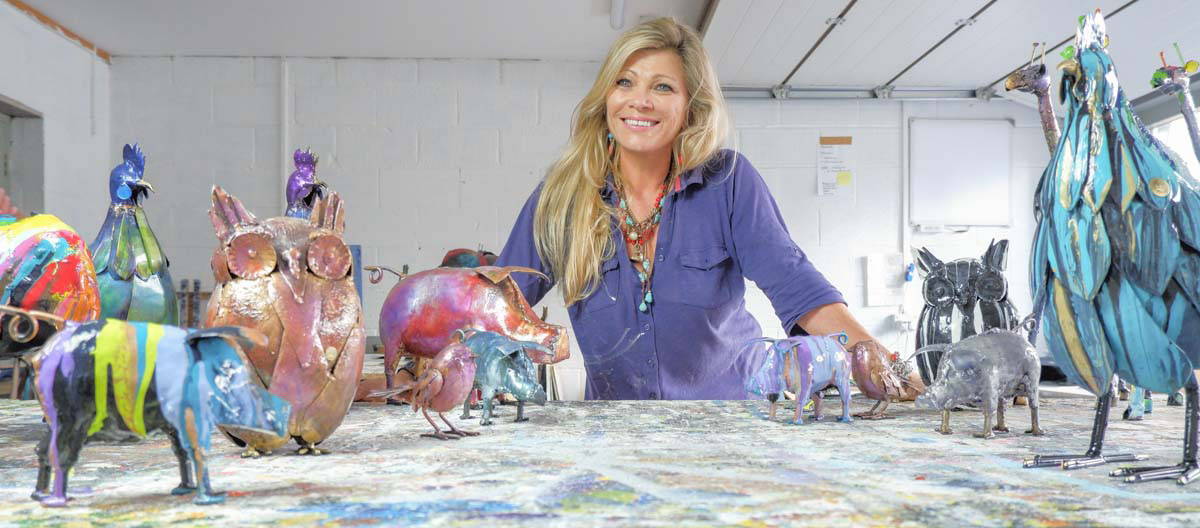 ---
An artist of huge impact, Becky Smith's rise has been nothing short of meteoric since her independent studios were established in 2018. Exclusively represented by Wyecliffe Galleries from the very start of her artistic career, her immersive works have sparked the imagination of collectors based all over the world. Set apart by her intent to both metaphysically and spiritually transport the viewer to unreachable dimensions, Smith has no boundaries in her use of materials to build a remarkable viewing experience. From holographic original works to compositions infused with glow in the dark pigment, the artist experiments with technique to a huge impact, creating unforgettable experiences.
With a self-belief that many of us could take inspiration from, Becky Smith left her ongoing studies at Wimbledon College of Art at the tender age of 20. Going solo was her making; unleashed by no longer needing to confirm to modules or rules, Smith continues her search in the natural world and the constellations of the stars for source material on which to base her inventive compositions. Boasting almost 20 million views across her social channels at the time of writing, Smith has commanded recognition online with her infectious encouragement to wonder and marvel at the brilliance of the universe. Now counting global power couple, musician Joe Jonas and Game of Thrones/X-Men actress Sophie Turner amongst her collectors, Becky Smith is one of the most exciting talents rising in the contemporary art scene.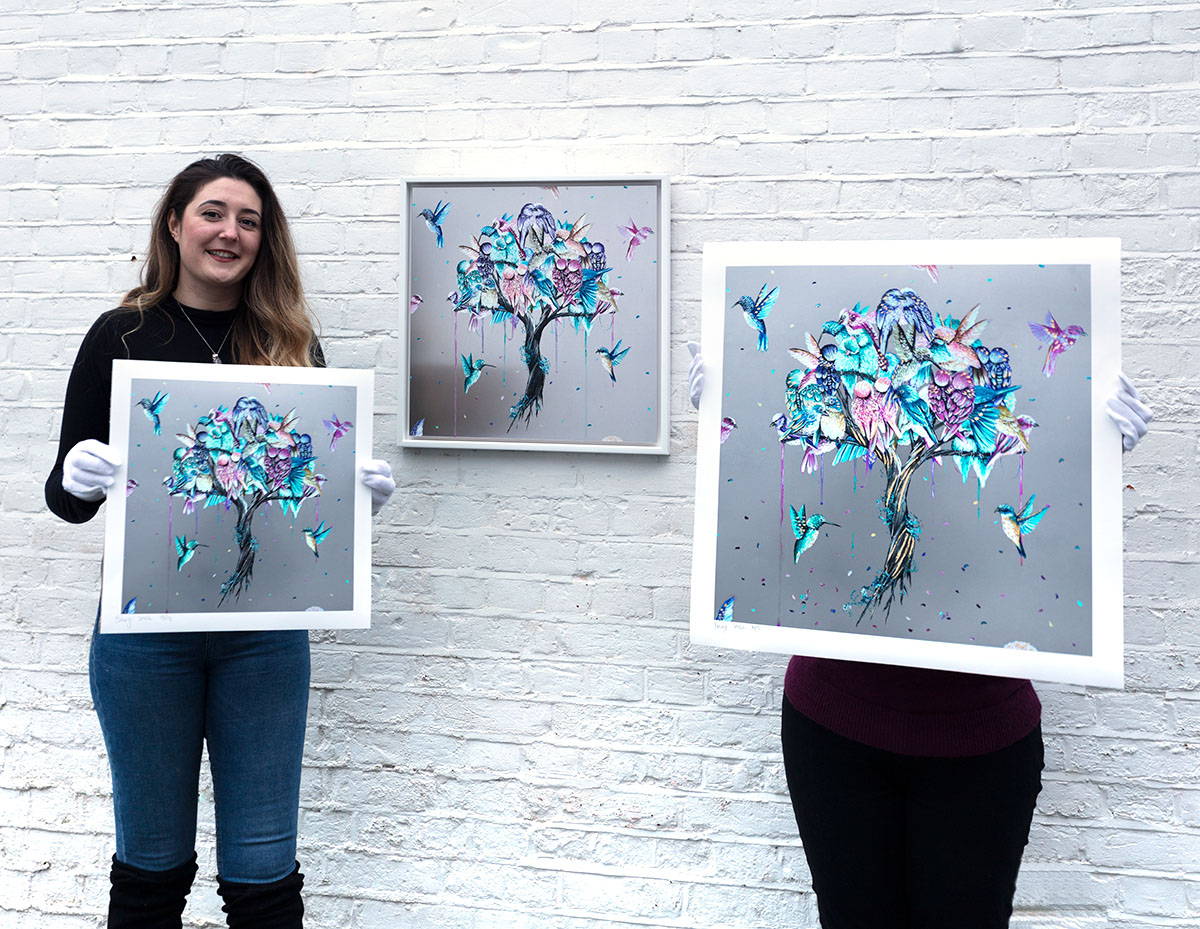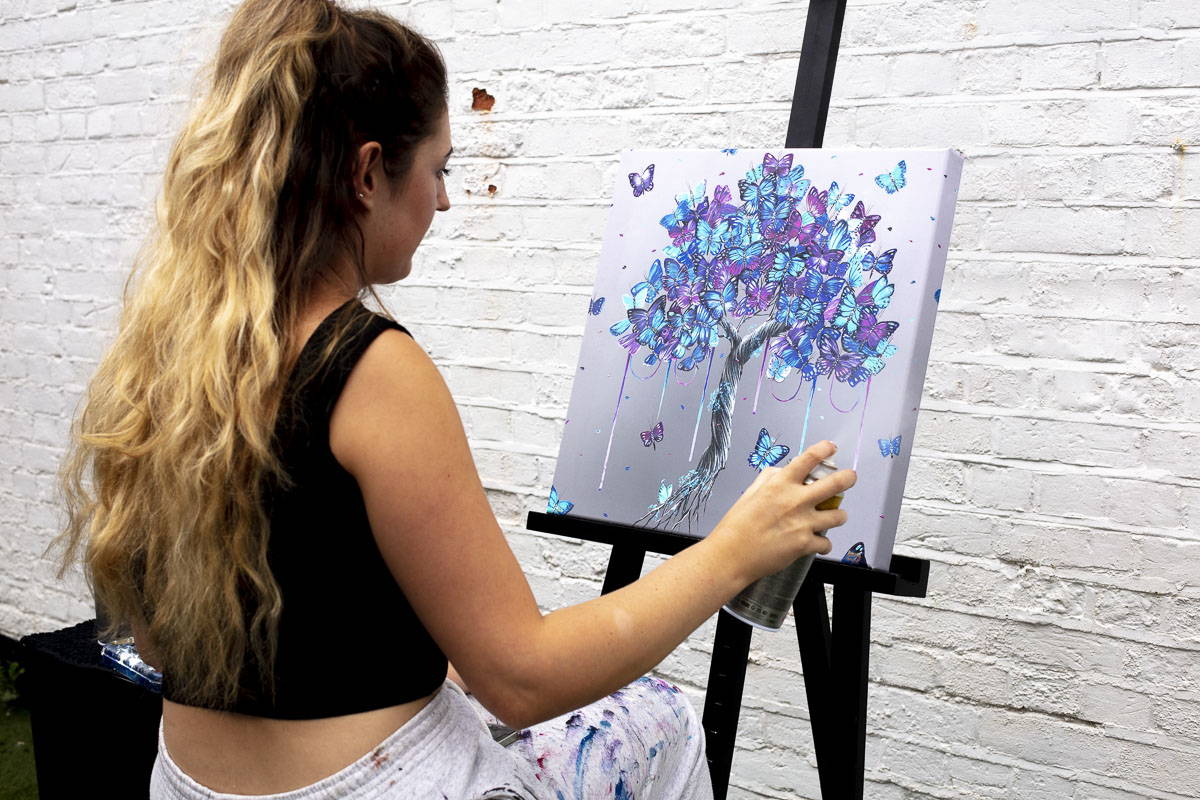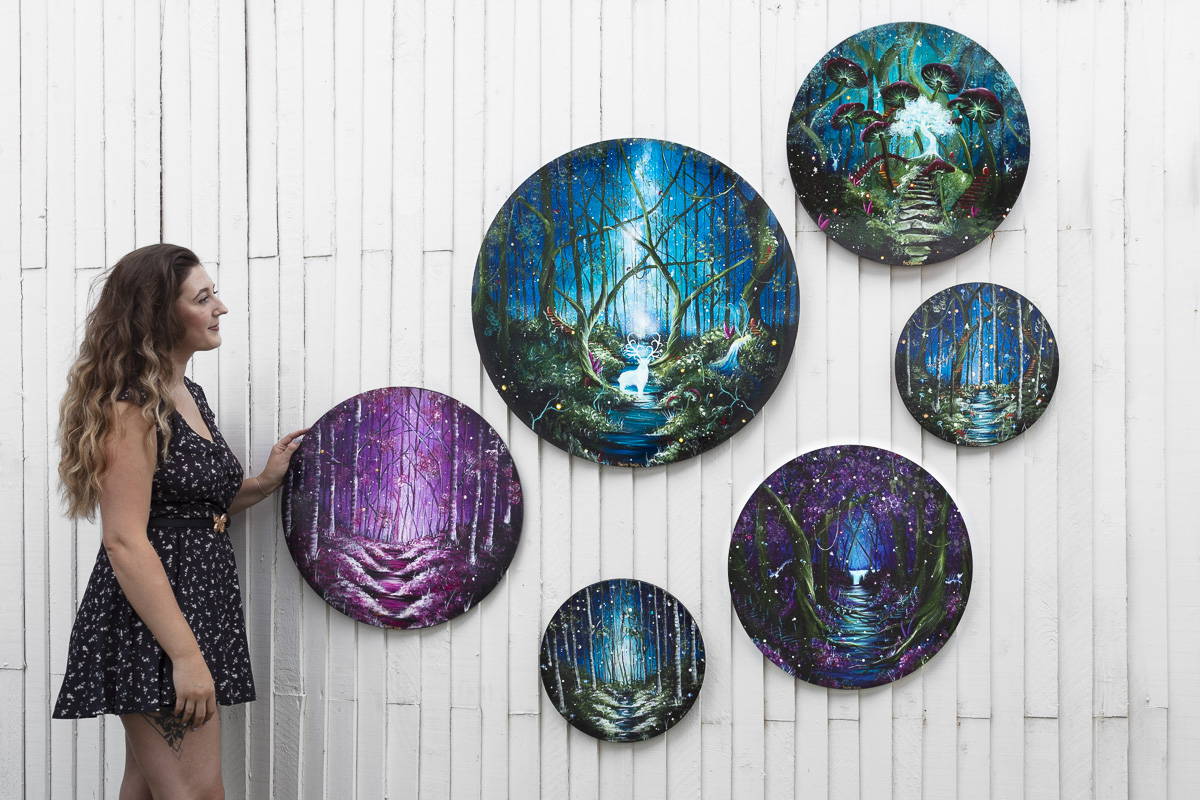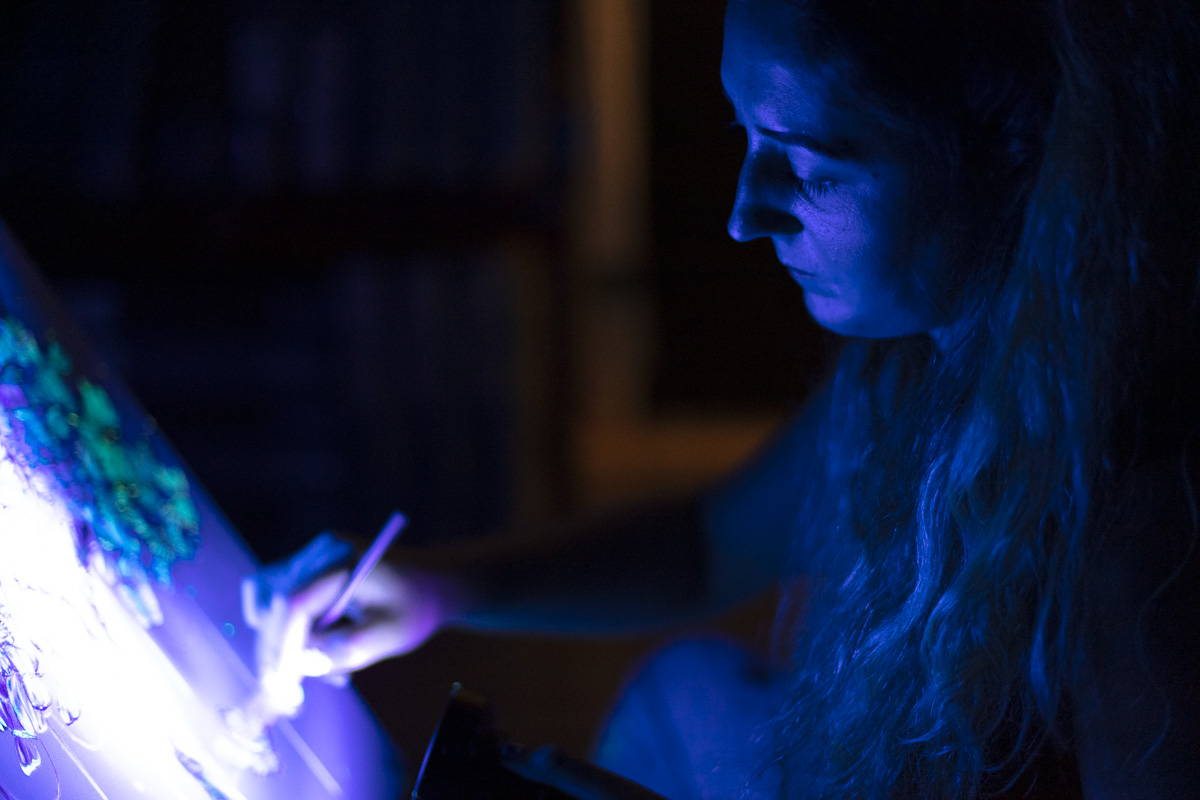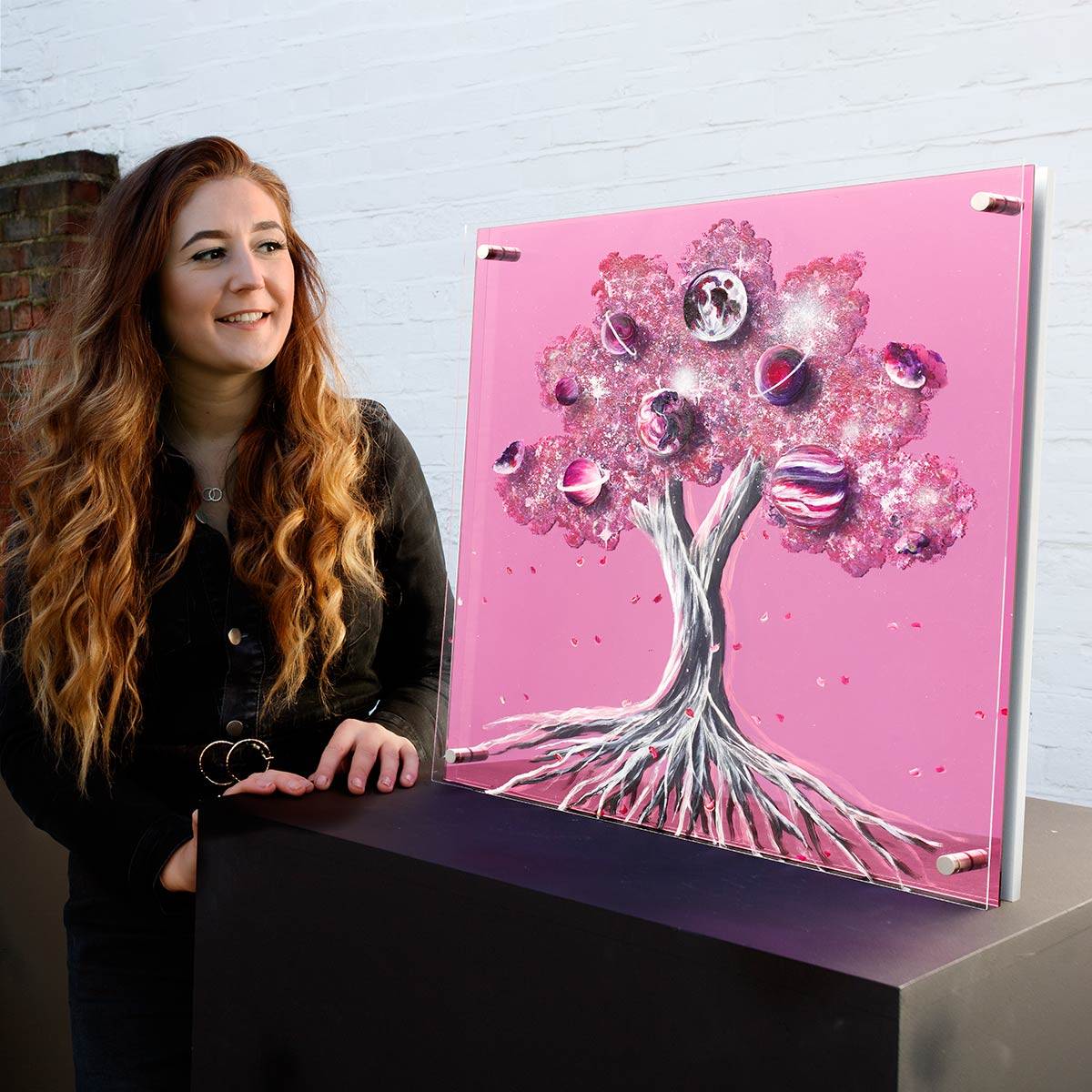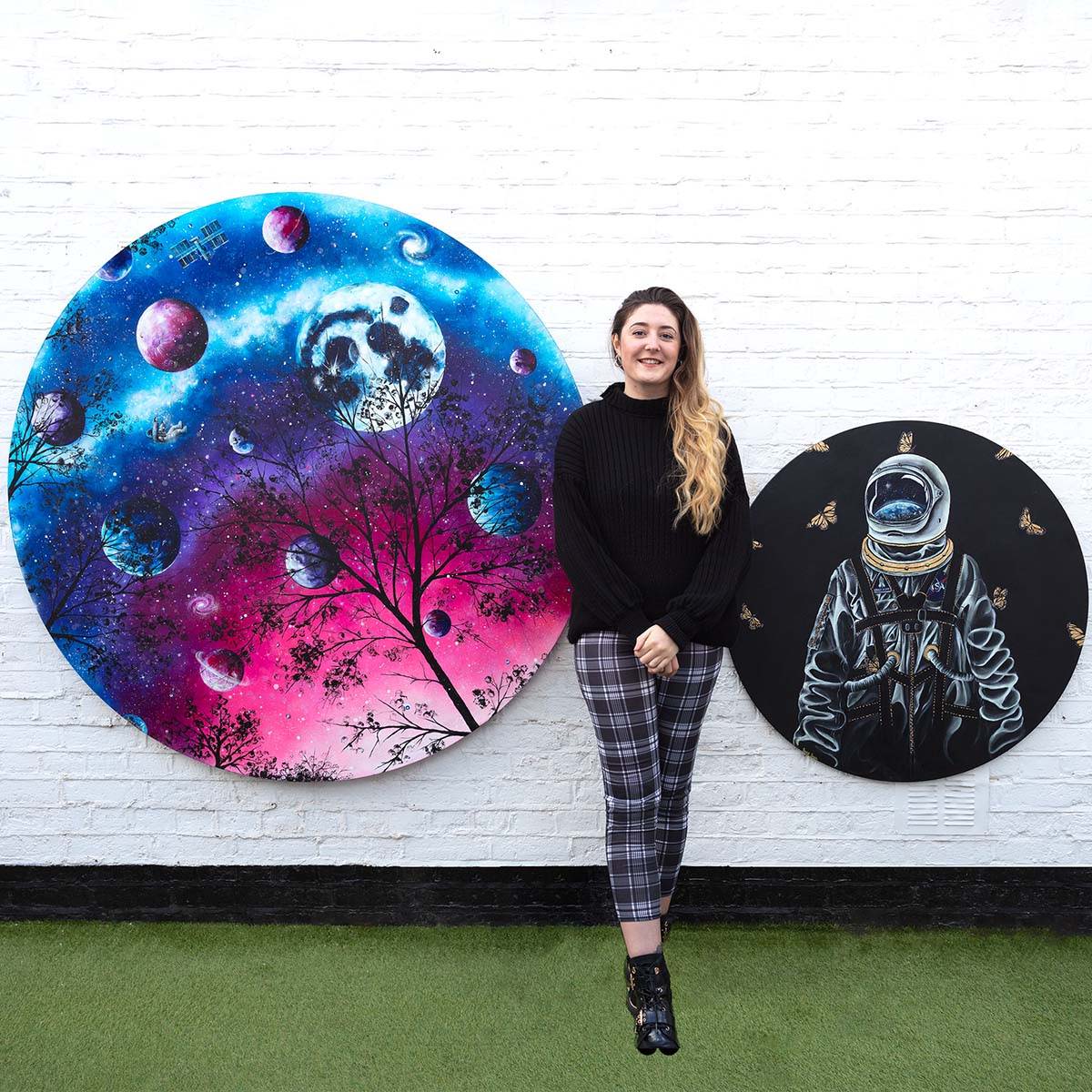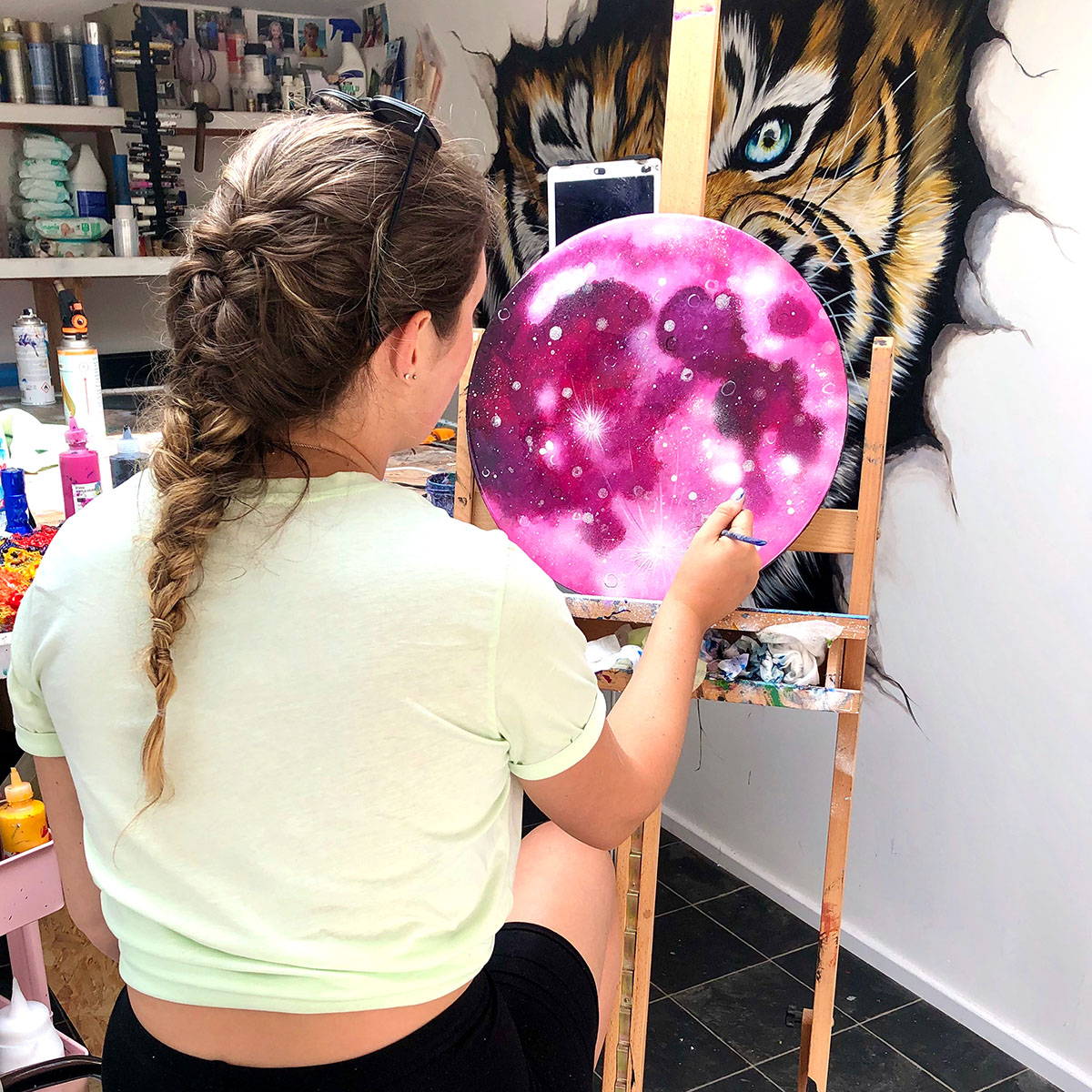 ---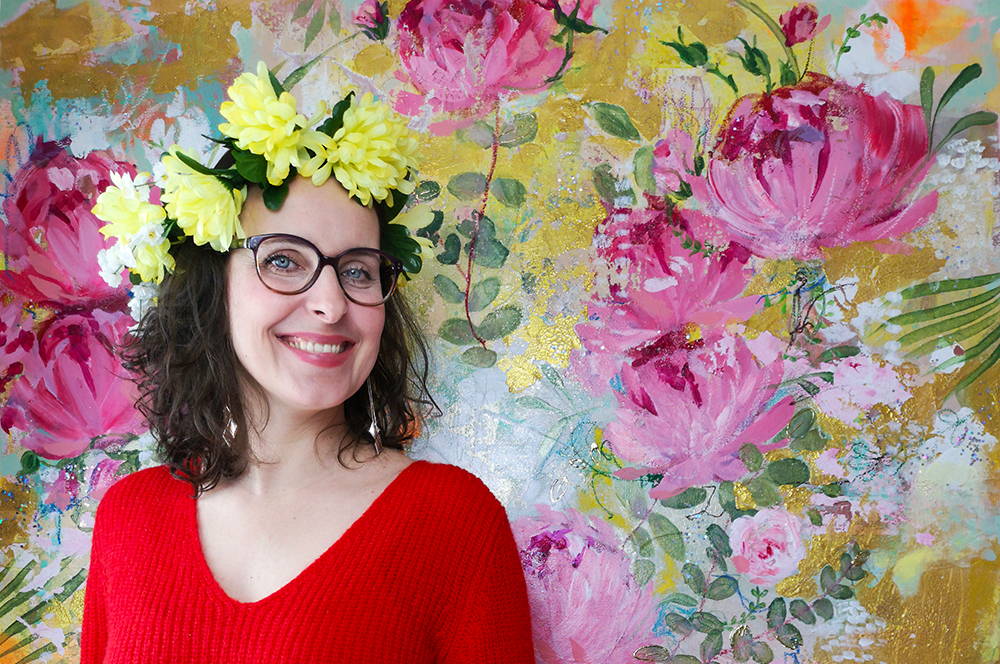 Very few artists can skip between artistic themes with the graceful ease of Amylee. With an inimitable style in the form of a series of arresting portraits, the works blend heady references to 1970s patterns alongside psychedelic colour. Exploring attitudes to body art, fashion and graphic design, an army of contemporary portraits had been born from Amylee's brush. Using her extensive training at Beaux-Arts and Applied Arts at the universities of Toulouse and Montpellier, the artist effortlessly merges bold block-colour work in the Pantone scale with impressionist dapples to describe the skin tone of her subjects.
Born in 1978 in Nimes, the artist is an advocate not only of formal education but of the school of global culture. Though adoring the vibrant light of her native France, Amylee has travelled extensively to procure artistic techniques to expand the visual language of her paintings. The artist's mood has drawn her towards the Japanese philosophy of Kintsugi; translated as the concept of the 'golden repair', this is the ancient practice of repairing broken pottery with lacquer mixed with metallic powders. No longer seeking to hide the imperfections of paintwork, Amylee celebrates the beauty of the flawed or accidental; unlike the French fashion houses of Paris, she isn't seeking model perfection. This recognition of the importance of imperfections stands in opposition to the artistic norm of idealised beauty and is a profound message conveyed through her distinctive portfolio.
---
Firmly believing in the practice of art therapy, it is little surprise that the work of Minnesota born painter Mary Johnston adorns the walls of major medical centres across the US including the Mayo Clinic in Rochester, MN. Her tranquil washed abstracts and striking 'Tangled Trees' embody all that is natural, calm and soothing. Raised in a cabin in Duluth on the shores of Lake Superior of the Great Lakes, the natural world framed her childhood and provided a source of inspiration that would serve the artist throughout her professional career. Fortunate to be supported by her parents, Johnston would visit The Tweed Museum of Art to spend 'quiet time' with the paintings, taking time to reflect and plan.
Moving from Central America to the East Coast of New Jersey, to the West Coast of California didn't disrupt the artist's innate appreciation for the expansive and varied skies of America; taking form in panels on deep birch wood, the natural edges that Johnston leaves bare re-enforces the authenticity and rawness of viewing experience. Now settled in Indiana, the artist also possesses a cabin in northern Wisconsin which she describes as 'creative haven'. Focused on creating a vastness of space and the sense of wellness, each painting is a true gift to the collector - exploring the great skies of America from East to West, every composition encourages a deep breath and a gentle push to move forward, demonstrating Mary Johnston is the support through art that so many people need and value.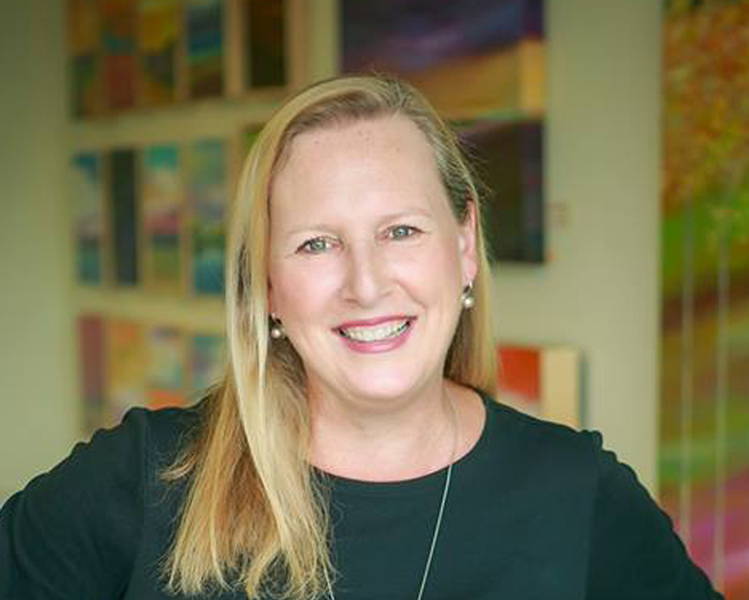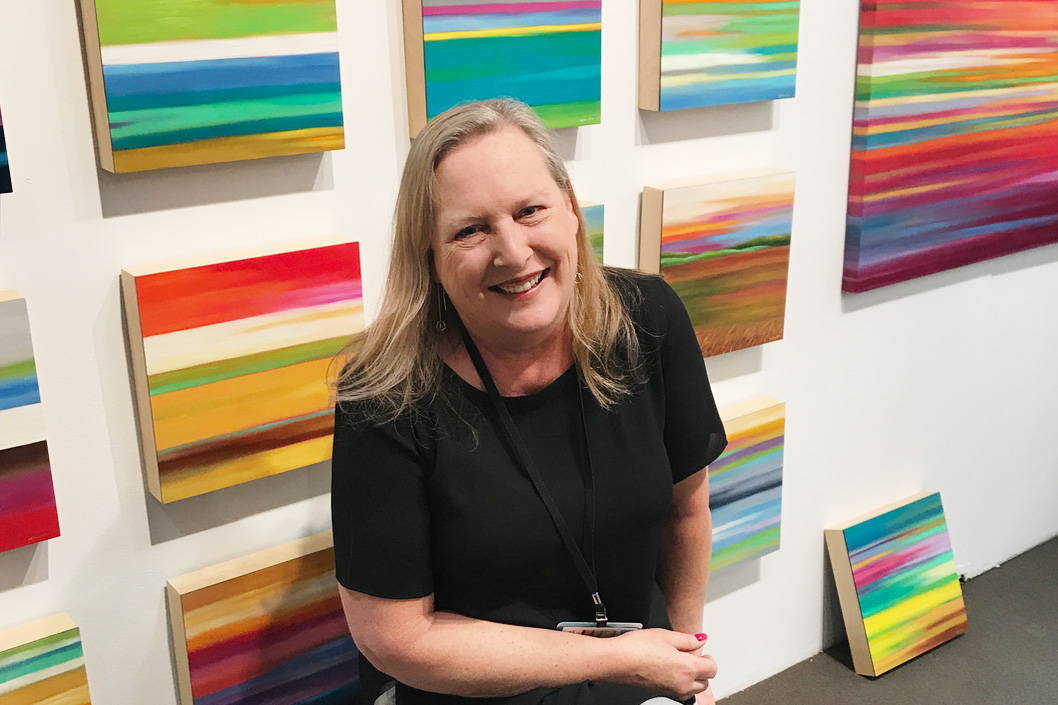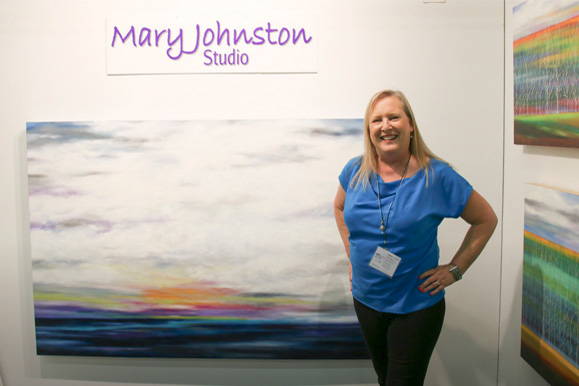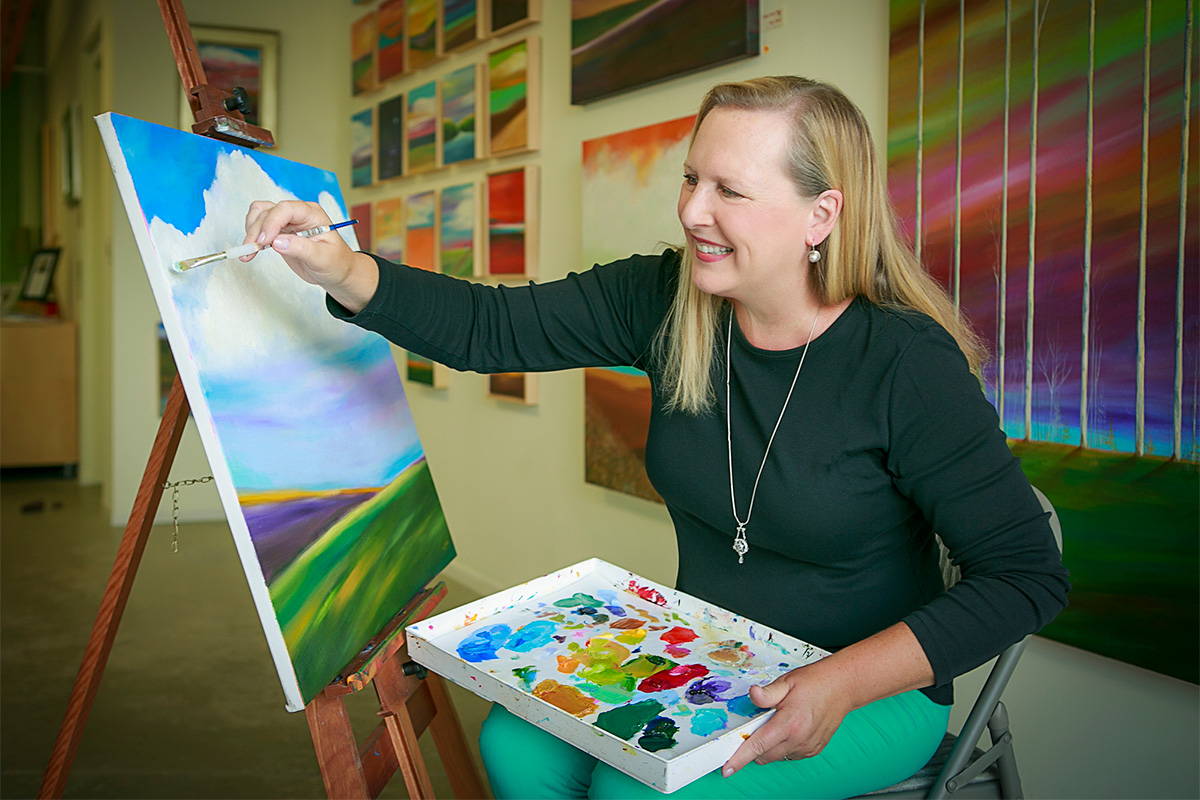 ---
Sign Up for Exclusive Content
---
---