Lhouette: Beautiful Species
Lhouette New Boutique Edition Prints: Beautiful Species - Pink, and Beautiful Species - Blue
Evolution and revolution are smouldering with purpose at Lhouette Studios Ltd. An artist's haven, the renovated barn set at the borders of a prized nature reserve is host to a steady current of artistic activity. A dream factory about to unleash it's third edition, change is a heady hot scent on the air and sound-tracked by the primal hum of the forest.
---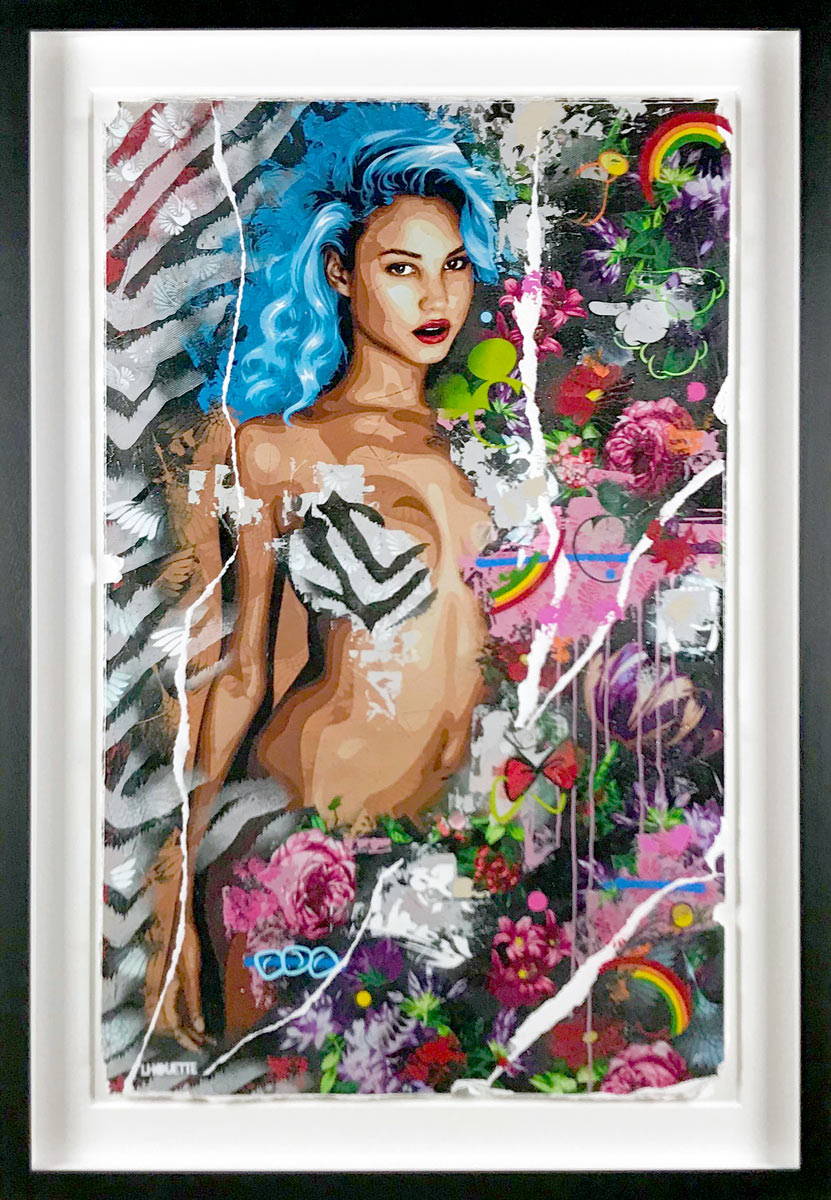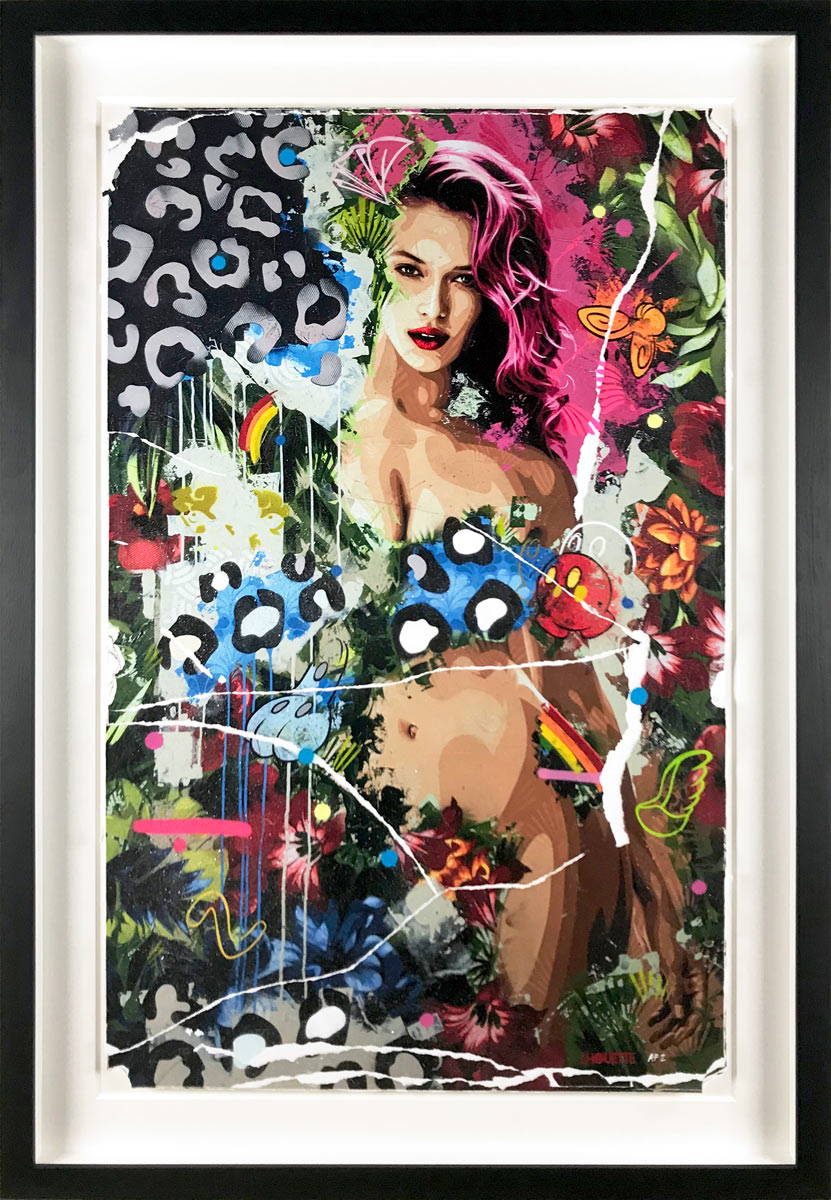 ---
Lhouette: Walking on the Wild Side
A wilder, more natural instinct has taken hold of Lhouette. Predecessors Emergency Credit and Strike Opposed played on our sense of nostalgia by resonating through memories of bygone cultural eras. Re-invented with a deft hand the artist appropriated emblems, brands, and cartoons to boldly fight for our attention; colours clashing in crowded compositions, each were mini billboards in homage to an advertisement saturated utopia. A generation defined by the labels it wears, drives, and consumes, we are both voyeurs of the works as well as subject of its theme. Lhouette's art imitates life, life in turn imitates his art, the market swelling with anticipation of new ideas to absorb.
---
---
Urban Jungle - from Street to Species
Perhaps in reply to his migration from urban surroundings to a landscape habitat, the candy hues of man-made iconography are refreshed with sumptuous flock patterns and animal skin markings. Cast in the wilderness, Beautiful Species provocatively teases at two versions of a modern-day Eve in a temptation ridden Garden of Eden. Subversive and seductive, fragranced English garden roses in fuchsia and lilacs are entwined amongst potent zebra stripes. Lotus flower and leopard print seamlessly envelop the female form. The first full scale colour models to be produced, Lhouette has lavished layers of intricate stencilling to build the beautiful landscape of unblemished skin. Not entirely abandoning the cartoon characters, hidden amongst the floral arrangements are dissembled cultural gems, trinket like in appearance.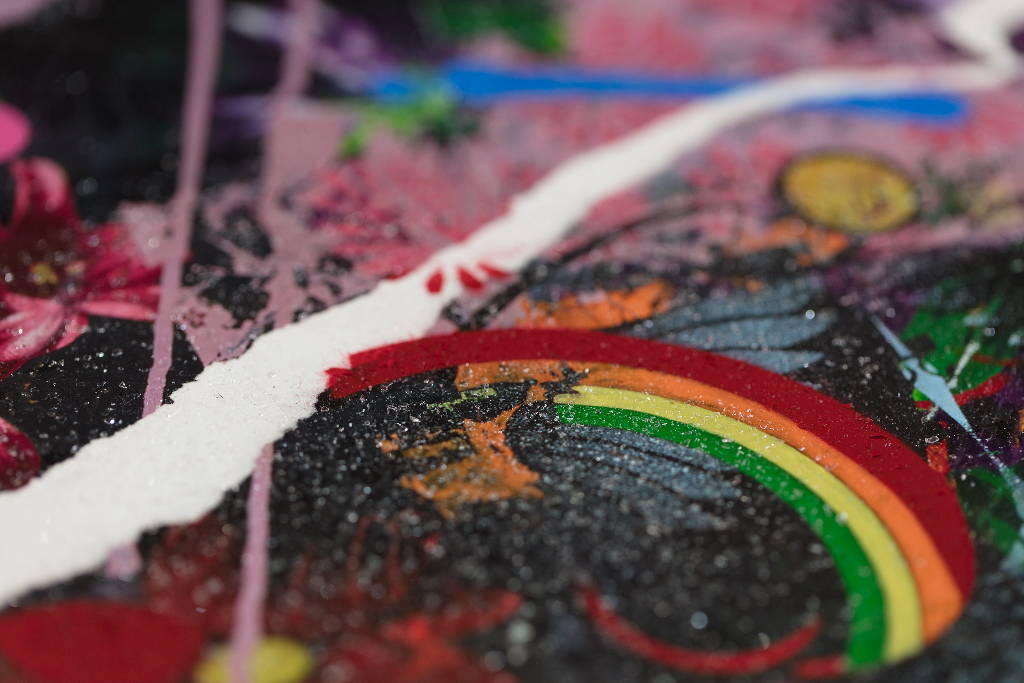 ---
The Pop Maximalism Project
Describing his new direction in art movement proportions, 'Pop Maximalism' is an eloquent summary and exceptional buzzword of the subtle shift in focus. Akin to tectonic plates sitting beneath the artistic surface, Beautiful Species Pink and Blue represent an enhanced understanding of how the growing and accomplished series of works sits within the wider sphere of influence.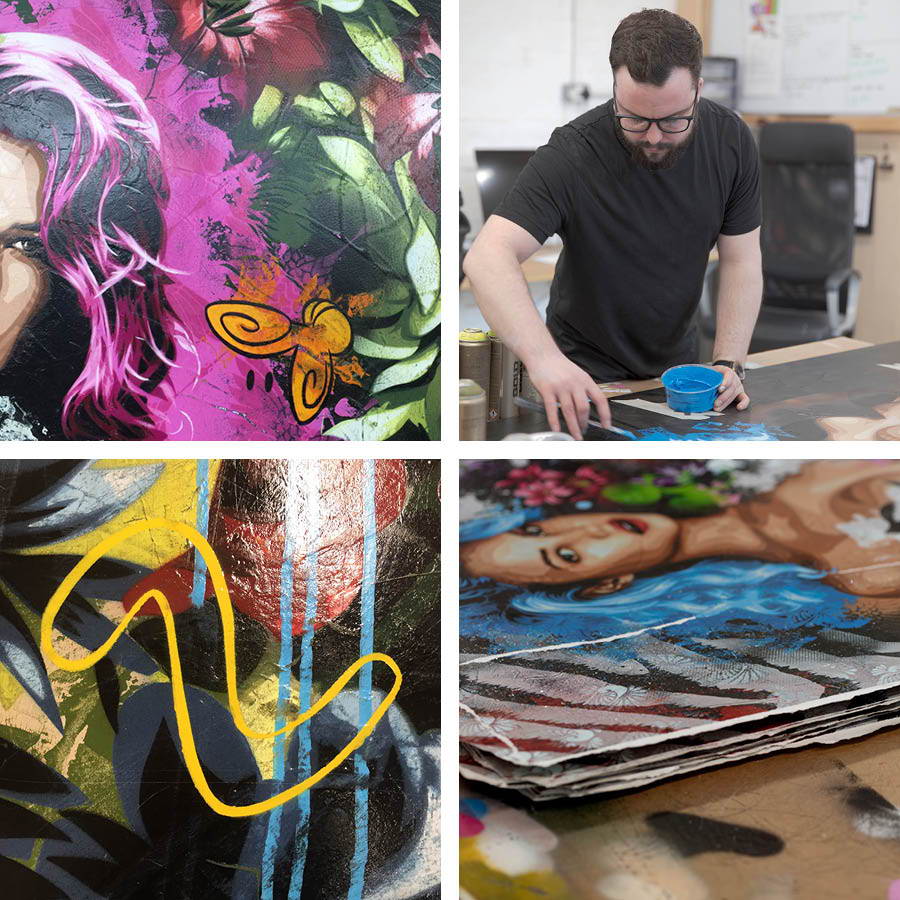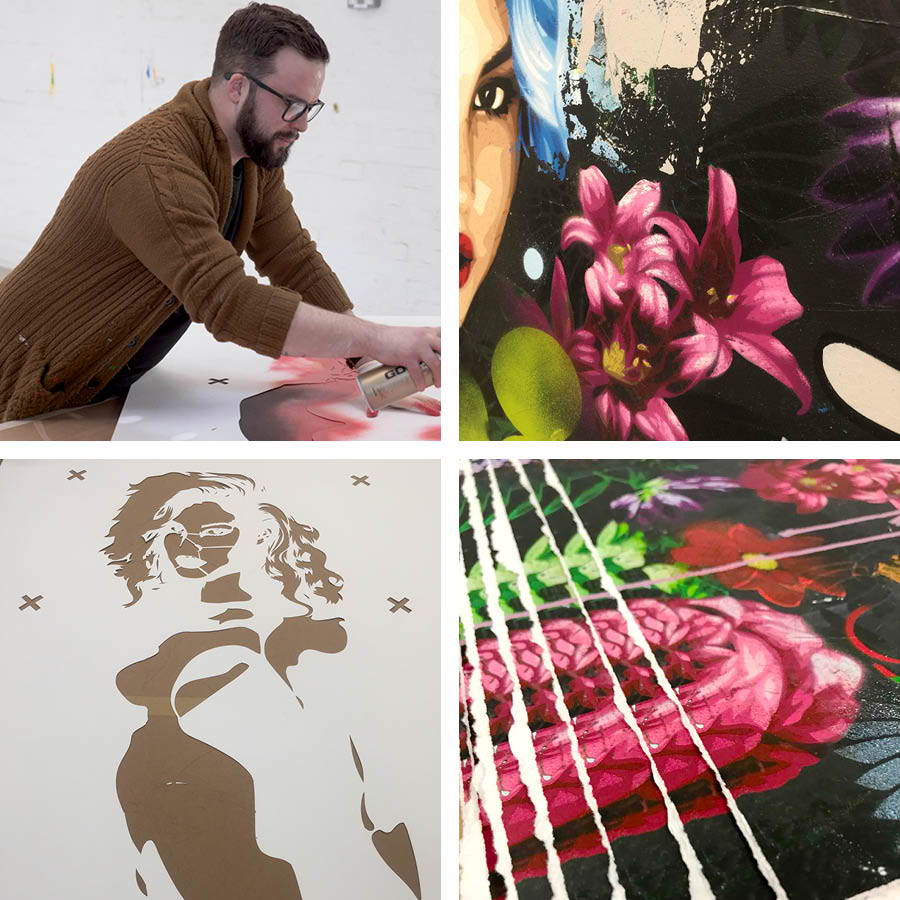 Mass Media Mixed Media
Many artists cite inspiration in the celebrity steeped mass-produced silkscreens of Andy Warhol, though few can navigate beyond shallow ornamental pop works. Nimbly avoiding such temptations, Lhouette places an understated reference to Warhol's iconic Marilyn series in the choice of luminous hair colours for each of his girls. The two muses glow with hot pink and electric blue manes, lending their names to the titles of the powerful pair of boutique editions. That is perhaps where the similarity with Pop Art ends; here the contrasting tones of the female tresses represent our cultural tribes. We adapt our hair colour, decorate our surface with permanent ink, and embroider our skin with piercings to make visible our unique traits. All are visual calling cards, reflecting the ever-growing desire to announce oneself as distinctive and different. Infused with the need to 'fit-in' with the crowd and adhere to strict pre-determined values of beauty, the works plays on our curious daily dichotomy of individualism versus belonging.   Survival and success are dependent on the understanding of these complex social rules. Humanity is cast as an animal kingdom, reminiscent of Darwin's theory of natural selection recorded in the science of zoology.
---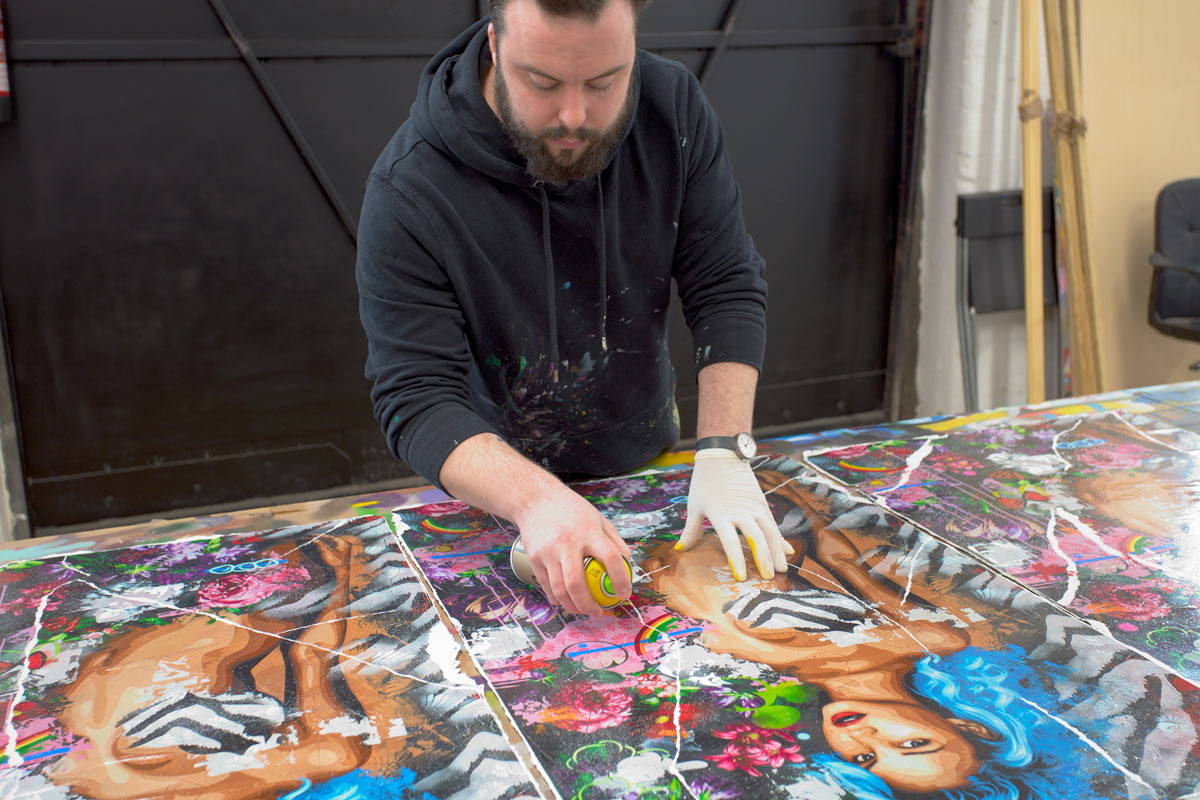 "The opposite of minimalist art, the works are all in animal skin with pop references...natural beauty mixed with glamour. The finishing on the boutique editions with diamond dust and torn papers creates a colourful contrasting visual.

"
- Lhouette in conversation at his studios, 29th March 2018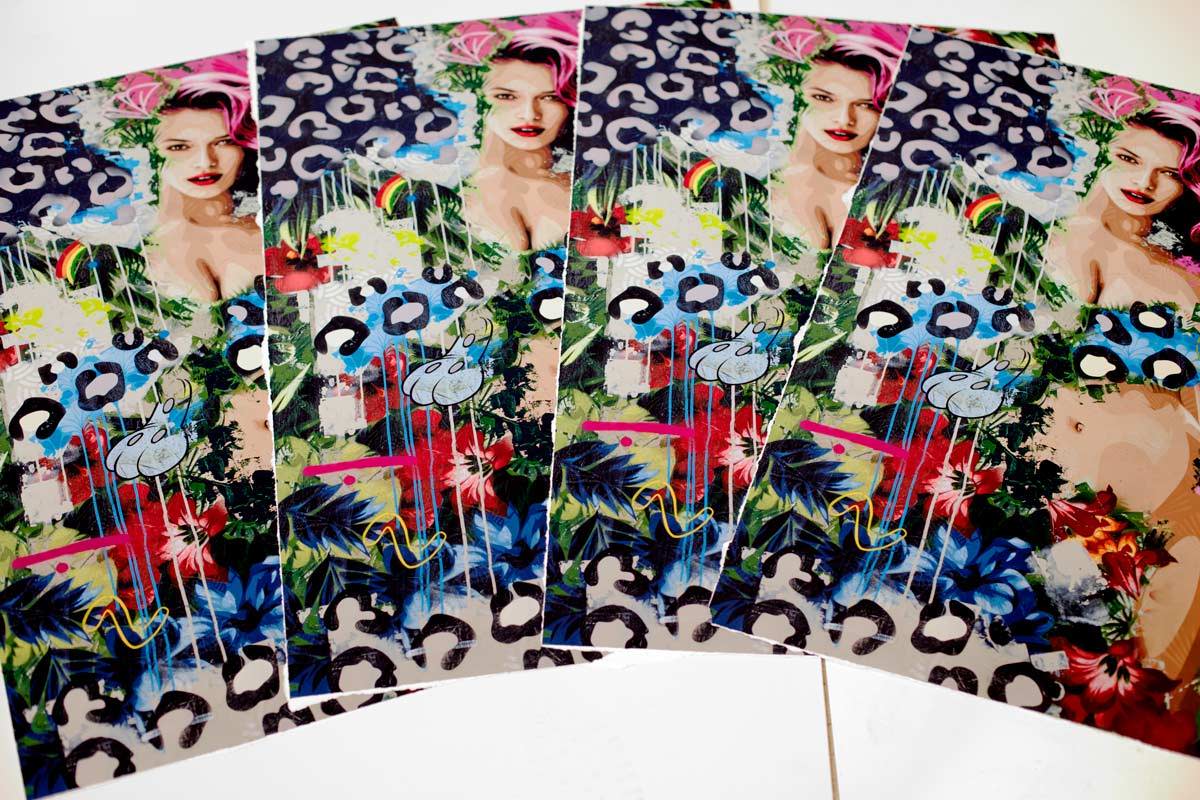 ---
Pop Art, known for its use of throw away multiples of the same image contrasts heavily with the decadence and intense work of both the original artworks of Beautiful Species Pink and Blue, alongside their boutique edition counterparts. Quadruple layer hand swept ornate frames sit around the huge original masterpieces, standing at near 2 meters tall a piece. Refreshing the aesthetic, the boutique editions will be housed in contemporary slim black matte frames with UV protectant glass, works presented with polished rarity. With small numbers of just #29 pieces per edition internationally, early collectors purchasing with Wyecliffe Galleries will have the opportunity to secure matching numbers of Beautiful Species Pink and Blue. A recent commission with Harrods is another reminder of the stratospheric rise of this incredible modern artist, whose secondary market values are increasing in tandem with his profile, where surges of fresh collectors are discovering his brand of Pop Maximalist art following such collaborations.
Somewhere between science, society and fantasy the diptych is a compelling assault on the senses. Follow your instinct and join Lhouette in exploration of us, a Beautiful Species.
RELATED PRODUCTS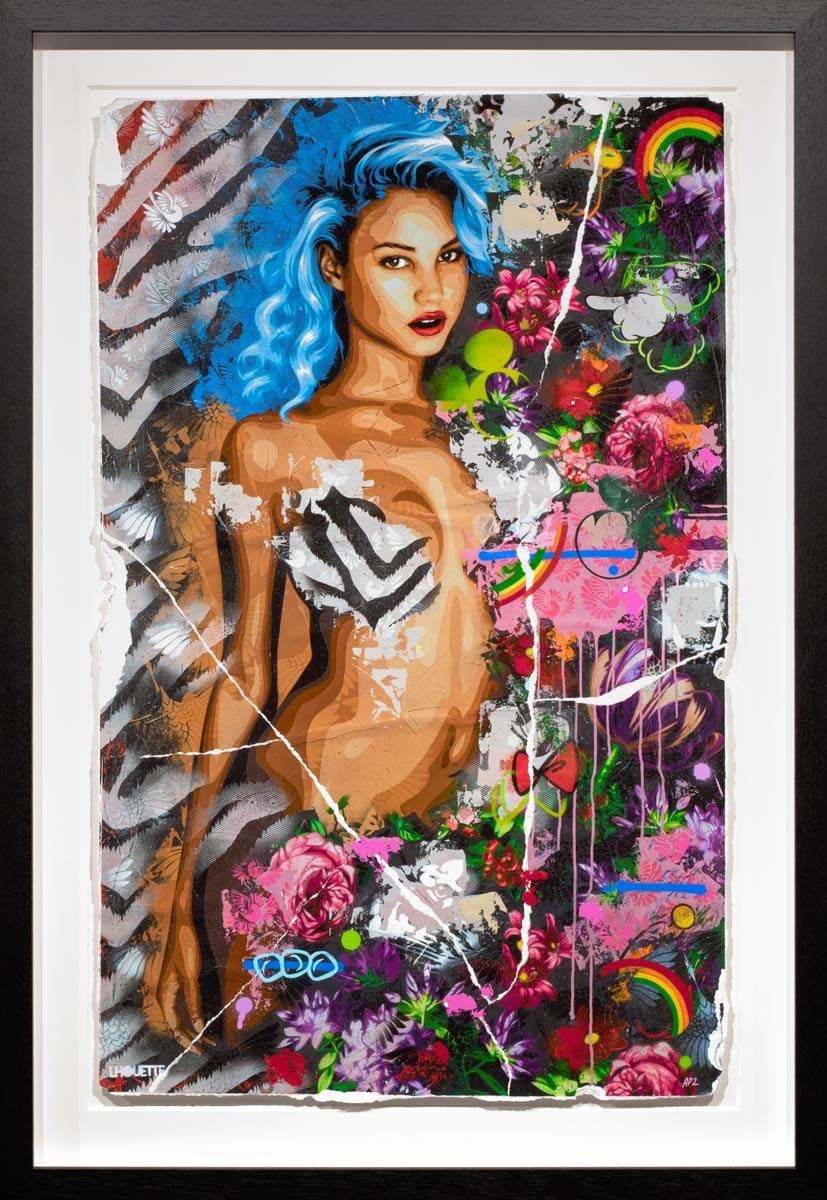 Beautiful Species, Blue - New Edition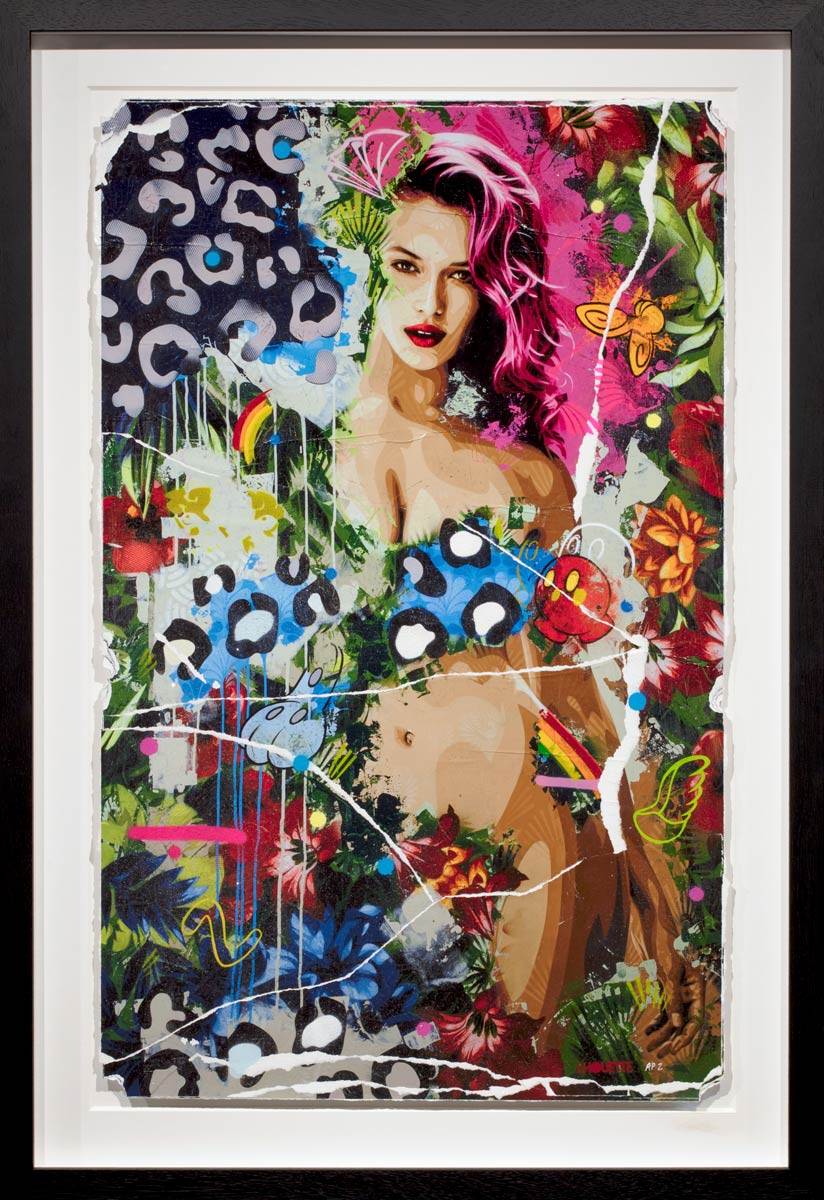 Beautiful Species, Pink - New Edition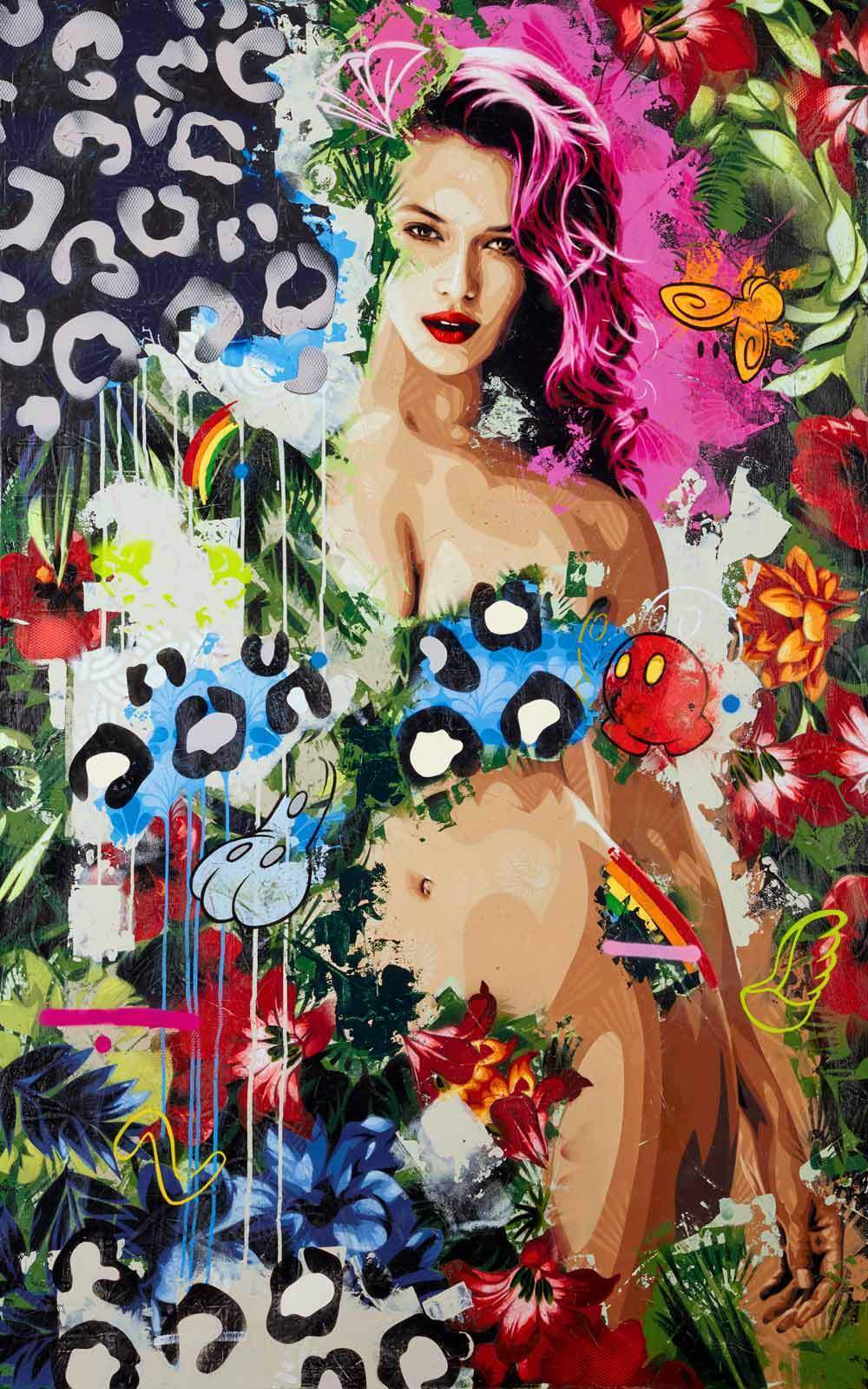 Beautiful Species - Pink - Original
---
Also in News
Introducing Rozanne Bell's amazing collection of original reclaimed metal sculptures from Zimbabwe. Painted in her style of layering acrylic paints and coloured resins, building unique textures, forms and designs.
The new Panda edition, 'Keeper of Dreams' is the sensational next chapter in Kerry Darlington's Classic Folklore Collection. A circular portrait featuring a brunette heroine embracing a panda bear; surrounded by pink, purple and blue butterflies, peonies and bows laced throughout her hair.
A rare inclusion into David Renshaw's 'Northern Romance' collection this outstanding artwork is exclusive to Wyecliffe Galleries. Based off the iconic Beatles album 'Abbey Road' this piece shows how the band's message of love and unity influenced Renshaw's work. As the first artwork in 6 years to be set in London and only 35 edition made, this is an extraordinary piece to have in your collection.